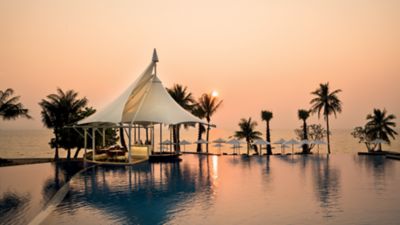 Mövenpick Siam Na Jomtien Pattaya
Mövenpick Siam Na Jomtien Pattaya
Welcome to Na Jomtien Beach, a burgeoning district on Thailand's eastern seaboard, and home to Mövenpick Siam Hotel Na Jomtien Pattaya. Offering direct beach access, luxurious facilities and a warm sense of Swiss hospitality, Mövenpick Siam Hotel Na Jomtien Pattaya has everything guests need for a relaxing and enjoyable stay in Pattaya.
Our 5-star resort is ideally located close to Pattaya International Airport and many of Thailand's top tourist attractions just steps away from the Ocean Marina Yacht Club, Mövenpick Siam Hotel Na Jomtien Pattaya's prime location is completed by an unspoilt stretch of beautiful coastline and stands as the region's only international five-star hotel outside of central Pattaya.

The resort offers 260 stylish and luxurious sea view rooms, suites and private pool villas, complemented by a comprehensive range of services such as our Wave Spa and an expansive lagoon swimming pool.

Restaurants & Bars
The Place to Savour Life
At Mövenpick Siam Hotel Na Jomtien Pattaya, we treat our guests to deliciously fresh cuisine, abundant treats and flavours across our 4 restaurants and bars.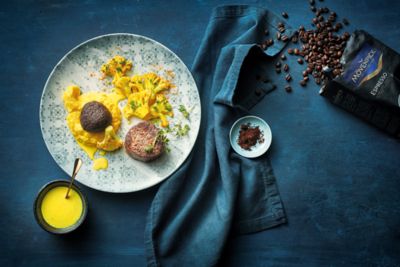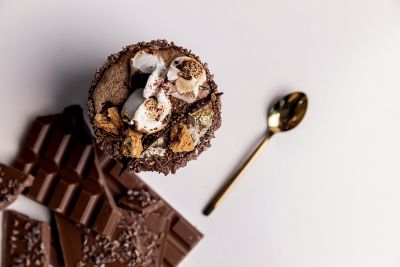 scroll up for previous option
Chocolate Hour
Tick-tock, it's mmm-o'clock, our luxury hotel in Pattaya will be serving up 60 mouth-watering minutes of cocoa indulgence every afternoon in our Red Coral Lounge with panoramic windows to enjoy the view.
scroll to show detail options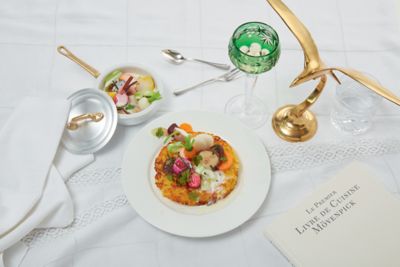 scroll up for previous option
Signature Flavours
Swiss dishes like you've never tasted before, prepared with care and served from the heart in our family friendly restaurants in Pattaya.
scroll to show detail options

Facilities & Activities
Where Life Tastes Sweeter
Help yourself to the good life at Mövenpick. Cool off in our elegantly designed lagoon pool or indulge in an exotic spa ritual, energise with a workout in our state-of-the-art fitness centre, and immerse yourself with culinary experiences.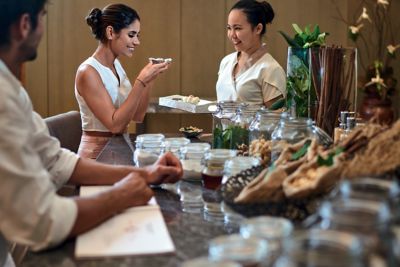 Meetings & Celebrations
Memorable Meetings & Sparkling Celebrations
scroll up for previous option
Meetings that satisfy
With enticing venues and a menu of professional services, our meetings solutions are a recipe for success.
Find out more
scroll to show detail options
Practical Information
Practical Information
Reviews
Mr_Donk
21/05/2023 From Tripadvisor
Awesome holiday
Lovely stay over the weekend with family of 3. Perfect resort for a family with kids. Great room, awesome pool and kid's activities. Big thank to Dmitry the GM and Khun Q for the great hospitality. You have a very good team especially Khun Aom and Khun Choke at La Costa, super friendly and very good guest service. The Club lounge with panoramic view is unforgettable. Overall fantastic holiday for us. Definitely recommend and come back!
Komkrit S
20/05/2023 From Tripadvisor
Great food​ and​ great​ facilities
Fantastic food​ at​ Twist Restaurant, especially Wagyu beef​ with​ Japanese​ rice.​ Staff​ is​ attentive and​ did excellent service​ at​ all. Hotel​Location​ and​facilities are​ grea and​very​ suitable for​ family, especially​ kids​ playground
Kiran297586
12/05/2023 From Tripadvisor
A TOWERING PARADISE ON JOMTEIN BEACH
A massive tower overlooking the jomtein beach with panoramic view.A seamless check in and check out.Nueng was an excellent employee who went that extra mile and promoted us to club room.35 floor with BREATHTAKING VIEW. THE CLUB ROOM WAS EXOTIC WITH A FINE SELECTION OF CANAPÉS AND ALCOHOL.From single malts to Belvedere vodka Bombay sapphire Jin and outstanding cocktail. Everything for everyone beach swimming pool massive kids pool tot lot area and what have you.FAR FROM THE MADDING CROWD (Pattaya) Very clean 5* hotel..ACCOR BRAND IS UNBEATABLE.EVERYTHING WAS PERFECT. THE SPECIALITY RESTAURANTS ARE OUTLANDISH. BEER AT THE RECEPTION WAS A WONDERFUL GIRL.WILL BE BACK
Rudd T
06/05/2023 From Tripadvisor
Back after pandemic 😷
After pandemic we finally got the chance to come here again. This hotel never disappoint me and family, staff was generousand more than 100% service minded . This time try sunday brunch which is sooo good, variety of food and baked. Recommended!
GrandTour10033972565
06/05/2023 From Tripadvisor
1st time Movenpick - Pattaya
The hotel was great and valueable. We've enjoyed the room and spaces; it was nice with high standard in overall issues. Besides, excellent for our purpose in terms of facilities, staff, and services.