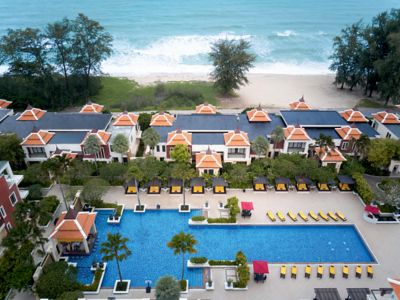 Luxury Family Resort on Bangtao Beach, Phuket
The Mövenpick Resort Bangtao Beach Phuket is a 5-star beach resort which blends the best of classic Thai and contemporary designs in 40 inviting residences. Our bright and breezy accommodation in Phuket offers living and dining areas, fully-equipped kitchens and oversized balconies for the ultimate experience of bliss.
Located just a few steps away from Bangtao Beach, this exclusive luxury residence of penthouses and suites treats you to the ultimate relaxation. Experience soothing treatments at Blossom Spa, relax in the pool or walk along the endless, white Thai sands of Bangtao Beach.
Mövenpick Resort Bangtao Beach Phuket is located in front of the Laguna area, which is minutes away from the starting point of the Laguna Phuket Triathlon, Laguna Phuket International Marathon and Phuket Ironman 70.3. Acquaint yourself with the surroundings of this unique race course by arriving a few days prior to the race. In addition to a relaxing and inviting atmosphere, enjoy complimentary early breakfast and shuttle services to both races during your stay.
Restaurants & Bars
The Place to Savour Life
We invite you on a culinary journey showcasing the innovative tastes of world cuisines and Thai flair at our 5 star hotel. Sit back, gaze out to the inspiring Bangtao beachfront and enjoy the tropical settings.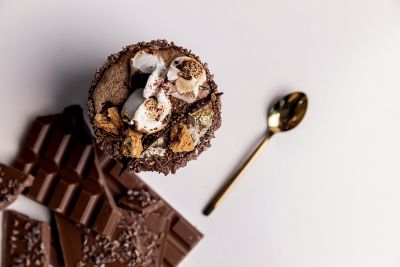 scroll up for previous option
Chocolate Hour
Indulge in 60 minutes of mouth-watering chocolate creations daily at the Mövenpick Chocolate Hour at Mövenpick Resort Bangtao Beach Phuket with bite-size chocolate creations.
scroll to show detail options
scroll up for previous option
Signature Flavours
Experience Swiss dishes like you've never tasted before at Mövenpick Resort Bangtao Beach Phuket, all prepared with care and served with local ingredients in our Phuket restaurants.
scroll to show detail options
Facilities & Activities
Where Life Tastes Sweeter
Enjoy the good life at Mövenpick Resort Bangtao Beach Phuket. From sunny pool days to luxury spa treatments, explosive workouts to immersive Phuket experiences, we invite you to take it all in.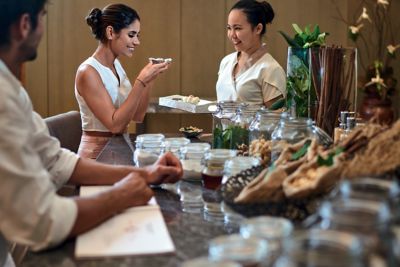 Practical Information
Practical Information
Reviews
Wheelerfamily111
25/11/2023 From Tripadvisor
Magical Movenpick!!
What a wonderful stay at Movenpick. Everything was perfect from our arrival, the amazing front desk staff especially Mick who was so helpful with checking out and transport, the super friendly Funz , Pinkey and all the staff at the buffet breakfast which was delicious and had so many choices ( changes daily were much appreciated!! ).. Loved it … the happy faces of Alad and Benz in the gym who greeted us each day with a smile as we worked out in the well equipped but small gym (it had everything we needed and the facilities were immaculate) . The pool was beautiful and cabanas perfect on hot sunny days. Our room was spacious and lovely and very well kept, cleaned and stocked up well each day with water, tea and coffee! We ate a few dinners at Palm which was always tasty. We even had massages and facials at the health centre which were wonderful! We have stayed and ate at a number of places in Laguna but loved the boutique appeal of this smaller resort.The staff and immaculate property unbeatable! Highly recommended and we will be back!! Thanks everyone at Movenpick Resort Bang Tao!
StepheyTSC
23/11/2023 From Tripadvisor
Surprise good find of a resort
Found this place as Angsana was full. The 3 bedroom residence 2101, is really spacious, well equipped even with kitchen cutlery, paper towel and dishwashing liquid. The rooms and sofa are clean and though abit old, it's comfortable and has everything we need. Housekeeping keeps us well hydrated by giving plenty of water for our family. Breakfast is cosy and quite a good spread. We had to bring 1 glass of milk back for my son who's unable to eat with us some days and they are accommodating for that. Wished we could be offered to serve simple breakfast in room as it's still paid for. It's next to Angsana and just 5 mins walk via beach. The drawbacks are there's no evening turndown service, no Xmas or festive atmosphere in resort which is strange, small gym and kids room. The shower water temperature is inconsistent and hard to gauge. It can definitely be boring for teens. Also one day Thursday the pool towels ran out around 10am and towel counter closed early at 4.30pm, weird indeed. We enjoyed warm and hospitable service from everyone especially front desk team- Fang, Yudha and rest.
ClingclibS1993
07/09/2023 From Tripadvisor
Amazing staff
Having stayed in the hotel for nearly 10 days with our children we have been enjoying it so much. Even though it has rained on several day we still made the most out of it and will definitely come back again. Our children loved the water scooters in the pool and the pool side pizzas. Of course also the chocolate hour which they make the best chocolate milkshakes. Unfortunately we could not enjoy the beach so much because of the rain. As we have been travelling in Thailand for several weeks and the hotel took their time to come with us to the immigration and assist with paperwork, nothing was too much asked for. They also booked our flights to Bangkok and assisted with hotel bookings. Happy to recommend this place to everyone with children.
Explorer30553341867
26/07/2023 From Tripadvisor
Super Nice and Friendly Staff
Staff is super nice and friendly , facilities are all great and exquisite, the swimming pool is not only long but also have some fun stuff like water basketball and water polo , even a little bar on the side of the pool , breakfast is really nice and delicious , a highly recommended hotel 👍🏻👍🏻👍🏻
Coastal18360887872
24/07/2023 From Tripadvisor
Beautiful experience
The place is very nice, the stuff are really friendly especially ~Mary Rose 🌹 I recommend it The stay was pleasant, and the staff helped us in a lot of things, and there were facilities from them.💚
Meetings that satisfy
Whether an important meeting or an exciting event in Phuket, our team will be on hand to service you with sublime attention to detail and to impress your guests with exemplary service. With all the little things taken care of, you can relax and spend your time enjoying yourself.