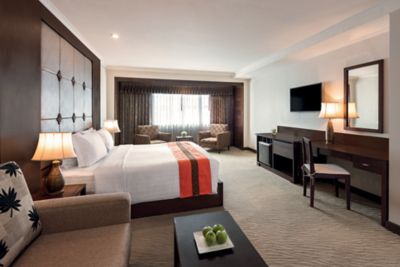 Mövenpick Suriwongse Chiang Mai
Restaurants & Bars
The Place to Savour Life
We believe in indulgence done right, treating our guests to deliciously fresh cuisine, abundant treats and flavours that are unmistakably Mövenpick, all served with a generous portion of heartfelt care.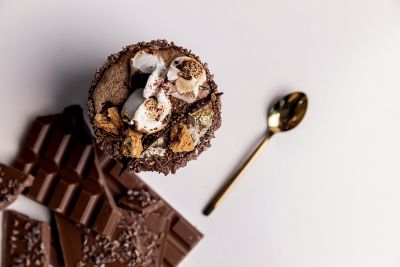 scroll up for previous option
Chocolate Hour
Tick-tock, it's mmm-o'clock, with all our hotels and resorts serving up 60 mouth-watering minutes of cocoa indulgence every afternoon, making sure your day's a delicious one.
scroll to show detail options
scroll up for previous option
Signature Flavours
Swiss dishes like you've never tasted before, prepared with care and served from the heart in our restaurants worldwide.
scroll to show detail options

Facilities & Activities
Where Life Tastes Sweeter
Help yourself to the good life at Mövenpick. From sunny pool days to indulgent spa time, energising workouts to immersive cultural experiences, we invite you to drink it all in.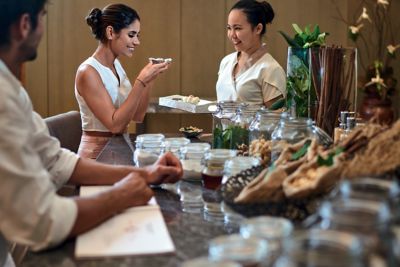 Meetings & Celebrations
Memorable Meetings & Sparkling Celebrations
scroll up for previous option
Meetings that satisfy
With enticing venues and a menu of professional services, our meetings solutions are a recipe for success.
Find out more
scroll to show detail options
Practical Information
Practical Information
Reviews
Q4914VTgregw
13/09/2023 From Tripadvisor
Near night markets
Great staff and good position on Chang Klan road , right near night markets , we booked a double suite , lobby was nice and staff attentive , got to room and it was big , but the room seemed like it hadn't been used for a while and smelt mouldy so we opened windows and aired room , bed was good and clean . The contros for the air-conditioning, and lights is on the panel next to bed , only real gripe we had was the hot water was never hot enough , my brother was in the next room and his was OK, we complained, a technician was sent but never fixed . The breakfat was ok but the food in the bay maries was cold and i always asked for them to cook me fresh fried eggs,The pool area was nice with a small bar there and there is a good Japanese restaurant overlooking Chang Klan road on the 1st floor up the stairs on the right just outside main entrance . No a bad hotel but I think can do better in the room decor department
bulldogtw
13/09/2023 From Tripadvisor
Movenpic?
I had to keep looking to see if this really was a Movenpic! Used to be the Suriwongse hotel and it kind of looks like they just changed signs. Front desk staff helped me with a wrong reservation, cancelling the original one and making another relevant one for me, saved me a lot of trouble! Bell staff were always available and helpful. Rooms were clean but I was a little disappointed with the lighting in the bathroom and the fact that the face towels have been taken away. This prompted me to have to go out and buy one for washing. Loation, yep, as the other reviews have noted, it was great. Centrally located just steps away from the night market, food and almost everything else.
simoncF7931XS
20/08/2023 From Tripadvisor
Good hotel poor pool area
Nice hotel in good location with lovely big clean rooms. Staff are a little reserved which is unusual for Thailand. Lady in tour shop is very helpful. The pool is neglected with peeling pain and no plantings
neilc319
04/08/2023 From Tripadvisor
Location, Location, Location.
In the hotel business, it is firstly about location, then facilities & service. This hotel is in the perfect location for tourists and business people visiting Chiang Mai. It is literally just steps from the main tourist attraction Market and shopping street. It is an older property and as with all hotels of its age, does have some maintenance issues, that are all being ably addressed by the management. It also boasts a fantastic courtyard restaurant at the front with great food and one of the best bands I have ever seen in Thailand. We were drawn to go there just about every night of our week long stay. The lovely Thai GM Khun Pete and his wonderful team of hospitality professionals all helped to make our stay so very enjoyable. Special thanks also to Khun New, the Front Office Manager and the F&B teams. The property is very reasonably priced, especially considering its great location and we wouldn't hesitate in returning again, hopefully in the near future.
Saharat P
01/08/2023 From Tripadvisor
ที่พักเชียงใหม่ ใกล้ไนท์บาร์ซ่าร์ สวยมากๆ🥂
หนึ่งในเครือ Accor กับที่พักใจกลางเมืองย่านไนท์บาร์ซ่าร์ อีกหนึ่งแลนด์มาร์กยอดนิยมของจังหวัดเชียงใหม่ เดินทางได้สะดวกสบาย ด้วยทำเลที่อยู่ไม่ไกลจากแม่น้ำปิง ตลาดวโรรส รวมถึงประตูท่าแพ ถนนคนเดิน และเต็มไปด้วยสถานที่ท่องเที่ยว โดยรอบๆโรงแรมมีมุมถ่ายรูปสวยๆ สามารถเดินถ่ายได้รอบๆ มีงานศิลปะการเพ้นท์ภาพบนกำแพงตลอดแนวบริเวณตัวอาคารด้านนอก แถมยังเดินออกจากโรงแรมไม่กี่ก้าวก็จะเป็น ตลาดไนท์บลาซ่า ผู้คนเดินเล่นอย่างไม่ขาดสาย โดยห้องพักของเราเลือกแบบ Junior Suite ชั้น 4 ภายในห้องกว้างขวาง แบ่งสัดส่วนได้อย่างลงตัว มีทั้งมุมนั่งเล่น มุมทำาน เตียงนอนขนาดใหญ่นุ่มดูดวิญญาณ และภายในห้องน้ำแบ่งเป็นโซนแห้งเปียก พร้อมอ่างให้แช่ชิลๆ Chocolate Hour เวลา 16.00 - 17.00 น. เป็นช่วงเวลาแห่งความสุข ที่ถือเป็น signature ของโรงแรมในเครือเมอเวนพิคทั่วโลก พร้อมเสิร์ฟความเข้มข้นของช็อคโกแลตในรูปแบบต่างๆ ให้กับแขกที่พักในโรงแรมทุกท่าน Fueng Fah ห้องอาหารบริการแบบ All Day Dining รวมไปถึงอาหารเช้าแบบไลน์บุฟเฟต์ และช่วงมื้ออื่นๆจะเป็น Local Flavours Le Bistrot & Terrace เป็นห้องอาหารชิลๆบริเวณด้านนอกของโรงแรม เสิร์ฟอาหารนานาชาติพร้อมเครื่องดื่มเย็นๆสูตรพิเศษและ Seasonla Drink จาก Bartender อีกด้วย