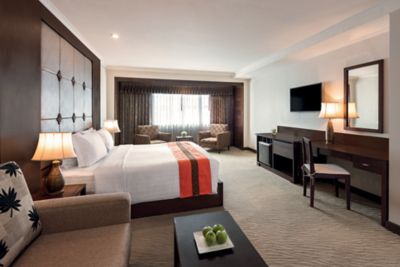 Mövenpick Suriwongse Chiang Mai
Restaurants & Bars
The Place to Savour Life
We believe in indulgence done right, treating our guests to deliciously fresh cuisine, abundant treats and flavours that are unmistakably Mövenpick, all served with a generous portion of heartfelt care.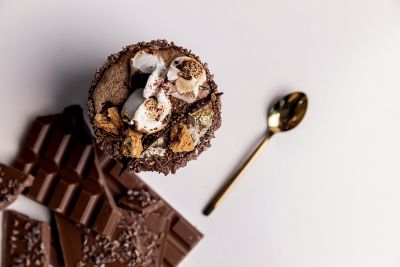 scroll up for previous option
Chocolate Hour
Tick-tock, it's mmm-o'clock, with all our hotels and resorts serving up 60 mouth-watering minutes of cocoa indulgence every afternoon, making sure your day's a delicious one.
scroll to show detail options
scroll up for previous option
Signature Flavours
Swiss dishes like you've never tasted before, prepared with care and served from the heart in our restaurants worldwide.
scroll to show detail options

Facilities & Activities
Where Life Tastes Sweeter
Help yourself to the good life at Mövenpick. From sunny pool days to indulgent spa time, energising workouts to immersive cultural experiences, we invite you to drink it all in.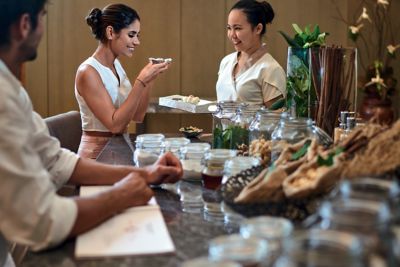 Meetings & Celebrations
Memorable Meetings & Sparkling Celebrations
scroll up for previous option
Meetings that satisfy
With enticing venues and a menu of professional services, our meetings solutions are a recipe for success.
Find out more
scroll to show detail options
Practical Information
Practical Information
Reviews
Ron Y
22/11/2023 From Tripadvisor
Give this place a wide birth
My friends and I had four days at Movenpick Chiang Mai on a golfing stop over before heading to Hua HIN. We all felt the rooms ok except for the bathrooms which we believe need an update and were quite dirty . Bathroom floor plan is atrocious had squeeze past the door to access the toilet The location of the hotel is great ,but like other reviews the breakfast was very average. The only tea bags available were black ,I ask the staff for Green or Jasmin and was advised not available unless you pay , this is supposedly a four star complex. Gladly our stay was brief.I had room 415 which overlooked the front streeet
Brischris
15/11/2023 From Tripadvisor
Dangerous bed base in a very tired hotel
We stayed at the Movenpick from Sunday 5th November for 7 days. I am an Accor Platinum member and appreciated the suite upgrade but the room was very tired and I suspect the whole hotel needs renovation. The worst experience was with the timber bed base with sharp corners which sticks out quite a way from the bed mattress. On our second day I badly gouged my leg on the sharp corner cutting it deeply in 3 places. Reception supplied a bandage but I heard nothing from management or any follow up to see how I was.
babymaclaren
13/11/2023 From Tripadvisor
Scam hotel
I bought staying voucher by 1800THB. But when I tried to book the room, this hotel said no room available. I checked the availability and found many rooms available but price is going up very well recently. I will have to throw away these staying vouchers even many rooms may be available. Their business is real scam.
ehzoyzdcr
15/10/2023 From Tripadvisor
Poor internet, lovely staff
This hotel was chosen on location and because we wanted a hotel with a pool so that we had somewhere to relax outdoors so it fulfilled both of those requirements. As for the rest, it had good and bad points. Good points 1. The staff were delightful, really friendly and helpful. 2. The common parts on the ground floor are smart. 3. The breakfast was varied although probably suited more to the Asian palate than European. 4. The rooms were cleaned efficiently 5. The location was great, not far from the Old Town and surrounded by night markets in the evening 6. Plenty of places to eat and drink nearby 7. Fridge in room and drinking water regularly replaced 8. Chocolate hour was a nice touch 9. The lovely lady at the tours desk organised taxis for us which was very useful as the ones outside seemed determined to take you to various "factories" along the way when you just want to go from A to B. Ok the hotel taxis were pricey by Thai standards but not at all by UK standards so to take this hassle free transport was a Godsend for us. 10. The biggest hotel bed ever and really comfortable 11. The room was at a good temperature without the air con which was helpful for sleeping. 12. TV had English news channels Bad points 1. The internet was unreliable and often cut out completely. For two days it was particularly bad - it seemed to coincide with large tour groups staying in the hotel - after they left it was better again. Whether this was coincidence or because of heavy traffic I don't know. It was frustrating in any case and we didn't have the same problems elsewhere in Thailand. 2. Ditto the hot water. For the same two days it was only luke warm, then improved again. 3. There was a large hard step across the bathroom entrance which we could not get used to and ended up putting a chair across to remind us so as not to stub toes at night. 4. No toiletries you could access from the bath as the shampoo and shower gel were fixed to the shower. Luckily we used the receptacles in the room to transfer these to the bath area. 5. The walls are quite thin and you can hear everything going on next door. It was only a problem one night when the girls next door had some kind of a party but to give the hotel credit, when by 1.15am we had had enough and called down to reception, they sent security right away and told them to pipe down, which they eventually did so that's a positive that the hotel reacted quickly. 6. There was a hungry mosquito in the room but when we asked them to spray they did and the problem was resolved. 7. Butter at breakfast. Not sure this even was butter as it tasted of margarine. There was one big communal pot rather than individual Portions and it was disgusting. Instead of taking some butter to the side of your plate, people stood there buttering endless slices of toast and then putting the crumby knife back in. The butter was a mess. I appreciate not using individual plastic butter portions but could the butter not be divided into butter rolls or little dishes so that people don't have the horrid communal butter to deal with? 8. As others have said the decor is terribly dated especially the flowery net curtains and gold curtains. But it's OK given the price. Finally, the pool was good and nice that someone works there to sell drinks and snacks and the decor doesn't bother us but this could be a real selling point of the hotel if it were spruced up. Instead I think it puts people off as it looks so sad. I don't get why the owners don't make this a nice area like some of the boutique hotels in Chiang Mai. People took one look at it and walked off and I was in two minds before booking this hotel for that reason.
Q4914VTgregw
13/09/2023 From Tripadvisor
Near night markets
Great staff and good position on Chang Klan road , right near night markets , we booked a double suite , lobby was nice and staff attentive , got to room and it was big , but the room seemed like it hadn't been used for a while and smelt mouldy so we opened windows and aired room , bed was good and clean . The contros for the air-conditioning, and lights is on the panel next to bed , only real gripe we had was the hot water was never hot enough , my brother was in the next room and his was OK, we complained, a technician was sent but never fixed . The breakfat was ok but the food in the bay maries was cold and i always asked for them to cook me fresh fried eggs,The pool area was nice with a small bar there and there is a good Japanese restaurant overlooking Chang Klan road on the 1st floor up the stairs on the right just outside main entrance . No a bad hotel but I think can do better in the room decor department