Sustainability done right
Nourishing the planet
Giving back to people and the planet is life's greatest pleasure and at Mövenpick, this wholesome ethos is at the very core of our globally renowned sustainability programme. Our refreshing approach to nourishing the environment, our people and the local communities where we operate our hotels and resorts, serving them with care and respect and nurturing them with dedicated best-in-class programmes, has earned us recognition as a global sustainability leader. We divide our practices into three easy-to-digest slices – Environment, Employer and Social Sustainability – with education a vital ingredient of each. From hiring and empowering local people and promoting diversity and quality, to saving energy, reducing waste and feeding guests from our own organic gardens, we indulge in best practices that cultivate a sustainable future for all.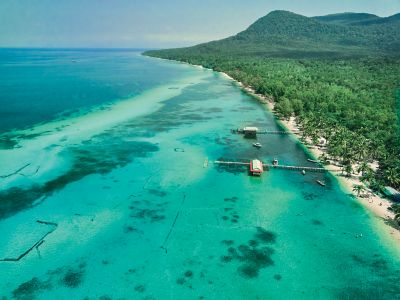 Kindness in abundance
Our passion for sharing the good life goes way beyond our hotel walls, trickling down into local communities where our goal is to make a positive impact in every way possible. Our recipe for doing good is wrapped up in our Power of Kindness philosophy – the special ingredient that gives our entire sustainability programme its kick. With a mission to spread heartfelt care and enrich lives, we support local communities with kindness, the most powerful way there is to make change. From educational initiatives, volunteer work and fundraising activities to supporting economies by buying and hiring locally, we savour what's on our doorstep in every location where we operate.
Giving back to people and the planet is life's greatest pleasure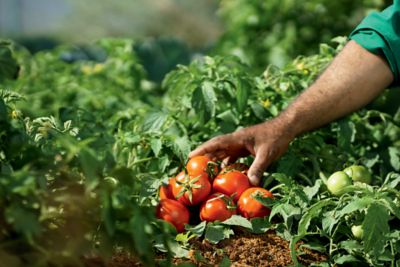 A taste of simplicity
The essence of the good life has been embraced at Mӧvenpick Resort Kuredhivaru Maldives, which in its effort to generate a sustainable supply of fresh food, has become partially self-sufficient. Under the expert guidance of Chief Gardener, Haidar Ali Moidu, the resort, which is tucked away in the Noonu Atoll, has nurtured its very own hydroponics farm and garden, harvesting almost 70 kilos of fresh backyard produce every month. A hydroponic system, combined with organic gardening and composting generated by kitchen waste and fallen leaves, is a real recipe for success, growing fruit and vegetables that are rich in nutrients and bursting with flavour. From fresh salad leaves, cucumbers, aubergines, okra and aromatic herbs like basil and mint, to lemon grass and Maldivian chilis that pack a punch, and the sweetest papayas you'll ever taste, the hotel harvest is whipped up into delicious dishes by Executive Chef Navin Singh, creating a blissful farm-to-fork dining experience for guests. To top up supplies, the resort puts community first, sourcing produce farmed on local islands and working with fisherman to purchase their catch of the day. Knowing good habits are formed early in life, the resort's Little Gardener lessons give young guests a piece of the green action, inviting them to plant their own seeds in this little corner of paradise.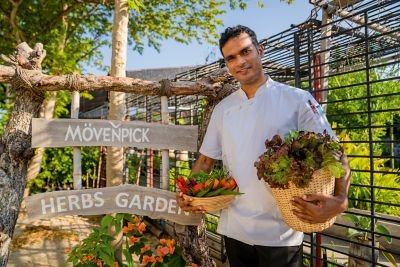 Fruitful partnerships
When it comes to sustainability best practice, we savour this responsibility wholeheartedly, and having whisked-up the support of all our hotels and resorts around the world, we have set new international standards for care – for the environment, our people and local communities. Our hotel teams have cooked up thoughtful and effective initiatives to rival the best, with Green Globe – the world's leading certification body for sustainable practices in the travel & tourism industry – recognising us as the crème de la crème, as the largest hotel group to commit to its certification programme. The icing on the cake is that not only is Mövenpick the world's most Green Globe certified hotel group, but more than 75% of our qualified hotels and resorts have achieved its Gold or Platinum Status, recognising properties compliant for five and 10 years or more respectively. Working in partnership with Green Globe, our goal is to top our achievements, feeding the planet and its people with even more care and commitment now, and in the future.
With a nurturing spirit and fresh approach to preserving the planet and enhancing lives, Mövenpick has risen to the top as a sustainability leader.

Birte Pelayo, Chief Executive Officer, Green Globe
Food for good
In Switzerland, the heartland of the Mövenpick brand, sustainability meets innovation at the Mövenpick Hotel Zürich Regensdorf, which has mastered the art of eliminating food waste. The hotel has joined the Too Good to Go programme, using its unsold food to make and sell discounted meals and tasty treats through a dedicated app, with profits donated to people in need. In 2020, a time of uncertainty for all, the hotel salvaged more than 800 kilos of food and donated it to the local community, and another 650 kilos of groceries, including Mövenpick's famous chocolate and jam, was donated to the Schweizer Tafel foundation, which distributes essentials to the disadvantaged. With a track record of reducing overall waste volume by 90%, combined with energy reduction initiatives aplenty, it's no wonder Mövenpick Hotel Zürich Regensdorf has achieved Green Globe's prestigious Platinum Status, meeting industry leading standards for more than 10 years.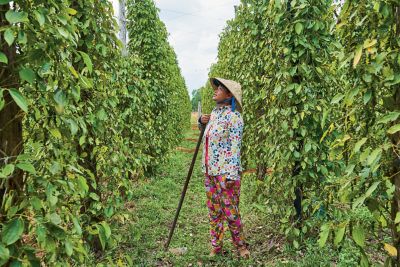 Home is where the heart is at Mövenpick Hotel & Apartments Bur Dubai, a champion of community spirit. From showcasing artwork by UAE talent and sourcing local produce, to organising beach clean-ups and blood donation drives, this is destination impact done right. There's a sense of place in hotel furnishings too, with pre-loved pieces cherry-picked from local markets and refurbished in authentic style.