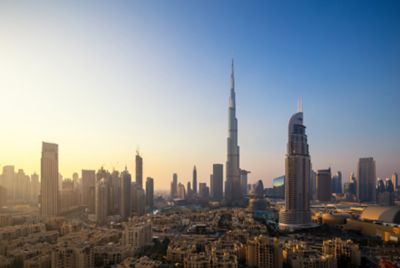 Welcome to Dubai
One of the United Arab Emirates' most famous cities, Dubai combines fast-paced living, breath-taking tall towers and big business. However there is so much more than what initially meets the eye. Dubai is a fusion of cultural heritage and forward-facing modernity. 
From the towering Burj Khalifa and the Dubai Fountain to the Palm, Dubai is a city filled with dazzling attractions that you will not find anywhere else. Its unrivalled shopping districts and business centres showcased against the backdrop of a divine sea-front setting make it one of the most unusual and spectacular cities in the world.
Mövenpick Hotels & Resorts boast a collection of six luxury hotels and resorts in Dubai in prime locations ranging from Jumeirah Lakes and Bur Dubai to the elegant Al Mamzar district. Choose from our selection of 5 star hotels in Dubai to find the perfect modern accommodation, whether you are travelling on business or for leisure.
Explore other destinations: UAE