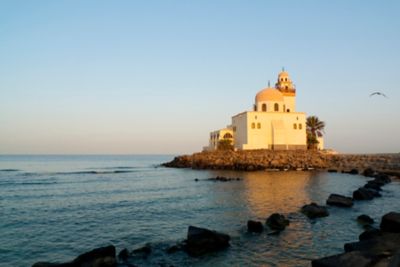 Welcome to Jeddah
The port city of Jeddah sits on the Red Sea and has long attracted corporate guests and tourists alike due to its dual business and leisure appeal. As the entrance to holy Islamic cities such as Mecca and Medina, it has served as the first port of call, quite literally, to Saudi Arabia for centuries.
Jeddah's commercial history stands true today with redevelopment resulting in upscale shopping malls and stores popping up alongside the long-standing souks and markets. Mövenpick Hotels & Resorts grants you direct access to the city, boasting three modern and comfortable Jeddah hotels.
The Mövenpick Hotel Jeddah, is ideally loacted opposite the Ministry of Interior on Madinah Road. Or choose Mövenpick Resort Al Nawras Jeddah, a unique private island off North Corniche Road. Mövenpick Hotel Tahlia Jeddah offers a sophisticated style in the Al Andalus district and the Mövenpick Hotel City Star Jeddah caters specifically to our corporate guests. All of our luxury hotels offer prestigious and modern accommodation in Jeddah.
Explore other destinations: Saudi-Arabia