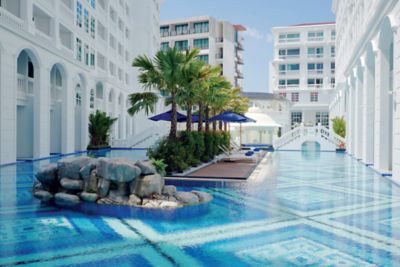 Mövenpick Myth Hotel Patong Phuket
Mövenpick Myth Hotel Patong Phuket
An inspiring landmark on Phuket's western shores, Mövenpick Myth Hotel Patong Phuket transports guests back in time to an era of elegance, refinement and style. Weaving King Rama V's legacy with the island's Sino-Portuguese history, the hotel is a celebration of Thailand's cultural diversity. Standing tall within one of Patong's most spirited and vibrant roads, Mövenpick Myth Hotel Patong Phuket is truly a pampering, delightful hotel that exudes both character and luxury. With 235 luxury hotel rooms and suites, an art-deco inspired restaurant and lobby bar, and a free-form swimming pool, Mövenpick Myth Hotel Patong Phuket is truly a gem that aims to invigorate the senses and the imagination of our guests.
Restaurants & Bars
The Place to Savour Life
We believe in indulgence done right at our 5 star hotel, taking our guests on a story-driven culinary journey with deliciously fresh cuisine, abundant treats and local flavours, all served with a generous portion of heartfelt care.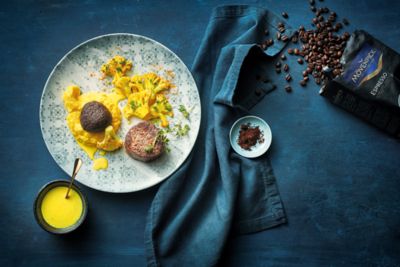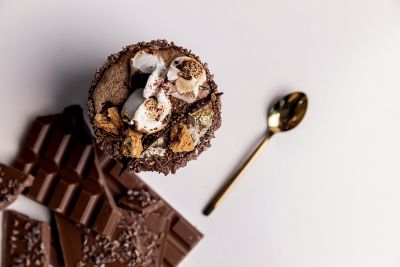 scroll up for previous option
Chocolate Hour
Tick-tock, it's mmm-o'clock at Mövenpick Myth Hotel Patong Phuket , serving up 60 mouth-watering minutes of cocoa indulgence every afternoon in Hanoi.
scroll to show detail options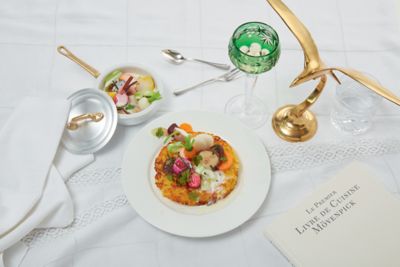 scroll up for previous option
Signature Flavours
Indulge in Thai and Western dishes like you've never tasted before, prepared with care and served from the heart in our Átrio Restaurant.
scroll to show detail options

Facilities & Activities
Where Life Tastes Sweeter
Help yourself to the good life in Hanoi at Mövenpick. From sunny pool days to indulgent massage time, energising workouts to immersive cultural experiences, we invite you to take it all in.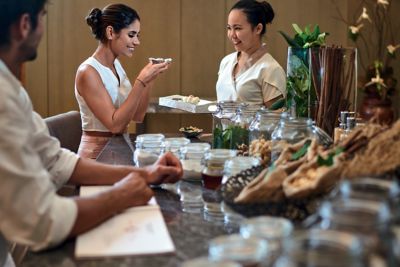 Meetings & Celebrations
Memorable Meetings & Sparkling Celebrations
scroll up for previous option
Meetings that satisfy
With enticing meeting and ballroom venues and a menu of professional services, our event facilities are a recipe for success.
Find out more
scroll to show detail options
Practical Information
Practical Information
Reviews
Amanda P
02/06/2023 From Tripadvisor
Amazing Hotel! Amazing people!
My family and I stayed at the pool access and I can only say one thing, this hotel is worth the price. the hotel is clean and away from noise. the hotel is new so we had no problem with our room. check in was smooth. they also have free chocolate every day in the lobby. the breakfast area is clean and has many choices of food. Fitness gym is quite small but its okay. We met Karen, and we want to thank her, she is helpful and attentive on the things we need during our stay and informative about the places we can go while we are in Thailand. We plan to return by October and we will definitely choose to stay in this hotel.
Sherpa27570219731
02/06/2023 From Tripadvisor
Wonderful hotel in Phuket!
I will start by saying " i loved Thailand " Phuket is my place i come for, i have enjoyed every single moment. I have looked around for a place to stay in, fortunately i booked in Movenpick Hotel in Patong area, it was so great. Clean, geat rooms size, awesome pool, friendly staff Especially thanks to: - Nook - March - Kate I will visit Movenpick Patong again 100% Abdulaziz " Aziz "
Adventure37277572756
31/05/2023 From Tripadvisor
Nice hotel and great Thai hospitality
BIA is really very helpful and kind. Highly recommend. We were greeted everyday with all the nice staff in the hotel. Nice and relaxing stay. Room is clean and big. Hotel is well maintained with nice pool
482rosannap
28/05/2023 From Tripadvisor
Amazing!
Must say it was an absolutely fantastic time... the hotel staff were wonderful. Very helpful. Chocolate hour was also great!. The hotels facilities were superb. Beautiful place to have a birthday celebration. Highly recommend this hotel.
לי כ
24/05/2023 From Tripadvisor
Party with friend
Me Tap and Mr Nong and Mrs Nook were so good and kind to us and all the employers here Taking care of all our request. The hotel was so beautiful and we were very enjoyed our staying here and we are surely come back here!