Mövenpick Asara Resort & Spa Hua Hin
Beautiful oceanfront 5-star Hua Hin resort in beautiful tropical gardens
Mövenpick Asara Resort & Spa Hua Hin is a fully immersive escape in an idyllic natural setting that can be easily reached and is removed from the crowds. Elegant with a casual ambience, this attractive low-rise luxury resort in Hua Hin is surrounded by a landscape of gently swaying palms, verdant gardens and reflective lagoons.
All our 96 resort suites and luxury villas in Hua Hin offer a sense of private luxury with generous living spaces from 120 up to 400 sqm. Dine at the resort's two restaurants which delight guests with Thai and refined Mediterranean cuisines, unwind in the serene Asara Spa, plunge into one of the resort's two swimming pools, or simply soak up the exotic surroundings and take in the soothing ocean and sunset views of Hua Hin.
Restaurants & Bars
The Place to Savour Life
We believe in indulgence done right, treating our guests to deliciously fresh and local cuisine. Revel in the delicious choices at Mövenpick Asara Resort & Spa Hua Hin with the all-day dining restaurant with its Kampu Tree, historic Baan Dum heritage house by the sea, or at the oceanfront bar and a swim-up pool bar.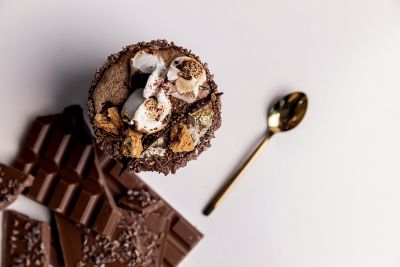 scroll up for previous option
Chocolate Hour
Enjoy 60 minutes of mouth-watering cocoa indulgence at Mövenpick Asara Resort & Spa Hua Hin with the signature Mövenpick Chocolate Hour, offering bite sized speciality chocolate creations.
scroll to show detail options
scroll up for previous option
Signature Flavours
Swiss dishes in Hua Hin like you've never tasted before, prepared with care and served from the heart in our restaurants at Mövenpick Asara Resort & Spa Hua Hin
scroll to show detail options

Facilities & Activities
Where Life Tastes Sweeter
Help yourself to the good life at Mövenpick Asara Resort & Spa Hua Hin. From sunny pool days to indulgent spa time at Asara Spa, energising workouts in our 24 hour gym to immersive markets and palaces, we invite you to drink it all in.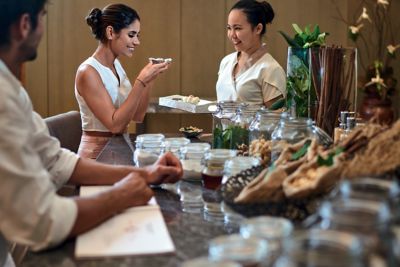 Meetings & Celebrations
Memorable Meetings & Sparkling Celebrations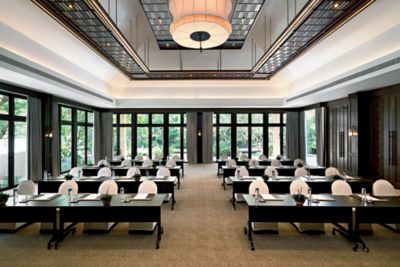 scroll up for previous option
Meetings that satisfy
With enticing venues and a menu of professional services, our unique event spaces in Thailand are set within an exotic tropical setting providing the perfect setting for intimate gatherings and high-end corporate events.
Find out more
scroll to show detail options
Hotel services
Check-in from 3:00 PM - Check out up to 12:00 noon
Practical Information
Practical Information
Reviews
109abdallahg
09/10/2023 From Tripadvisor
Memorable experience
I was only for 2 days, but for sure i will come again for a longer stay. Hotel personnel are really kind and very professional and attentive to details. Food and bar excellent, pool villa is nice, cleaning is top. Chocolate hour is really wonderful, we enjoyed it. Shuttle service is excellent and the guys from shuttle offering kindly umbrellas to borrow as it started to rain. It was a perfect relaxation. Management are doing an excellent job keeping those high quality standards during high season. Thank you so much for the wonderful time we spent at your property and looking forward to come again.
Kerri2801
25/09/2023 From Tripadvisor
Absolutely amazing
This resort by the beach is 5 star. Our villa was amazing with our own pool. The grounds and the pools were amazing. The staff were very friendly and willing to help. The food was amazing. Shout out to Keng and Tookta who were very friendly and happy to help us.
Natchaya P
18/08/2023 From Tripadvisor
Beautiful hotel, like staying on a private beach
Recommend it as a place that should take your girlfriend to travel. Super romantic, good service, beautiful accommodation. a place to relax, Beautiful rooms, clean, great value for money. If there is another free day, will definitely repeat.
Tourist35171575299
14/08/2023 From Tripadvisor
Really enjoy the stay
Really enjoy the stay! The villa is super private with large bahttub. Staff was very helpful and you can have a special request to set up private romantic dinner by the front beach. Suitable for long stay
LBPmel
06/08/2023 From Tripadvisor
Great place to relax
We are towards the end of a nine night stay and have enjoyed it thoroughly. We feel very relaxed. A lot of aspects, eg distance from Hua Hin or Cha Am etc, have been mentioned by previous correspondents, so I won't double up too much. In a nutshell, the service is excellent; the staff are very attentive; the room-cleaning is top notch; gardens well maintained; food excellent; wifi is maximum strength through the resort and no dropouts; and the Thai friendliness is at a new level. One of the great points of the property is has a feel of traditional Thai — nothing above palm height, lots of water features. Not your high rise devoid of charm and character. The lobby is in the centre of the property and there are two accommodation areas: east from the lobby towards the coast houses the pool villas; west - units overlook a lagoon and pool area. Our one bedroom pool villa (143), surrounded by an over 2m wall for privacy, was huge with the refreshing 1.5m deep, maybe 5+m long plunge pool, ideal for the morning and afternoon dips. The bathroom features large, fluffy towels and a shower with very good pressure (didn't use the outdoor one, nor the large bath). The bed is very comfortable. The main pool area comprises three interlinked pools - a 1.6m rectangular often suitable for laps (particularly when chocolate hour is on) flowing to a 1.4 irregular one for play, and a .60 kiddies. There are also a couple of 20cm areas between the two smaller pools. Everyone is catered for. Surprisingly for such a high occupancy rate, there was no issue getting a lounger by the pool. Also, importantly, the loungers are not crowded together. We managed to snare loungers under a tree, on the sand, by the sea wall, with the sea the only sound. The walk from the villas to the pool area is via a lovely wooden walkway over a fish-filled lagoon. There are two restaurants. Baan Dum is Thai, seafood specialty, and is open to the public with the greater majority of customers locals. Consequently it pays to book as it is heavily patronised. The food has a lot of the usuals but also a number of interesting finds. Farang tastes are catered. The setting is on the lawn overlooking the water and on a high tide the water crashes into the sea wall below creating a great visual and aural backdrop. The singer and guitarist have a wide selection of material and happily played Bob Marley for us. Kampu is the main restaurant offering mainly Mediterranean with some Thai and other Asian tastes. The presentation of the food is a level above Baan Dum, eg, the Tuna Nicoise Salad is MasterChef beauty for the eyes and taste. (Not denigrating Ban Dum) This restaurant is where breakfast buffet, as well as the 3pm chocolate hour, is served. We really enjoyed the food here when we couldn't get into Baan Dum. It is a toss up between them as both restaurants are great, but we are in Thailand (partly for the food)! The happy hour at the Ocean Bar is another winner. Fantastic time here for someone who just wanted to chill by the pool area and eat great Thai after Covid ripped our hearts out.