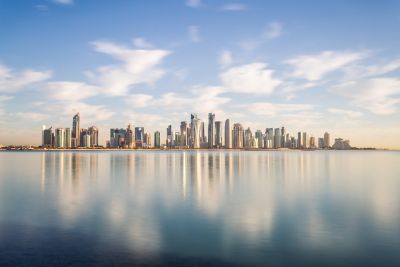 Luxury Hotels in Qatar
Escape on a journey to Qatar, with its capital city Doha rapidly becoming one of the world's leading destinations. While holding its rich past dear, Qatar is evolving to become one of the hot locations for business and leisure travel, and is well worth a visit.
Museums and galleries, a rich culinary scene and a myriad of activities, from perusing the items available in the local souqs to visiting some of the holy sites that Doha offers, there is plenty to see and do ofr everyone. Corporate guests and tourists alike will find the perfect combination of convenience and comfort at Mövenpick Hotels & Resorts.
Qatar's selection of Mövenpick Hotels & Resorts features one in Doha and one in West Bay Doha. Mövenpick Hotel Doha sits just a few minutes away from the international airport and lies two minutes from the National Museum. Mövenpick Hotel West Bay Doha is nestled within easy reach of city landmarks such as Katara Cultural Village, the Museum of Islamic Art and the local shopping hubs.
Explore other destinations: Middle-East