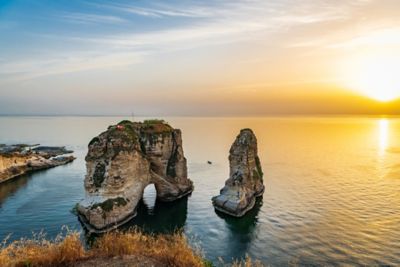 Welcome to Lebanon
Lebanon's fusion of glamour, culture and history is truly unique. With renowned national cuisine, stretches of exquisite beaches and a bustling capital city, it's a country that meets every traveller's needs and expectations. Whether visiting on business or for leisure, there's something for everyone to enjoy in Lebanon.
Lebanon's capital Beirut remains a global destination for business, nightlife and cultural sites. This bustling city is fashionable and friendly, while respecting its rich heritage. From strolling along the Corniche at sunset to visiting the ancient archaeological spot of Byblos, north of the city, there's an array of things to see and do in Beirut.
Mövenpick Hotel Beirut lies just ten minutes from the airport and sits on the Mediterranean Sea. This is a 5 star beach resort with a twist, featuring a range of restaurants, meeting and conference rooms as well as a spa & health club. It marries the bridge between leisure and business perfectly, and all in a divine paradise location in Beirut.
Explore other destinations: Middle-East