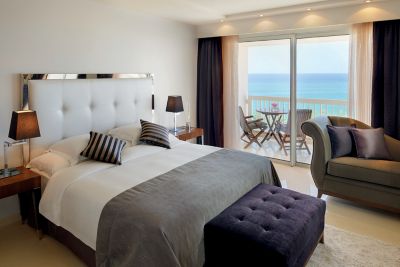 Mövenpick Hotel Beirut
The Mövenpick Hotel Beirut is a business hotel with extensive resort facilities in Beirut. Located directly on the Mediterranean Sea and only ten minutes from the airport. Our upscale 292-bedroom luxury hotel offers all you would expect from a 5-star beach resort. The restaurants  create authentic Lebanese and international cuisine and our range of bars, including our famous chill-out bar Skyline, are perfect for relaxing with drinks in the evening.
With 11 multi-purpose functional meeting rooms and outdoor venues, our 5-star hotel in Beirut offers meeting and banqueting spaces for many purposes and tastes. It also includes vast recreational facilities, like our Kids Club and the Essential Spa & Health Club, which make it ideal for luxury spa breaks in Lebanon.
Restaurants & Bars
The Place to Savour Life
At Mövenpick Hotel Beirut, we believe in indulgence done right, treating our guests in Beirut to deliciously fresh cuisine, abundant treats and flavours during their stay with us.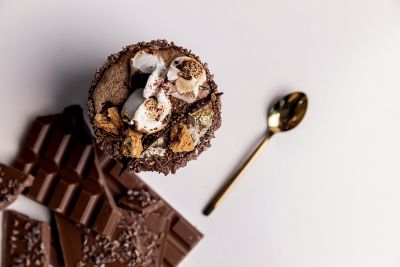 scroll up for previous option
Chocolate Hour
Join us for Chocolate Hour at Mövenpick Hotel Beirut and make sure your day is a delicious one.
scroll to show detail options
scroll up for previous option
Signature Flavours
Swiss dishes like you've never tasted before. Enjoy a culinary experience at Mövenpick Hotel Beirut, prepared with care and served from the heart.
scroll to show detail options

Facilities & Activities
Where Life Tastes Sweeter
Help yourself to the good life at Mövenpick Hotel Beirut. We invite you to enjoy complimentary access to the hotels health club, indoor pool and resort facilities.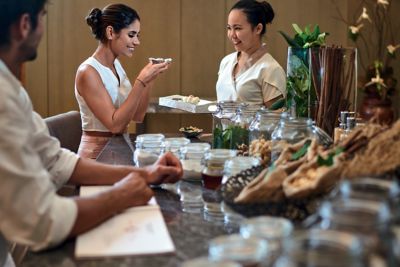 Meetings & Celebrations
Memorable Meetings & Sparkling Celebrations
scroll up for previous option
Meetings that satisfy
With enticing venues and a menu of professional services, our meetings solutions at Mövenpick Hotel Beirut are a recipe for success.
Find out more
scroll to show detail options
scroll up for previous option
Events bursting with flavour
With a touch of sugar, spice and everything nice, we'll help you celebrate life's rich moments during your stay in Beirut.
Find out more
scroll to show detail options
Reviews
Broumana
03/12/2023 From Tripadvisor
Best business Trip EVER
Best Experience EVER, we loved the food , the location , the pool was clean, the staff is really friendly . I was on a business trip , I did really enjoy . the view was incredible , live love Beirut
Brianna S
29/10/2023 From Tripadvisor
I should have read the reviews, not family friendly!
I am not sure why this hotel can't seem to get it together. Not family friendly. I stayed for 3 days with my husband and 2 children. My husband left during day for business as he is from Lebanon. I am not, and was treated as such. One day with charged one price and paid in cash next day order exact same thing for kids charged $8 more paid in cash. The exchange rate doesn't change that much in 1 day. The pool was lovely, life guards were not. Adult men screaming and blowing their whistles at small children fro splashing each other. If they weren't doing that they were talking with their friends. Be warned they open the pools to the public for a daily fee. So not all the people are the level of the clientele staying. My husband decided to move Is to a different hotel. Hope this help the moms with kids traveling, not a place for us. I should have read all the reviews, my issues were the same as others.
Steve O
28/10/2023 From Tripadvisor
Nice stay in Beirut.
For a nice stay in Beirut. Close to the sea, offered sea view rooms, and beach view rooms, wide range of amenities, friendly, and helpful staff, lots of options for restaurants, and room Choices, walking distance Marina, cheap concierge parking rates, walking distance to Rawche rock.
fawwazzaher
07/10/2023 From Tripadvisor
Hospitality at its best
Thanks Ashraf and Charbel at front desk for a complementary upgrade and for ensuring a smooth stay. Thanks to Hanadi and Ahmed at housekeeping Thanks to Ali and Hasan for amazing service at breakfast Thanks to Firas at spa for compensating a previous experience
bennyc09
10/09/2023 From Tripadvisor
Good resort
This was our second hotel for our stay in Beirut and we thought it would be a good place to stay for a couple of nights. The hotel lobby and entrance was nice and up there in respect of a luxury resort. The room was nice and clean and had the main amenities. Unfortunately our stay was marred with our baby becoming ill so we couldn't enjoy our stay properly but the hotel were very accommodating. They have two main restaurants and the menu is ample and very nice. The views are very nice. One gripe we had is when going to the pools there is no elevator to take us there and we needed to carry our buggy down some stairs. Secondly, we arrived on a Sunday and the pool was extremely busy and I believe they allow non hotel guests to use these facilities which isn't very calming for those staying there. I think the holiday period made the place quite busy. A further point whoever books using Expedia, do note that the VIP access doesn't allow 20% discount to the spa treatment. The staff were friendly and welcoming particularly at the restaurant. If I was in Beirut again, we would stay at this hotel again.
Frequently asked questions
Yes, there is a beauty salon at Mövenpick Hotel Beirut.
The different payment options at Mövenpick Hotel Beirut available are: Cash, Credit or Visa Cards and Bank transfers.
No, Outside guests do not have access to the resort or pool at Mövenpick Hotel Beirut.
Smoking is allowed in designated areas at Mövenpick Hotel Beirut and 20% of guest's rooms are smoking rooms.
Languages spoken by staff at Mövenpick Hotel Beirut include: Arabic, English and French.