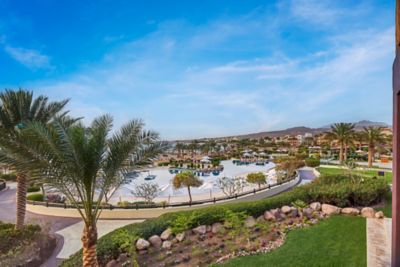 Mövenpick Resort & Spa Tala Bay Aqaba
Check availability
Mövenpick Tala Bay
---
You'll be redirected to Accor website to book your stay
Mövenpick Resort & Spa Tala Bay Aqaba
Relax on our private beach, dive in the Red Sea and unwind with a spa treatment - all while staying at the luxury 5-star Mövenpick Resort & Spa Tala Bay Aqaba. Our award-winning resort combines contemporary decor and first-class facilities in a stunning beachfront location, just 15 minutes from Aqaba's city centre and 25 minutes from King Hussein International Airport.
Enjoy complimentary Wi-Fi and views of the Red Sea, mountains, gardens and pools from our 306 rooms and suites. All of our 5-star hotel rooms have private terraces or balconies, so you can unwind at leisure with a drink from the complimentary minibar.
Fresh seafood, authentic Italian cuisine, informal poolside dining and sea view lounges are just some of the highlights at our eight hotel restaurants and bars in Aqaba. Lavish events, receptions and conferences can be hosted in our ballroom, meeting room and beautiful outdoor venues.
In addition to a 150 metre-long private beach and several swimming pools, we also have a dive centre, kids' club and a variety of water sports. Refresh in the sauna and experience showers of Zara Spa Tala Bay, or explore the desert and historic sites nearby Movenpick Resort and Spa Tala Bay Aqaba.