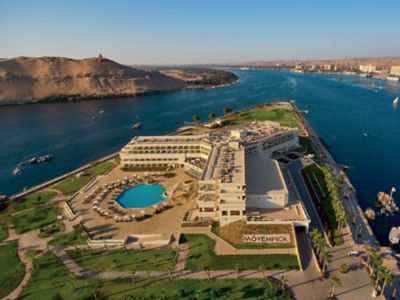 Mövenpick Resort Aswan
Pleasing its guests with a spectacular views over the river Nile from 404 elegant hotel rooms, suites, and villas, Mövenpick Resort Aswan offers guests a unique location on Elephantine Island.
Mövenpick Resort Aswan lies within walking distance from the historical Island, tourist attractions and cultural sites. Our 5 star hotel is only a 20 minutes drive from Aswan Airport and 5 minutes from Aswan railway station.
With its unique view, the Panorama Restaurant & Bar has a 360 degree view overlooking the Nile from the highest point in Aswan. For an Egyptian taste, Mezze restaurant is a great place to enjoy an authentic feast while watching sailing feluccas amid picturesque scenery. Enjoy our 70 years of culinary experience in more than five restaurants and bars strategically located in the resort. For an exceptionally magical experience, ask for our felucca dinner catered to your taste. 
Our hotel boasts luxury facilities, including spacious swimming pools, a health club, meeting rooms with natural daylight and free Wi-Fi internet is available for guests during their stay in Aswan.
Restaurants & Bars
The Place to Savour Life
We believe in indulgence done right. At Mövenpick Resort Aswan we, treat our guests to deliciously fresh cuisine, abundant treats and flavours.  All dishes are served with a generous portion of heartfelt care at our 5 star hotel in Aswan.
scroll up for previous option
Chocolate Hour
Enjoy mouth-watering minutes of cocoa indulgence every afternoon with the Mövenpick Chocolate Hour, making sure your day's a delicious one at our 5 star hotel.
scroll to show detail options
scroll up for previous option
Signature Flavours
Take advantage of a superb range of carefully selected dining options including world-class cuisine offering a variety of international buffets with live cooking at our restaurants in Aswan.
scroll to show detail options

Facilities & Activities
Where Life Tastes Sweeter
Help yourself to the good life at Mövenpick Resort Aswan. From sunny pool days with the family to indulgent spa time, energising workouts to immersive cultural experiences, we invite you to enjoy it during your stay in Aswan.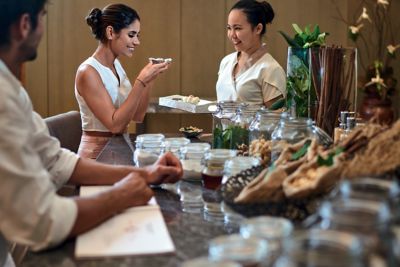 Meetings & Celebrations
Memorable Meetings & Sparkling Celebrations
scroll up for previous option
Meetings that satisfy
Spread over more than 800 sqm, our enticing meeting rooms and venues boast flexible meeting spaces, multiple seating styles, unobstructed view, and natural day light offered by floor-to-ceiling windows.
Find out more
scroll to show detail options
scroll up for previous option
Events bursting with flavour
With a touch of sugar, spice and everything nice, we'll help you celebrate life's rich moments during your stay with us in Aswan.
Find out more
scroll to show detail options
Reviews
zeinar_13
05/12/2023 From Tripadvisor
Lovely place on the Nile
Great place to stay on the Nile. Some of the food and drink came straight from their on site farms! Yasser was a great server at breakfast - lovely gentleman who wanted to make sure everything was satisfactory.
Vickychampers
05/12/2023 From Tripadvisor
Lovely Tranquil Hotel
Arrived late at night (10.30p.m), for a one night stay before catching a cruise boat. We slept well, and woke up to a spectacular view of the Nile. The Hotel seems to be set on its own Island. You arrive by a little shuttle ferry which seems to run whenever needed, and takes 10 minutes. Golf buggies ferry you to the Hotel. It's set in beautiful gardens, with some local deer in an enclosure and they have their own veg gardens. It is definitley worth taking a wander through the grounds, they are so pretty and well mantained. We stayed in the modern extension of the Hotel, but if you go over to the old part and ask to go up the Tower, you will be rewarded by wonderful views of the Nile. We had breakfast outside gazing over the gardens, it was very good with plenty of choice, and a lady cooking fresh bread in a traditional oven. I really wish we had stayed another night to wind down after Cairo sightseeing and catching our Cruise Boat. the pool area looked lovely too and the whole vibe is just so relaxing and tranquil.
sergio r
05/12/2023 From Tripadvisor
Great hotel 🏨 👌
Hotel Mövenpick is excellent and run by nice and courteous staff. Mahmoud raouf at the pool bar was very good and pizza was tasty . The rooms are well maintained. Services are satisfactory and environment neatly maintained.i thank Ashraf Abdel Kerim for bring the tea with mint at night after dinner daily at main restaurants. Highly recommended 👌 👍 Spa. Was excellent and souna was very nice
mostafa a
05/12/2023 From Tripadvisor
Great
Movenpick made a right decision to invest in this city which I firmly believe will become popular within five years for her impressive natural beauty. The hotel is very modern and managed with high quality service. Since it is operated in teo buildings We ordered a breakfast at the room and ashraf abdelkirim brought to us with a nice smile thanks chef Alaa and Mostafa safy
ahmed salah y
05/12/2023 From Tripadvisor
Up to 5*
I'll come back again & again for great winter cuisine and the wonderful spa! As a westerner, living in mainland China has been a tough transition. I was so pleased to find authentic customer service who tried to understand me and was so patient to assured all my needs when i order food from room sevice and they were very attentive and well groomed thanks Mohamed mido and mahmoud ebid
Frequently asked questions
Mövenpick Resort Aswan is located on Elephantine Island in the middle of the River Nile in Aswan, Egypt.
The address of Mövenpick Resort Aswan is:
Elephantine Island,
P.O. Box 62,
Aswan
81111,
Egypt
There are a variety of popular attractions near Mövenpick Resort Aswan including:
Kitchener's Island
Tombs of the Nobles
Aga Khan Mausoleum
Nubian Museum
Nubian Villages 
Mövenpick Resort Aswan opened its doors towards the end of 1976, was renovated in 2008 and the Elephantine Extension was opened in 2016.
Guests can look forward to a range of amenities at Mövenpick Resort Aswan, including:
2 swimming pools 
Free WiFi
Fitness centre
4 restaurants & bars  
Panorama Restaurant
Accessible facilities
Boutiques / shopping
ATM Machine
Laundry
Organic farm
Tennis court