Mövenpick Hotel Berlin
Combine a touch of history with modern accommodation and personal service when staying at Mövenpick Hotel Berlin, which is accented with the unique design elements of Berlin's former Siemens building. Our 4-star hotel in Berlin is located near Potsdamer Platz in Berlin city centre, just 100 metres from the Anhalter Bahnhof S-Bahn train station and 25 minutes from Berlin Tegel Airport.
Stylish interiors complement modern technology in our 243 luxury hotel rooms and suites, with views over Berlin or our quiet courtyard. Unwind in the gym and sauna before enjoying freshly prepared seasonal produce in our glass-roofed restaurant and bar.
For your conferences and receptions in Berlin, our 12 event and meeting rooms including the historic Siemenssaal are welcoming venues for meetings and special occasions.
Explore our various offers to make your stay in Berlin an unforgettable experience.
Restaurants & Bars
The Place to Savour Life
We believe in indulgence done right at Mövenpick Hotel Berlin, treating our guests to deliciously Swiss classics, Mediterranean creations and regional specialities, all served with a generous portion of heartfelt care.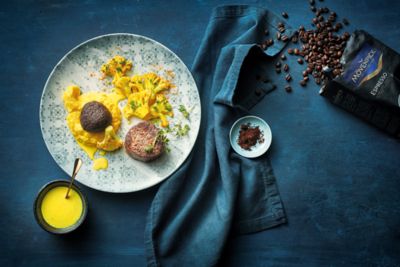 Meetings & Celebrations
Memorable Meetings & Sparkling Celebrations
scroll up for previous option
Meetings that satisfy
With enticing meeting & events venues in Berlin city centre and a menu of professional services, our meetings solutions are a recipe for success.
Find out more
scroll to show detail options
Reviews
hello-ra1nbow
16/03/2023 From Tripadvisor
Fantastic! A must stay.
Great location, and stored bags at reception when I arrived earlier than check-in. Close to train station, and 10-minute walk to Checkpoint Charlie and museums, and 30-minute walk to Parliament, memorials and Brandenburg Gate (10-minutes by train). Staff very pleasant and felt safe as a lone traveller. Reception happy to answer any questions and translate information to English. Room was comfortable and the surroundings were quiet. A great place to base yourself for sightseeing. Though I did not use it, there was a restaurant serving breakfast, lunch and dinner in the building too.
Golden Tulip Za... g
11/03/2023 From Tripadvisor
Thieves at reception .Zero Hospitality
Posted all wrong bills in our room and kept us at reception for almost 30 mts arguing on the wrong bills.The receptionist even told that he will block us in booking this terrible hotel in Future.Beware of the receptionist that was on duty on 10th March at 7:30 am..they need to know the meaning of hospitality...will never ever recommend this hotel to any one.
CARLASOUSA73
09/03/2023 From Tripadvisor
UNPROFESSIONAL AND UNHELPFUL STAFF RECEPTION
Upon arrival, a Voucher for 2 rooms was presented to reception. They requested a credit card for city tax. The next day, the credit card was maxed because the hotel had charged the total accommodation on the credit card. Reception was confronted and informed that they had not charged the card. It prooved to be a lie since we requested a bank statement. The next day, statement arrived with the hotel charge for the total amount of the rooms. Reception then called in the supervisor which was very arrogante if we keep in mind that they finally admitted that they had commited an error. It took 2 days for the matter to be resolved after many hours spent in reception to solve the matter and much lack of profissionalismo, unfortunately. Very dissapointed with what i thought was a reliable hotel chain.
djosully
07/02/2023 From Tripadvisor
Nice stay
Great location, right next to Anhalter SBahn station, which unfortunately wasn't running on the weekend I stayed, but the replacement bus service worked well. Great welcome at check in, and a big shout out to Omar, who went above & beyond to assist me. As an Accor Gold, I got a nice upgraded room, which bizarrely had a bath in the middle of the bedroom. No free minibar, but a small tray of fruit & treats was provided. Unfortunately, the fruit was well beyond its best, with the pear completely rotten. Why offer rotted fruit as a welcome gift, either dump it, or buy fresh. Room was nice, on the top floor with three Velux windows, offering great views over the neighbourhood. Breakfast was good and the variety of food was pretty good. Overall, this was a really nice stay, my first in a Mövenpick, but I'll certainly be back.
SidA2710
18/12/2022 From Tripadvisor
Good Hotel with nice location
Good location, with Potsdamer Platz, Checkpoint Charlie and Brandenburger Gate all in the vicinity and within normal walking distance. Alexanderplatz is about 3.5 kms away. One can walk and / or take the metro which is also close by. Several restaurants within walking distance as well. Rooms are big and spacious and comfortable. King size bed comes with 2 separate mattresses which for a couple can be not so convenient. Breakfast is lovely with a live egg cooking station along with several other options. Service team at breakfast are really friendly. Hotel has free parking available at a garage few meters from the hotel, one needs to pick up the parking card at the reception prior / during to check in. All in all a good stay and hotel is recommended.
Frequently asked questions
Mövenpick Hotel Berlin is in a central yet quiet location near Potsdamer Platz, right next to S-Bahn stop Anhalter Bahnhof.
The address of Mövenpick Hotel Berlin is:
Schöneberger Straße 3,
10963,
Berlin,
Germany
There is a number of popular attractions nearby the Mövenpick Hotel Berlin including Potsdamer Platz with a variety of dining and entertainment options as well as historically famous Checkpoint Charlie and Brandenburger Tor. 
Within walking distance, you will also find the Mall of Berlin for countless shopping opportunities as well as Berlin's largest park, the Tiergarten, for outdoor sports and relaxation.
Mövenpick Hotel Berlin first opened its doors on 29 March 2004.
Mövenpick Hotel Berlin features 243 rooms, 12 meeting rooms available for conferences as well as private events, a 24/7 fitness room with an adjacent sauna, bicycles for rent as well as a charging station for electric vehicles.