Mövenpick Hotel Berlin
Combine a touch of history with modern accommodation and personal service when staying at Mövenpick Hotel Berlin, which is accented with the unique design elements of Berlin's former Siemens building. Our 4-star hotel in Berlin is located near Potsdamer Platz in Berlin city centre, just 100 metres from the Anhalter Bahnhof S-Bahn train station and 30 minutes from Berlin Willy Brandt Airport by car.
Stylish interiors complement modern technology in our 243 luxury hotel rooms and suites, with views over Berlin or our quiet courtyard. Unwind in the gym and sauna before enjoying freshly prepared seasonal produce in our glass-roofed restaurant and bar.
For your conferences and receptions in Berlin, our 12 event and meeting rooms including the historic Siemenssaal are welcoming venues for meetings and special occasions.
Explore our various offers to make your stay in Berlin an unforgettable experience.
Restaurants & Bars
The Place to Savour Life
We believe in indulgence done right at Mövenpick Hotel Berlin, treating our guests to deliciously Swiss classics, Mediterranean creations and regional specialities, all served with a generous portion of heartfelt care.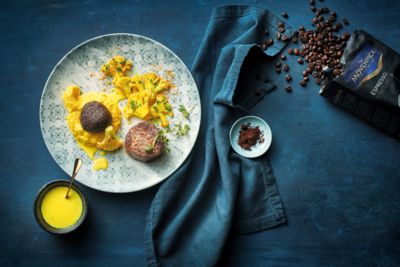 Meetings & Celebrations
Memorable Meetings & Sparkling Celebrations
scroll up for previous option
Meetings that satisfy
With enticing meeting & events venues in Berlin city centre and a menu of professional services, our meetings solutions are a recipe for success.
Find out more
scroll to show detail options
Reviews
Gicci83
29/11/2023 From Tripadvisor
Great hotel, average service.
The location is very convenient and the facilities are excellent. Large rooms, comfortable bedding and good breakfast. Unfortunately there are serious communication issues between the hotel management and Accor and also internally between staff on different shifts, with makes sorting any issue one might have extremely difficult, especially during weekends! Also the housekeeping was not done right (on a Saturday) : the housekeeper had only emptied the rubbish bin and didn't bother to do the bed and clean the bathroom (I had to ask the reception to sort it out in the evening and they did some tiding up, but really not proper housekeeping)... I would expect more from this type of hotels.
DeliaK800
20/10/2023 From Tripadvisor
The service of the hotel is close to non existing
Very poor ( bordering to rude) service at the restaurant and bar area, room service did not clean at all one of the rooms one day, other days something was forgotten: towels, toilet brush in the toilet bowls, slippers, bathrobe. I do Not recommend this hotel for a stay in Berlin, even though that location and size of the rooms are good.
Dirk R
13/10/2023 From Tripadvisor
They came through for me on every level.
Was doing a Bus Tour through Eastern Europe and early on I go sick , coughing, night sweats. I originally thought it was a cold and just persevered. I got progressively worse and once we got to Berlin I ask the hotel for a referral to emergency. I was diagnosed with Covid and pneumonia and spent 6 hours in the hospital. I message the travel guide told him the doctor says I have to exit the tour and could he get my hotel room extended for a couple of nights. I ended up three times in emergency and was able to keep extending my room. I basically isolated myself the entire time except for breakfast and dinner. Wore masks etc. I was able to get laundry done and they helped me with paper work etc. friendly courteous and always a yes attitude. Room was clean and the breakfasts were wonderful. Good location.
Dori P
09/10/2023 From Tripadvisor
BEWARE! Bait & switch!
We booked and pre-paid for a sleep king with breakfast through our AAA Membership. Upon our arrival, another guest was complaining about being given a room for a single and were told they had overbooked the premium rooms and there was nothing they could do that night. The same thing happened to us. We asked for a price adjustment and were told "it was not possible." They offered to give us a complimentary breakfast, but we had already paid for that, so there were no accommodations for downgrading our room. They offered to have us change rooms at 3 PM the next day but we had excursions booked and with only 3 nights in Berlin, this was very disappointing. It took several hours and multiple requests for an extra pillow, blanket and towels to be delivered. The 2 positive things about this hotel: nice breakfast & excellent location. that said, do yourself a favor, stay somewhere else.
Dr R N
23/09/2023 From Tripadvisor
Staff incompetence in a hotel that is operating with a limited number of pillows.
I checked into the hotel for the marathon. My travel day getting to the hotel was long. I had left my Budapest hotel at 3am. I have been awake and busy the entire day. When I got to the room after expo, I started to sort all my race stuff out for the morning… by 6:45pm, I was ready to have a nice hot shower, jump into bed, and meditate before sleeping. Then I noticed I have pillows that I could never ever sleep with. My pet dog has better pillows. I then tried to call reception but lo and behold… the phone does not work . So I walk downstairs. At 0700pm.I am greeted with annoyance by the man at the desk, who snaps and proceeds to tell me what pillow he will send up rather than asking me what pillow I would like . He was more annoyed when i asked for two pillows, and essentially implied that I cannot have two .in my own home, I sleep with 4 pillows . This is a hotel. Yet I was informed that pillows are scarcely available in A 4 STAR hotel. I proceed to my room and now wait for the pillows. I want a hot shower and to go to bed, but now I have to wait for the room service guy. By 7:30… nothing… and I cannot phone to enquire as my room phone is not working. I head back downstairs… to be made as if I was inconveniencing the reception staff. He told me that he was TOO BUSY after I left 30 minutes before to call house keeping and he still has to do that… 30 minutes later Had I had a working phone in my room, I would call house keeping myself. The man at the front desk is not cut out for people service . Now, after reading other reviews on their website… I am afraid that I am going to be victimised by the hotel staff and that they are going to now anlso charge phantom charges against my room account . So far!!!! Terrible experience. And it's day one . Shame on such poor management and such terrible disregard for customers
Frequently asked questions
Mövenpick Hotel Berlin is in a central yet quiet location near Potsdamer Platz, right next to S-Bahn stop Anhalter Bahnhof.
The address of Mövenpick Hotel Berlin is:
Schöneberger Straße 3,
10963,
Berlin,
Germany
There is a number of popular attractions nearby the Mövenpick Hotel Berlin including Potsdamer Platz with a variety of dining and entertainment options as well as historically famous Checkpoint Charlie and Brandenburger Tor. 
Within walking distance, you will also find the Mall of Berlin for countless shopping opportunities as well as Berlin's largest park, the Tiergarten, for outdoor sports and relaxation.
Mövenpick Hotel Berlin first opened its doors on 29 March 2004.
Mövenpick Hotel Berlin features 243 rooms, 12 meeting rooms available for conferences as well as private events, a 24/7 fitness room with an adjacent sauna, bicycles for rent as well as a charging station for electric vehicles.