Mövenpick Hotel Berlin
Combine a touch of history with modern accommodation and personal service when staying at Mövenpick Hotel Berlin, which is accented with the unique design elements of Berlin's former Siemens building. Our 4-star hotel in Berlin is located near Potsdamer Platz in Berlin city centre, just 100 metres from the Anhalter Bahnhof S-Bahn train station and 25 minutes from Berlin Tegel Airport.
Stylish interiors complement modern technology in our 243 luxury hotel rooms and suites, with views over Berlin or our quiet courtyard. Unwind in the gym and sauna before enjoying freshly prepared seasonal produce in our glass-roofed restaurant and bar.
For your conferences and receptions in Berlin, our 12 event and meeting rooms including the historic Siemenssaal are welcoming venues for meetings and special occasions.
Explore our various offers to make your stay in Berlin an unforgettable experience.
Restaurants & Bars
The Place to Savour Life
We believe in indulgence done right at Mövenpick Hotel Berlin, treating our guests to deliciously Swiss classics, Mediterranean creations and regional specialities, all served with a generous portion of heartfelt care.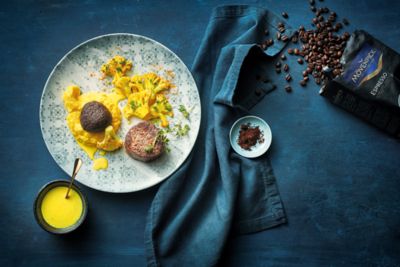 Meetings & Celebrations
Memorable Meetings & Sparkling Celebrations
scroll up for previous option
Meetings that satisfy
With enticing meeting & events venues in Berlin city centre and a menu of professional services, our meetings solutions are a recipe for success.
Find out more
scroll to show detail options
Reviews
zhehotelinspector
06/05/2023 From Tripadvisor
Housekeeping!
During Xmas they took good care of me. My sauna room was changed for a room with bathtub Incl working AC. Be aware that dogs are allowed in the hotel. Especially when petowners leave for Sylvesterparty and leave the dog barking in the room. February: got a room far from the elevator...... Next to the machineroom. If you want a quiet room, never take 501. The Bulgarian reception dude who checked me in got some real humor. When I mentioned the machineroom:....sir, this is the only room still available on the 5th, so we did as you asked! Exellent 21st century Movenpick- problem-solving-skills. Legend says that he is still laughing his behind off telling everybody about my story: 'he wanted a quiet room on the 5th far from the elevator, so I got him that. He still suffers from insomnia. Welcome to Berlin the city that never sleeps.' Unable to deliver as a service brand like Mövenpick promises, I requested a different room next day again at an employee with better customer friendly genes. Got a quiet room, smaller, 552. At the backside of the hotel. Little did I know that I would become friends with the luggage car again. 4 star suprise. No heating after 23.00h! Welcome back, sir. Mövenpick, a hotel that never stops to amaze you, over and over again. Is it Vladimir P. this time? Well, it snowed and stormed outside that night. Temperature in rooms drop than as well.... 4* indulging, right? So I made a remark at the reception next morning. The friendly reception lady wrote it all down Incl my roomnumber. (you do the calculation here) After work meeting and diner, back to the hotel in the evening. Tadaa.... Nothing done with it. Like a scene from Fawlty Towers. Why should we do something with it at all? So this friendly reception lady promised me a new room after hearing my story. To prefent the same f-up as before, she would walk with me to test the heating in the new room. Thank Budha for that. Alibi-hospitality got new meaning. I should drop this one on Wiki... Yes, here it comes. 4 star suprise again. When checking the new room together on working heating, the heating did not work at all. No Nothing. Poor reception girl could only say..... 'This is not good'. (During summer they changed my kids room 3x before they had a proper functioning AC. So this is still a walk in the park. 'Moes', we miss you) 'Sir, I will check again for a room that has a working heating and will be back to you. Before I forget.... Very important. housekeeping did not even wake me up this time once while I had a do not disturb sign hanging outside. Last stay it took Housekeeping 3 days(!) to understand the sign. It's like a dream come true. Adrian! (Copyright: Sylvester S.) Back 2 the helpful lady from the reception. She came back with 3 room keys. She tested the heating if it worked. Wauw, that's what we call a brand promise. 1 st room..... No working airco/heating. Oh boy... What must she have felt? 2nd room... No comment. 3rd room.... Yes it works. Bring in the luggage car. We move for the 3rd room in 1 week. Maybe this is extra service you get before becoming a Gold member at the Accor group. Reception lady helped with luggage and got me free drink for the inconvenience. Finally somebody that makes things happen. Room 331 is on the streetside. Sound isolation is good. Here comes the best part. Staff from housekeeping have new hobbies: shouting to eachother in the corridors from different rooms or from long distances during cleaning. Always very nice for guests who are still sleeping. Rooms are not soundproof because of the doors. 331 has a door in front of it. So if the staff would sing all songs from Modern Talking or Heino during cleaning.... You still hear zero. Few days later I rang reception for a towel since I did have any in my room after they cleaned my room. Can happen, right? Reception would take care of it immediately. 35 minutes later.... No towel to be seen at the gates(Tor) of Berlin. I doubted myself big time. Am I asking too much? A towel to shower within 35 minutes after a call? Never mind. It's called probably balance small indulges... Next day I went to the reception to ask if they could clean my room later since requests by phone can be a bit challenging. Adult lady with red glasses asked : so your need a new key? You see, senior Germans do have a sense of humor after all. I almost wet my pants. So 2nd attempt: Hi, could I have my room cleaned later during the day? I'm having a call this morning that will take a while for work. - ofcourse sir, was it not cleaned yesterday than....? Is there a Herr doktor in the building? No need for the gym anymore. You get a Sixpack just from the staff-interactions. The stay in April 2023 was the most shocking I ever dealt with. We had 3 rooms. All with do- not-disturb- signs. Still, Housekeeping came inside all 3 rooms in the morning. Pretty annoyed I called reception. Resepond: I'm sorry sir, I will tell it to the lady of housekeeping. Who trains staff like this anyway? Last and final stay this week: got a quiet room during reservation. Things looked pretty improved again on staffing. Got welcomed at the reception by an employee that remembered me. (oh no, it's him again. We should warn all staff that trouble is about to land on us again) 'hello sir, nice to see you again. I see that you requested a quiet room. We took care of that.' You see? Finally things do work out.... I jumped of joy a bit too early. I totally forgot about the pro's of housekeeping. During the cleaning of rooms I forgot their mövenpick-sport: shouting from one room to the other. No matter if other guests still sleep or not. Who cares? This time it just went on and on....and I just walked out of my room and mentioned that some people are still trying to sleep. Reaction of employee was most epic: 'housekeeping! Alles gute.' Called the reception, silly me, and got the 'I'm so sorry-sir-syndrome-treatment' again. Upon checking out I wanted to file a complain. Took seat in restaurant. Manager of housekeeping comes 15 minutes later and asks.... if I want to order something and does as if she knows absolute nothing that goes on. Hilarious. John Clease could get inspiration out of these encounters. We had a chat about the adventures of housekeeping. But I noticed her English was like actors in the famous 'allo-all series'. So after the chat I asked her if she understood my feelings. At least she was honest and just said 'no' and went to get a collogue. Serving the good life, people.....
Riina S
21/04/2023 From Tripadvisor
Great service by Michelle at the reception
The hotel is cosy and has excellent location right near the metro and a short walk from Potzdammer platz. Staff was lovely and especially Michelle at the reception gave 5 star hotel service, best I have had in many years of business travel.
hello-ra1nbow
16/03/2023 From Tripadvisor
Fantastic! A must stay.
Great location, and stored bags at reception when I arrived earlier than check-in. Close to train station, and 10-minute walk to Checkpoint Charlie and museums, and 30-minute walk to Parliament, memorials and Brandenburg Gate (10-minutes by train). Staff very pleasant and felt safe as a lone traveller. Reception happy to answer any questions and translate information to English. Room was comfortable and the surroundings were quiet. A great place to base yourself for sightseeing. Though I did not use it, there was a restaurant serving breakfast, lunch and dinner in the building too.
Bony V
11/03/2023 From Tripadvisor
Thieves at reception .Zero Hospitality
Posted all wrong bills in our room and kept us at reception for almost 30 mts arguing on the wrong bills.The receptionist even told that he will block us in booking this terrible hotel in Future.Beware of the receptionist that was on duty on 10th March at 7:30 am..they need to know the meaning of hospitality...will never ever recommend this hotel to any one.
CARLASOUSA73
09/03/2023 From Tripadvisor
UNPROFESSIONAL AND UNHELPFUL STAFF RECEPTION
Upon arrival, a Voucher for 2 rooms was presented to reception. They requested a credit card for city tax. The next day, the credit card was maxed because the hotel had charged the total accommodation on the credit card. Reception was confronted and informed that they had not charged the card. It prooved to be a lie since we requested a bank statement. The next day, statement arrived with the hotel charge for the total amount of the rooms. Reception then called in the supervisor which was very arrogante if we keep in mind that they finally admitted that they had commited an error. It took 2 days for the matter to be resolved after many hours spent in reception to solve the matter and much lack of profissionalismo, unfortunately. Very dissapointed with what i thought was a reliable hotel chain.
Frequently asked questions
Mövenpick Hotel Berlin is in a central yet quiet location near Potsdamer Platz, right next to S-Bahn stop Anhalter Bahnhof.
The address of Mövenpick Hotel Berlin is:
Schöneberger Straße 3,
10963,
Berlin,
Germany
There is a number of popular attractions nearby the Mövenpick Hotel Berlin including Potsdamer Platz with a variety of dining and entertainment options as well as historically famous Checkpoint Charlie and Brandenburger Tor. 
Within walking distance, you will also find the Mall of Berlin for countless shopping opportunities as well as Berlin's largest park, the Tiergarten, for outdoor sports and relaxation.
Mövenpick Hotel Berlin first opened its doors on 29 March 2004.
Mövenpick Hotel Berlin features 243 rooms, 12 meeting rooms available for conferences as well as private events, a 24/7 fitness room with an adjacent sauna, bicycles for rent as well as a charging station for electric vehicles.