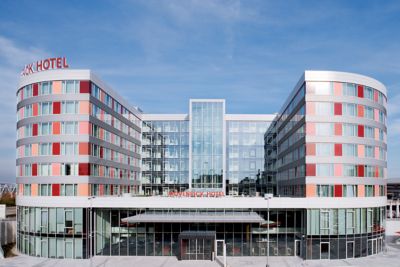 Mövenpick Hotel Stuttgart Airport
Modern 4-star hotel in Stuttgart
Make your Stuttgart stay a successful and enjoyable one by choosing a great location with direct access to the airport and just 20 minutes from the city centre. Mövenpick Hotel Stuttgart Airport is conveniently located to the Messe Stuttgart and International Congress Centre, perfect for business and trade fair visitors. At our 4-star Superior hotel, you can choose from 326 elegant hotel rooms and suites, offering soundproof windows and complimentary Wi-Fi. Book a Premium Room or opt for a Junior Suite and enjoy some added luxuries like a Nespresso coffee maker, BOSE music system, as well as a separate shower and bathtub. Book your meetings & events in one of our 16 multi-functional meeting venues in Stuttgart, including a ballroom for receptions and weddings for up to 500 guests. Discover local specialities, Swiss selections and international flavours at our hotel restaurant or catch up with colleagues at our hotel bar.
Restaurants & Bars
The Place to Savour Life
Here at Mövenpick Hotel Stuttgart Airport we believe in indulgence done right! Our dedicated team will make sure to treat you to deliciously local and fresh cuisine, followed by an abundance of treats and flavours that are unmistakably Mövenpick, all of them served with a generous portion of heartfelt care.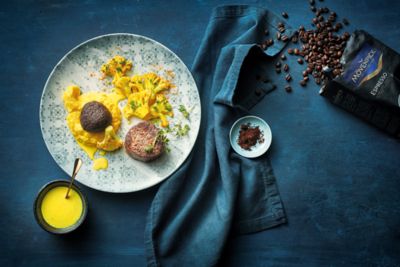 Meetings & Celebrations
Memorable Meetings & Sparkling Celebrations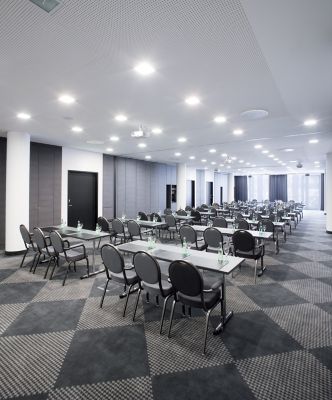 scroll up for previous option
Meetings that satisfy
Host your next event in Stuttgart at Mövenpick Hotel Stuttgart Airport. With enticing meeting venues and an extensive range of professional services, our meeting solutions are a guarantee for success.
Find out more
scroll to show detail options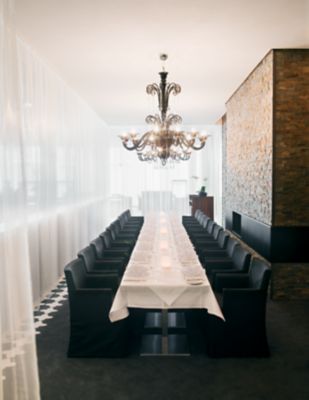 scroll up for previous option
Events bursting with flavour
With a touch of sugar, spice and everything nice, we'll help you celebrate life's rich moments.
Find out more
scroll to show detail options
Practical Information
Practical Information
Reviews
santiagocarmen
04/06/2023 From Tripadvisor
Excellent hotel, quiet, tastefully decorated with large rooms.
Cannot recommend this hotel enough! The rooms are big, tastefully decorated, with bathrooms that are spacious with separate restroom for additional privacy. The hotel is right across the airport, but the rooms are silent. There is a McDonald's close by for late night dinner, as the hotel diner closes early. The hotel also gives you a very large bottle of free sparkling water, very welcome, along with bedside Ritter chocolate. The prices are reasonable, and the car rentals are just steps away.
TravelwithWendyP
31/05/2023 From Tripadvisor
Excellent location to the airport and superior hotel
Really beautiful hotel with a perfect location to the airport. We have stayed in both Mövenpick hotels at the Stuttgart airport and both are very nice. Our room had coffee, snacks, water and was very very clean. We also really liked having a rolling cart for our luggage since we had quite a few pieces. The front desk staff was friendly and professional and helping other travelers find rooms because of a cancelled flight. Our stay was affordable as well. We made reservations at the Tröllinger Restaurant at the hotel and Herr Weiße was an excellent server. The wine selection is incredible and we enjoyed a lovely Rose from France with the seasonal spargel menu. Also the creme brûlée was incredible tasty too! We will absolutely be staying again with Mövenpick on our next early flight out of Stuttgart.
Coastal587776
25/05/2023 From Tripadvisor
Business/Trade Show/Expo
The staff was friendly and very helpful during checkin, checkout and they helped me print some documents and arranged a taxi for dinner. It's a great location, convenient to the airport, Messe and a train. The dinner and buffet breakfast were great. Fitness center a spa area was complete and clean.
ashbenly
25/05/2023 From Tripadvisor
Good for a stopover
Excellent rooms and great beds. We had a connecting accessible room for our disabled daughter which was perfect for us. The accessible shower was terrible but the standard room Shower was excellent! Lots of water and beautiful pressure. The views are terrible.. nothing to see at all, not even a plane but prompt efficient front desk for check in, room service and check out. Only thing we didn't like or understand was no black out curtains in the room.
AKS2013AKS
12/03/2023 From Tripadvisor
Its a home away from home - best location - well appointed rooms - impeccable service
This hotel is my absolute favorite for stay in Stuttgart for business and trade shows Steep in pricing but worth every Euro spent The staff at this hotel are amazing in their hospitality make you feel at home and addicted to this property by their warm and fantastic service This was my 5th or 6th stay at this impeccable well located hotel property Only one big flaw being that they not believe in prompt email communication This trip my wife left back a brand new shawl in the room by mistake and despite many email reminders to keep it in lost and found and inform me so that I could ask a local friend in Stuttgart to retrieve the same But unfortunately no response and I gave up - this is probably the dark side of this moon !!!