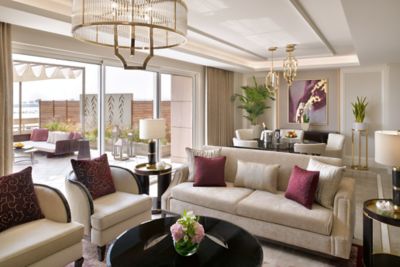 Mövenpick Hotel Bahrain
Welcome to the award-winning five-star Mövenpick Hotel Bahrain, located adjacent to Bahrain International Airport, with a magnificent view of the sprawling lagoon and less than 10 minutes away from downtown city centre of Manama, the capital of Kingdom of Bahrain.  
The hotel offers 97 luxury hotel rooms and 10 suites with state-of-art facilities and amenities. Our 5 star hotel went through a complete transformation; including restaurants and bars as well as rooms and suites.
Silk's restaurant is all day dining, offering international cuisine and theme nights. Gallery lounge is located in the high ceiling natural light glass lobby, serving French pastries, high tea and Swiss Mövenpick coffee and delights. While Xenia bar and lounge is offering exotic cocktails and bar food with live night entertainment daily. Mövenpick Hotel Bahrain is well known for its award-winning Friday Brunch.
The award-winning European Rimal spa, features 12 treatment rooms, including single treatment suites, one double female suite and two traditional Turkish hammam suites with their own steam rooms and heated wet tables. Rimal Spa is the only spa that offers non-surgical CACI Synergy machines in the Kingdom. All treatment rooms are designed to the highest standards and have private showers.  
Mövenpick Hotel Bahrain is a place to experience world-class luxury hospitality, blended with Arabian tradition and a touch of Swiss that makes our guests feel at home in one of the most attractive and friendly destinations in the Gulf Region.
Restaurants & Bars
The Place to Savour Life
Here at Mövenpick Hotel Bahrain, we believe in indulgence done right, treating our guests to deliciously fresh cuisine, abundant treats and live entertainment in our restaurants and bars.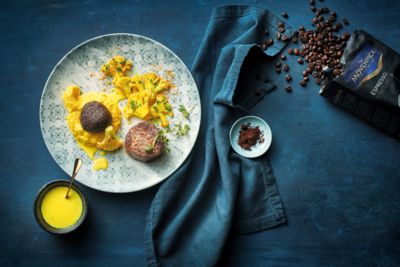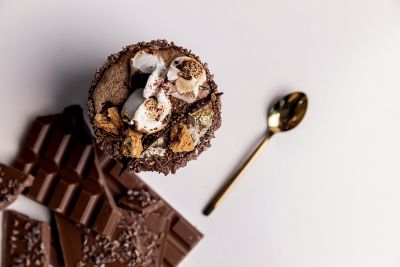 scroll up for previous option
Chocolate Hour
Tick-tock, it's mmm-o'clock at Mövenpick Hotel Bahrain, serving up 60 mouth-watering minutes of cocoa indulgence during weekdays, making sure your day's a delicious one.
scroll to show detail options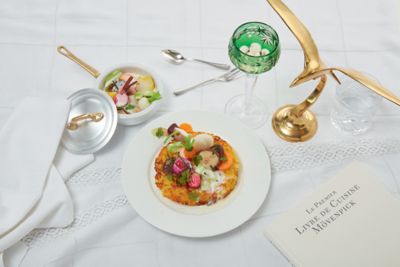 scroll up for previous option
Signature Flavours
Swiss dishes like you've never tasted before, prepared with care and served in a contemporary setting from the heart in our restaurants in Bahrain.
scroll to show detail options

Facilities & Activities
Where Life Tastes Sweeter
Help yourself to the good life at Mövenpick Hotel Bahrain. From sunny pool days to indulgent spa time, energising workouts to immersive cultural experiences, we invite you to take it all in.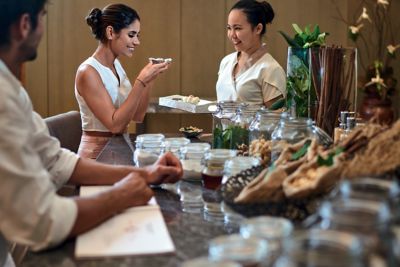 Meetings & Celebrations
Memorable Meetings & Sparkling Celebrations
scroll up for previous option
Meetings that satisfy
With a selection of enticing meeting and events venues at this business hotel in Bahrain and a menu of professional services, our meetings solutions are a recipe for success.
Find out more
scroll to show detail options
Practical Information
Practical Information
Reviews
abdoha667
24/11/2023 From Tripadvisor
Amazing stay
I would like to to appreciate the staff with their dedication and full support on my stay Front desk Shaima Nasser Hadi Isra Pieoush Anand Risa Mohamed Taqi Concierge team Jassim Yasser Mohamed Abdo Ashok Moheb All the restaurant staff The laundry team as well Thank you all for your amazing support on my stay Regards Abdulrahman
Paveera K
28/10/2023 From Tripadvisor
Disappointing brunch
Not a great experience. The staff were slow to serve drinks which were very low quality anyway. Sometimes taking 20 minutes to deliver a drinks order. The sushi selection wasn't as fresh as it should have been but the roast beef was excellent. Overall not worth the trip.
reynoldd673
24/10/2023 From Tripadvisor
Best hotel ever
Thank you for your wonderful service the services was great staff was professional I would like to say thank you to the staff especially to front desk staffs, ms raiza and from dining mr ricardo hoping to stay again soon
OnAir04856979213
18/10/2023 From Tripadvisor
Top notch hotel best in Bahrain
I came to this hotel not expecting much but the staff the facilities the food the decor and rooms were top notch , Nuwan , anand and Mohammad from reception team fabulous team management should be proud amazing hotel amazing people thank you
F2749EQsj
07/09/2023 From Tripadvisor
Massage
Jeryl was very professional and her massage was amazing, i was feeling instantly better afterwards, i would definitely recommend coming to this spa it will now become my GO TO spa, the treats after the massage are also very nice