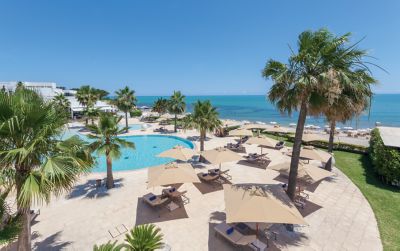 Elegant Boutique Hotel in Gammarth
The Mövenpick Hotel Gammarth Tunis is a unique and modern location for guests who value perfection. Located in an exclusive residential area, our luxury hotel overlooks the beautiful bays of the Mediterranean and the hills of Sidi Bou Said. 
Our 5 star hotel can be easily reached by car from the airport and is only a few minutes away from La Marsa and Carthage.
Explore the range of culinary experiences on offer at Mövenpick Hotel Gammarth Tunis.  We offer two restaurants overlooking the Mediterranean sea. From traditional Moroccan dishes to an all-day a la carta restaurant, there is something for everyone to enjoy.  
Relax on the Gammarth coastline in the Kallisti Spa and enjoy a healing massage or treatment. Take a dip in our indoor pool or jacuzzi or why not work out in the state-of-the-art fitness centre. Mövenpick Hotel Gammarth Tunis is also home to two tennis courts and is in close proximity to an 18-hole golf course
For conferences, weddings and events in Gammarth, we offer five meeting rooms of various sizes accommodating up to 250 guests. All venues are flooded with natural daylight, with the latest audio-visual technology and high-speed internet connection.
Restaurants & Bars
The Place to Savour Life
At Mövenpick Hotel Gammarth Tunis wWe believe in indulgence done right, treating our guests to deliciously fresh cuisine, abundant treats and flavours during their stay in Gammarth Tunis.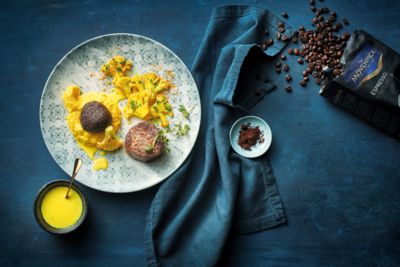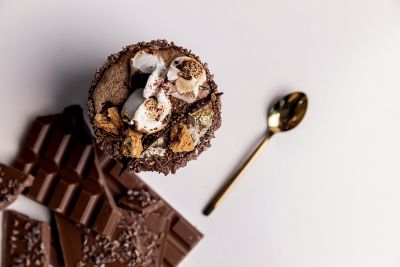 scroll up for previous option
Chocolate Hour
Tick-tock, it's mmm-o'clock, with the 5-star Mövenpick Hotel Gammarth Tunis serving up 60 mouth-watering minutes of cocoa indulgence every afternoon, making sure your day's a delicious one. Join us for Chocolate Hour at Mövenpick Hotel Gammarth Tunis
scroll to show detail options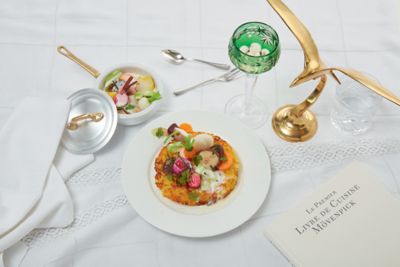 scroll up for previous option
Signature Flavours
Swiss dishes like you've never tasted before, prepared with care and served from the heart in our Mövenpick Hotel Gammarth Tunis restaurant as well as our restaurants worldwide. Includes a daily Chocolate Hour and a variety of local cuisine.
scroll to show detail options

Facilities & Activities
Where Life Tastes Sweeter
Help yourself to the good life at Mövenpick Hotel Gammarth Tunis. From sunny pool days to indulgent spa time at Kallisti Spa, energising workouts to immersive cultural experiences there is plenty to do for guests during their stay.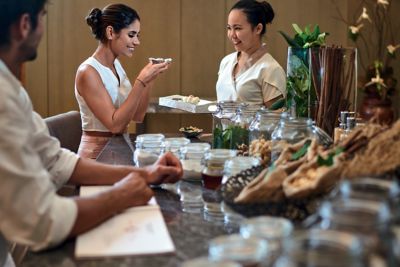 Meetings & Celebrations
Memorable Meetings & Sparkling Celebrations
scroll up for previous option
Meetings that satisfy
With enticing venues and a menu of professional services, our meetings solutions at Mövenpick Hotel Gammarth Tunis are a recipe for success.
Find out more
scroll to show detail options
Practical Information
Practical Information
Reviews
Hamza B
20/08/2023 From Tripadvisor
Good hotel
I thoroughly enjoyed my stay at the hotel. A special shout-out to all the staff, with a heartfelt thanks to Amin, the porter. Nice time nice place,nice experience and nice people. Thank you all of you
887nohas
08/02/2023 From Tripadvisor
Weam and Azmi are the best
Weam and Azmi were super courteous at the front desk and they know how to make a guest welcomed and feel at home! They made my stay very enjoyable and made sure my stay is the best. Thank you very much Weam and Azmi, you made my stay unforgettable.
noumana732
03/02/2023 From Tripadvisor
Fantastic Spa services by Lilia and Fatma!
Great service! Fantastic massage with friendly and welcoming staff. Just what is needed for some down time on a holiday. Fatma went above and beyond to provide excellent service. Lilia was welcoming, kind and did a great job! Highly recommended!
Dev R
23/01/2023 From Tripadvisor
Spa experience
I Went for spa experience with my wife this year in January 2023.I was pleased with the service. My spa attendant Amen was great. She did an amazing job. She was very attentive. I totally recommend her service.
CTCIRC
11/12/2022 From Tripadvisor
5 star facility/4 star service
The hotel is in a splendid location and has deluxe facilities. The beach, the pool, the spa, the lobby are all of the highest quality. This review posts four stars instead of five because there is a lack of continuity in the service. For example, I cited to the desk that a shower drain was not emptying. I was a guest for a week and it was never fixed. One night, the TV did not work. A serviceman came to the room and said, "I will be back." He never returned. One day, the room service people would leave four clean towels, the next day, they might leave just one. The hotel deserves five stars but management must work on a steady expected stream of service. I would stay here again!