Mövenpick Gammarth
Kallisti Spa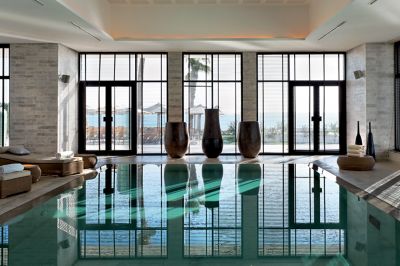 Daily from 6:00 am to 9:00 pm. Treatments: from 10:00 am to 9:00 pm (last treatment at 8:00 pm). Turkish bath: daily from 10:00 am to 9:00 pm. Please note spa acces for children under 16 years is only from 8:00 am to 10:00 am.
Kallisti Spa
Kallisti offers a blissful escape from the world outside. Kallisti spa is set in a tranquil place overlooking the crystal blue waters of the Mediterranean Sea. A place to rejuvenate the body, mind and soul, feel your inner sense of calm return as you enjoy a healing massage and treatment.
This luxurious Spa in Tunis, a jewel of serenity, dedicated to your relaxation and well-being, transports you into a world of indulgence and provides an escape into beauty.
Treatments Room for massage
Indoor swimming pool
2 Fitness room
Ritual treatments inspired by the unique link between the energy of essential oils and the concentrations of ingredients
Cosmetic treatments
Hammam (Turkish bath)
Relaxation area