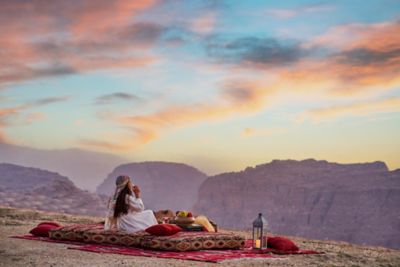 Movenpick Nabatean Castle
Picturesque 5-star hotel with Rift Valley views in Petra, Jordan
Explore the magnificent Red Rose City of Petra from an elevated fortress-style hotel in the rolling hills of the captivating Rift Valley. Mövenpick Nabatean Castle 5-star Hotel is only a 10-minute drive from the historic site of Petra. Enjoy your stay in one of our 90 renovated hotel rooms and suites, with balconies and terraces that face out across the striking landscape.
After a day of discovery and exploration at Petra, relax in our heated indoor pool. In summer, we open the windows and offer access to the terrace. Relish sumptuous Jordanian specialities and international fare at the restaurant, bar and outdoor terraces.
We offer an array of meeting rooms for a variety of events including weddings, meetings and banquets in Petra. Our in-house event management team and catering services will work with you to plan every detail of your event. With spectacular views across the valley combined with the local ancient culture, Mövenpick Nabatean Castle Hotel makes for an unforgettable wedding and event venue.
Restaurants & Bars
The Place to Savour Life
We believe in indulgence done right. Take in the views as you savour international and Arabic cuisine at Al Madafa restaurant watch the sunset from Jebel Haroun terrace and enjoy an aperitif at Al Nadeem Bar & Terrace.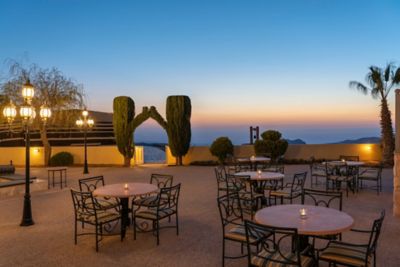 scroll up for previous option
Chocolate Hour
Tick-tock, it's mmm-o'clock at Movenpick Nabatean Castle. With all our luxury restaurant serving up 60 mouth-watering minutes of cocoa indulgence every afternoon, we will make sure that your day's a delicious one.
scroll to show detail options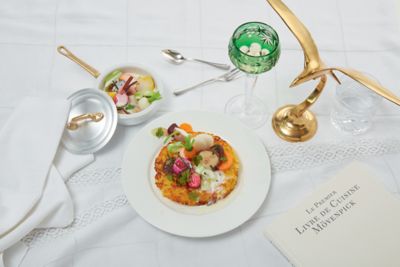 scroll up for previous option
Signature Flavours
Mövenpick Nabatean Castle combines signature dining with a spectacular mountain setting. Experience dishes like you've never tasted before, prepared with care and served from the heart in our 5 star restaurants.
scroll to show detail options
Facilities & Activities
Where Life Tastes Sweeter
Experience the good life in Petra at Mövenpick Nabatean Castle. Enjoy your stay in Jordan by heading to our pool, spend some time in our luxury spa, enjoy energising workouts, and get ready for immersive cultural experiences, we invite you to take it all in.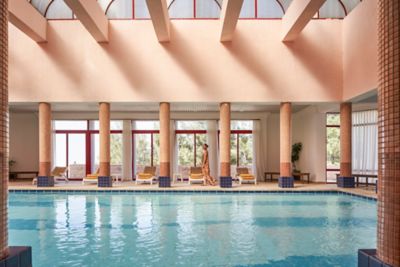 Meetings & Celebrations
Memorable Meetings & Sparkling Celebrations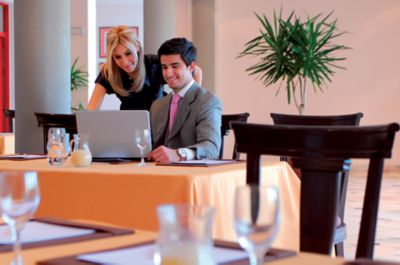 scroll up for previous option
Meetings that satisfy
With enticing meeting and event venues in Petra, offering a combination of wild nature and ancient culture, and a menu of professional services, the meeting solutions at Mövenpick Nabatean Castle are a recipe for success.
Find out more
scroll to show detail options
Practical Information
Practical Information
Reviews
karam a
17/05/2023 From Tripadvisor
Recommended hotel
Very recommended hotel, the room was very clean. I stayed for 4 nights and it was the most amazing vacation. The service was awesome, the dinner buffet included various and delicious choices. The hotel has a nice view to Petra mountains.
mania d
17/05/2023 From Tripadvisor
Best hotel ever
It is a very nice hotel, and the room was very clean, the staff very friendly and helpful, and the food very very delicious, the hotel has an amazing view of the petra mountains, very recommended hotel, it will be my only choice forever
Ajayeb J
17/05/2023 From Tripadvisor
An example of hospitality 👍
Best hotel and best stay in petra Room service and the crew are the nicest very helpful Rooms are very clean and food is delicious The view is spectacular especially on sunset time Best memories Strongly recommend
The New Guy In ... P
15/05/2023 From Tripadvisor
The bonding
It's been a very significant expirience, based on the true gentle treat from the people working here the gains in my expirience have been surprisingly fulfilling! The peace felt in the hotel is what amazes me the most!
Aposkou_87
09/05/2023 From Tripadvisor
excellent service
i want to thanks all staff of nabatean castle hotel in petra jordan all of them are kind professional and helpfull Special thanks to Frond desk and to mr Ibrahim in the restaurant. Go on Thank you so much Margarita