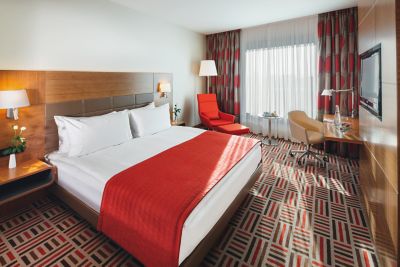 Mövenpick Hotel Ankara
The Mövenpick Hotel Ankara is a modern 5 star hotel located in the Söğütözü business district of Ankara, the Turkish capital city. Close to the ministries, government buildings and major corporate headquarters, it is an excellent choice for business travellers. At walking distance to fashionable shopping malls with cinemas, bowling and a kids club, it is also ideal for leisure travellers and their families.

Enjoy spacious Superior rooms, state-of-the-art meeting rooms and gourmet dining. Discover novel culinary delights created by blending Turkish and international cuisine – served up with impeccable Swiss customer service.
Restaurants & Bars
The Place to Savour Life
We believe in indulgence done right at Mövenpick Hotel Ankara, that's why our Plus Restaurant is set in a charming atmosphere offering deliciously fresh cuisine, abundant treats and exciting flavours that are unmistakably Mövenpick.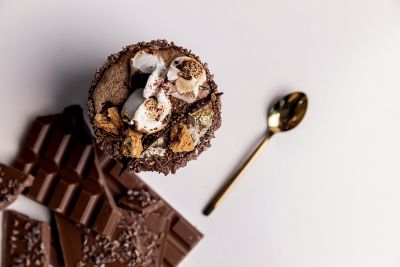 scroll up for previous option
Chocolate Hour
Tick-tock, it's mmm-o'clock at our 5 star, hotel serving up 60 mouth-watering minutes of cocoa indulgence every afternoon, making sure your day's a delicious one.
scroll to show detail options
scroll up for previous option
Signature Flavours
Swiss dishes as well as Turkish specialities like you've never tasted before at our restaurant in Ankara, prepared with care and served from the heart.
scroll to show detail options

Facilities & Activities
Where Life Tastes Sweeter
Enjoy the high life at the modern designed hotel in Ankara. From a relaxing dip in the pool to indulgent spa time, energising workouts to immersive cultural experiences, we invite you to take it all in.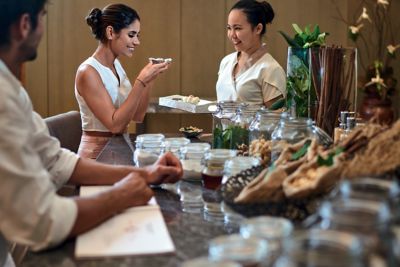 Meetings & Celebrations
Memorable Meetings & Sparkling Celebrations
scroll up for previous option
Meetings that satisfy
With enticing venues near Esenboga Airport and a menu of professional services, our meetings solutions are a recipe for success.
Find out more
scroll to show detail options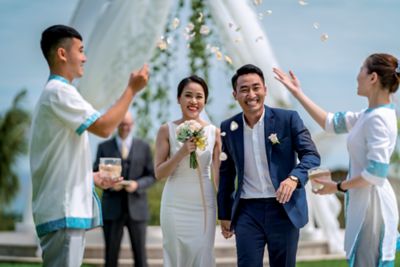 scroll up for previous option
Events bursting with flavour
With a ballroom offering natural daylight, we'll help you celebrate life's rich moments.
Find out more
scroll to show detail options
Practical Information
Practical Information
Reviews
BillA166
10/06/2023 From Tripadvisor
Best restaurant I've eaten at in Ankara
The hotel is good and in an excellent location, but the restaurant and the staff earn 5 stars. Excellent quality of service, superb food, I recommend the Turkish specialities. And the restaurant manager Can Yilmaz is an absolute star, caring and attentive. Coming to Ankara? Eat here for a special evening.
john a
30/01/2023 From Tripadvisor
Great for a short break
On checking in to the hotel the reception staff were extremely friendly, and explained all the hotel facilities. I was shown to my room which was very comfortable, quiet and clean. I was on the 10th floor with views över the city. I have to say the bed was extremely comfy, especailly the large pillows. The shower was excellent. The only problem was the room was very hot, heating was on very high throughout the hotel. I used the hotel spa, although small the jacuzzi, steam rooms and sauna were lovely to relax in after a busy day. I didnt use the pool as it was really too small to swim in. The lobby bar offered a quiet area to enjoy a drink, i had a lovely cake and coffee. The breakfast was amazing, buffet style and eggs to order. Restaurant staff again extremely friendly. For me i found the location excellent, opposite a metro station, ( under 10 minutes by metro to Kızılay Meyden) Anıtkabir was also easy to get to using the metro. I enjoy walking and did walk back to the hotel from Kızılay which was pleasent. Next door to the hotel is a huge shopping mall where there are many bars restaurants and coffee shops including a TGIfridays. I had a great stay at the Movenpick Ankara, thanks.
raulo487
28/10/2022 From Tripadvisor
Kind and friendly, great location
Front, upper rooms offer fantastic view. All personnel was very kind, respectful and friendly, especially Anil, in the restaurant. He did always exceed my expectations... Hotel is located next to a mall in a busy business location. I would come back.
PauloBaptista
25/09/2022 From Tripadvisor
Great location, in the modern part of Ankara, with many restaurants around the corner and a mall
The stay at this hotel was ok. Breakfast was very good. Great location, in the modern part of Ankara, with many restaurants around the corner and a mall. There were a couple of situations that may require improvement. First, the hotel has a very limited number of parking places, and they ask for your car key and will park the car for you. For me, this is always a bit inconvenient, especially because we were on a long road trip and had things in the car we might need, or not (but surely we were not willing to bring 'everything' to the room). On the second day, when we got to the hotel, I parked in a spot where I saw they parked the guest cars themselves. But still they asked me for the key! When I tried to understand why, a small discussion took place, a mixture of discomfort and language difficulties, and I still don't understand why they wanted to have the key. Anyway... Maybe it's their standard procedure. The topic which definitely needs improvement is the early breakfast pack. My wife needed to catch a flight at 5 AM, and we all know what this means: getting something to eat at very early hours. Of course the reception staff offered to organize "breakfast packs" and bring them to the room. But there was no list to chose from. They mentioned the packs were standard, without options. When we got them, we were disappointed. If I remember well, each pack had 1 sandwich, 1 apple, 1 juice and 1 water bottle (!). Not the standard I expected from a Mövenpick. I suggest you have a short list of items, allowing guests to customize their packs a bit. Last year, we had a similar situation at Mövenpick Amman (Jordan), and the breakfast pack was much better. Of course, in both hotels, there was a coffee machine in the room.
erdigoker
02/09/2022 From Tripadvisor
Comfort for business trips
Transportation easy .. next to shopping mall.. rooms are ok however my first night room was a bit small but comfortable and clean. Syaff are eager to help.. breakfast is reasonable..In all over the hotel is very comfortable and clean adapted for hygine and health