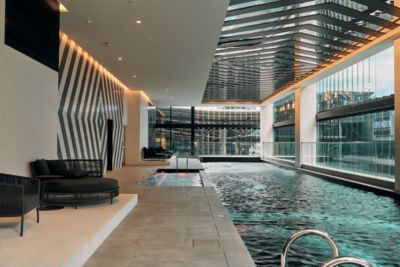 Mövenpick Hotel Melbourne On Spencer
Art meets design in the world's most exciting city
Welcome to Mövenpick Hotel Melbourne on Spencer, Accor's 2nd Mövenpick Hotel in Australia. Forming the 'podium' of Melbourne's iconic Premier Tower, our hotel's 172 luxury hotel rooms and suites cover floors 1 to 6, The 5-star boutique Mövenpick Hotel Melbourne on Spencer delivers a hotel experience  that blurs the lines between art and design to create unforgettable moments.
An ode to Melbourne's vibrant arts scene, our beautifully designed hotel showcases a collection of art works from Melbourne's best photographers including Steve Scalone and Sean Mcdonald alongside world class dining experiences and Mövenpick's famous daily 'Chocolate Hour'. 
Our family friendly hotel is easily accessible by car and public transport, offering parking facilities whilst being located near the Southern Cross Station, Melbourne Airport and is close to the Sky Bus Terminal. Mövenpick Hotel Melbourne on Spencer is located near Marvel Stadium, to enjoy the latest sporting event and Queen Victoria Market, where you can experience a vibrant market with a variety of fresh produce and speciality shopping.
HOTEL EXTRAS
Outdoor swimming pool, hot tub & sauna open till 10pm
24-hour gym with Technogym exercise equipment
Miss Mi modern Asian restaurant, winner of Good Food Chef's Hat award. Open for lunch and dinner
An easy stroll to Marvel Stadium, outlet shopping centres and the Southbank promenade
Located in the free tram zone & close to Southern Cross Station & Sky Bus terminal
Restaurants & Bars
The Place to Savour Life
At Mövenpick Hotel Melbourne on Spencer we believe in indulgence done right, treating our guests to deliciously fresh cuisine, abundant treats and flavours that are unmistakably Mövenpick, all served with a generous portion of heartfelt care. Explore Mövenpick Café on Spencer, Breakfast at Mövenpick Melbourne and Miss Mi Restaurant & Bar.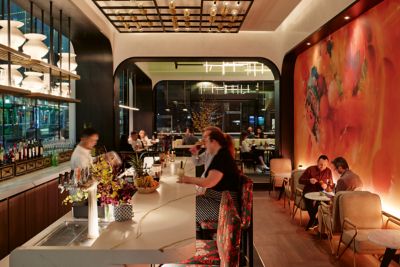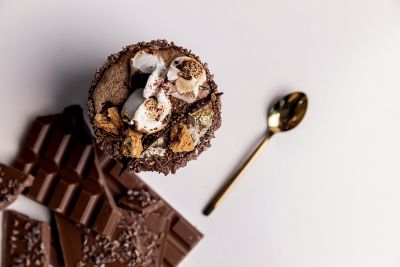 scroll up for previous option
Chocolate Hour
Tick-tock, it's mmm-o'clock, with all our hotels and resorts serving up 60 mouth-watering minutes of cocoa indulgence every afternoon, making sure your day's a delicious one. Join us for Chocolate Hour at Mövenpick Hotel Melbourne on Spencer from 4.30pm to 5.30pm daily. Served in the hotel lobby, indulge in our chef's daily chocolate-themed creations.
scroll to show detail options

Facilities & Activities
Where Life Tastes Sweeter
Help yourself to the good life at Mövenpick. From sunny pool days to relaxing in the sauna, energising workouts to immersive local experiences, we invite you to drink it all in.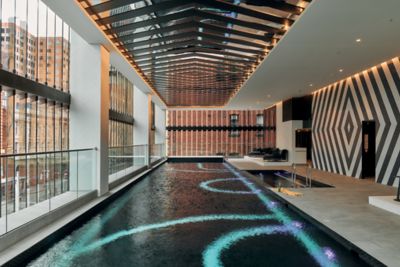 Practical Information
Practical Information
Discover all the practical information you need about the hotel, including contact details, location, guest reviews, and frequently asked questions, all conveniently located below.
Reviews
BundyClub
22/09/2023 From Tripadvisor
OK could be better
The hotel is well located opposite Southern Cross Station,near the sky bus, tram services and a taxi rank. The room was spacious, clean, comfortable and quiet. The staff friendly and helpful. We came here after staying at the Movenpick Hobart and this hotel suffers by comparison. The bath towels were poor quality and in one case dirty. The breakfast in Miss Mi was "hit and miss", with a mish mash of breakfast food,often cold. The hotel does, however, have a lovely bar area in which to have a drink.
FrequentOzTraveller
18/09/2023 From Tripadvisor
Breakfast is Better at Hungry Jacks
Spent a couple of nights at this hotel and was a mixed bag indeed. Pros: Close to SkyBus terminal with food court, Coles, etc. right over the road. Room was reasonably large, clean with a walk-in shower and decent sized bathroom. There is no wardrobe in the room, but a few hangers are available next to the mini-fridge. Staff were welcoming and attentive during my stay. Cons: Room service menu is, at best, very limited in the options that are available. As I was coming off flights from the UK the only realistic snack option was the spring rolls. You couldn't even order what is usually a hotel staple - a bread roll with butter. I decided to include breakfast for $35 as an add-on. This is where breakfast over the road would have been cheaper and with more 'western' options. Scrambled eggs, sausages, baked beans and bacon were the only choices available against what you would expect from a 4.5* establishment. Also, beware of trying to find a table for one during the 'peak period' for breakfast. Obvious groups of contractors (?) took up all available two-seat tables and I'm not sure why staff allowed this. It meant either a wait to be seated or being asked to share a table with others. Not ideal when traveling alone. For the price paid, stay somewhere else.
Natmarsbar
16/09/2023 From Tripadvisor
Great hotel, excellent location and service
I recently stayed for a long weekend to catch up with some friends in Melbourne. It was my seconds stay at this hotel, I contacted them directly to book this time and was able to get a great deal. When I arrived I was told I had been upgraded to their largest suite, which was a lovely surprise! The room was stunning, with a large bath tub and a great view. I was also left a complimentary selection of chocolates on my first afternoon, which was a nice touch. The location of the hotel is excellent, close to trains and trams. The free chocolate hour is a nice feature that you don't get at other hotels. The room was very spacious, clean and comfortable. Even though I was only staying 2 nights my room was still cleaned after the first night. The staff are very polite, friendly and helpful. I was able to request a late checkout and this was provided free of charge. I would highly recommend this hotel and I'm already looking forward to my next visit.
brown-kiwi-boy-89
14/09/2023 From Tripadvisor
ROOMS NOT SOUND PROOFED
Rooms are close to southern cross station and could literally hear trams all night and morning, not to mention people screaming. If you decide to stay here ask for a room facing away from collins street. Also the hotel advertises a so called 'chocolate hour' however went down stairs and couldn't find this anywhere. Won't stay here again
Ali S
06/09/2023 From Tripadvisor
Location, location, location! (And a fabulous pool)
Very well located. Easy to get the SkyBus straight to Spencer Street Station and walk across the road to Movenpick. Friendly staff and modern property with well appointed rooms. The swimming pool is beautiful (and heated) and there is also a large hot spa. The windows in the pool area stay open so there can be a cool (or cold!) breeze coming through. Easy to get everywhere with 2 tram stops just outside the door. Recommend a corner room if you are able - on my first stay had a corner room and the extra space makes the stay more comfortable. Second stay was a twin room (single beds) but was still nice.