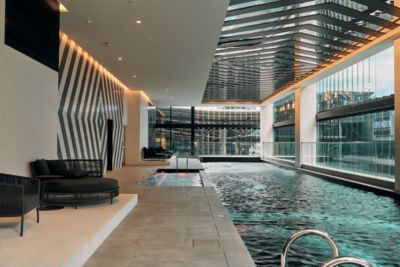 Mövenpick Hotel Melbourne On Spencer
Art meets design in the world's most exciting city
Welcome to Mövenpick Hotel Melbourne on Spencer, Accor's 2nd Mövenpick Hotel in Australia. Forming the 'podium' of Melbourne's iconic Premier Tower, our hotel's 172 luxury hotel rooms and suites cover floors 1 to 6, The 5-star boutique Mövenpick Hotel Melbourne on Spencer delivers a hotel experience  that blurs the lines between art and design to create unforgettable moments.
An ode to Melbourne's vibrant arts scene, our beautifully designed hotel showcases a collection of art works from Melbourne's best photographers including Steve Scalone and Sean Mcdonald alongside world class dining experiences and Mövenpick's famous daily 'Chocolate Hour'. 
Our family friendly hotel is easily accessible by car and public transport, offering parking facilities whilst being located near the Southern Cross Station, Melbourne Airport and is close to the Sky Bus Terminal. Mövenpick Hotel Melbourne on Spencer is located near Marvel Stadium, to enjoy the latest sporting event and Queen Victoria Market, where you can experience a vibrant market with a variety of fresh produce and speciality shopping.
HOTEL EXTRAS
Outdoor swimming pool, hot tub & sauna open till 10pm
24-hour gym with Technogym exercise equipment
Miss Mi modern Asian restaurant, winner of Good Food Chef's Hat award. Open for lunch and dinner
An easy stroll to Marvel Stadium, outlet shopping centres and the Southbank promenade
Located in the free tram zone & close to Southern Cross Station & Sky Bus terminal
Restaurants & Bars
The Place to Savour Life
At Mövenpick Hotel Melbourne on Spencer we believe in indulgence done right, treating our guests to deliciously fresh cuisine, abundant treats and flavours that are unmistakably Mövenpick, all served with a generous portion of heartfelt care. Explore Mövenpick Café on Spencer, Breakfast at Mövenpick Melbourne and Miss Mi Restaurant & Bar.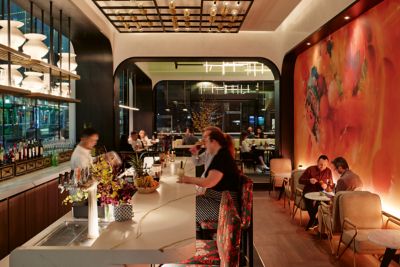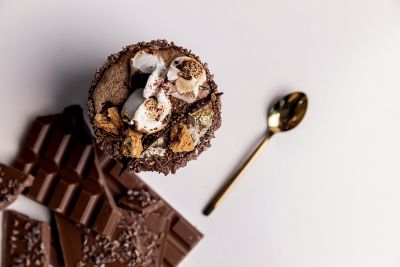 scroll up for previous option
Chocolate Hour
Tick-tock, it's mmm-o'clock, with all our hotels and resorts serving up 60 mouth-watering minutes of cocoa indulgence every afternoon, making sure your day's a delicious one. Join us for Chocolate Hour at Mövenpick Hotel Melbourne on Spencer from 4.30pm to 5.30pm daily. Served in the hotel lobby, indulge in our chef's daily chocolate-themed creations.
scroll to show detail options

Facilities & Activities
Where Life Tastes Sweeter
Help yourself to the good life at Mövenpick. From sunny pool days to relaxing in the sauna, energising workouts to immersive local experiences, we invite you to drink it all in.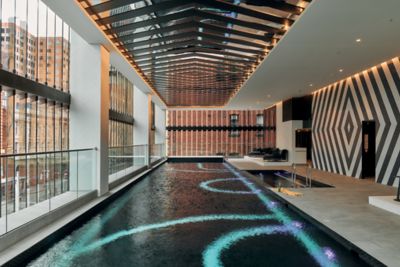 Practical Information
Practical Information
Discover all the practical information you need about the hotel, including contact details, location, guest reviews, and frequently asked questions, all conveniently located below.
Reviews
thehopster
19/05/2023 From Tripadvisor
A great location. Hard to fault
The hotels location opposite Spencer Street station is perfect. For the first time ever I actually got the SkyBus from the airport to the city and the hotel is literally a 1 min walk away. The bus is so much easier than getting a taxi. The hotel also sits on a corner with trams (free in the city) which will get you to most places you need to get to. Rooms and comfortable. Don't really like the black curtains in the room and the shower would be better if it had a glass door on it to stop water splashing into the main bathroom area, but these are minor issues. Great coffee and also a nice comfortable lobby area to work in too. Staff are friendly and helpful. Hard to fault the hotel.
Robyn D
08/05/2023 From Tripadvisor
Everything was wonderful
A Monday overnight near the SkyBus before a flight home the next day, and it exceeded all expectations. Room was beautiful, very clean, new. Spa was AMAZING, pool was heated and lovely, we used it 3 times! Everything you could want and very friendly service as well. Chocolate hour was great, such a novelty for my daughter, and breakfast so yummy. Even a great view of the station 🚉 Can't recommend enough.
MarkFlintoff
30/04/2023 From Tripadvisor
Perfect
Home away from home, very comfortable and aesthetically pleasing. Tim, on front office reception, is professional & accommodating and is the most important person as he is the image and first impression of your hotel. Wonderful property, incredibly centrally located right across the road from the Spencer Street and southern Cross station and the Bourke Street tram. A special thanks to the very pleasant Italian lady at breakfast, Didn't catch her name. Will definitely return.
Leonie K
29/04/2023 From Tripadvisor
My favourite hotel to stay in
Wow this has now become my favourite place to stay when visiting Melbourne. Location is fantastic- I walked straight from the country train at Southern Cross across the road to the hotel. It also has the Bourke St tram right out the front of the side entrance, easy access into the Mall and shops. Short walk to Collins St tram so easy for the Theatre. And right across the road to the Spencer St Outlet with shops and food. My husband walked to the football at Marvel Stadium, so was happy with that. The staff (not matter where they worked) were all very friendly and helpful, so well done to the recruitment team on picking the right staff. The rooms (we stayed room 619) were clean and very comfortable. Shower fantastic. We loved the lobby area and the chocolate hour. The pool looked lovely and will use it next time. I really could not find a fault with this hotel and I have stayed in many, after a long career in Aviation. This will definitely be the hotel we stay when we come to Melbourne.
MissKirstsTravels
13/04/2023 From Tripadvisor
Lovely stay
Stayed here for a weekend getaway in Melbourne Checkin was simple. Our room was lovely, clean and spacious. Nicely decorated. The hotel itself was nicely decorated and fresh. The food on offer outside restaurant hours was quite limited and VERY expensive, but the flavours were beautiful. Fortunately we have an Accor card or it would have been ridiculously expensive. Finding service was also tricky. The chocolate hour seems very gimmicky. The man on checkin described it as all you can eat. The may be true if you were first in the line at the time it starts. We were sitting having a drink when chocolate hour started people came from nowhere and flocked to line up for free chocolate (some I don't even think were staying at the hotel as this didn't seem policed). We stood back as we don't like lines and within 10 mins everything was gone but for a few scraps. Disappointing experience. The other thing I found odd in a hotel of this standard was the cleanliness of the bathrooms. The bathrooms on the restaurant/entry level are unisex. Which is fine if the bathrooms are clean. We sat down for a drink one evening and I went to use the bathroom and both were atrociously filthy. Women don't really want their clothes dragging in urine covered floors when going to the bathroom. Certainly not expected in a hotel of this standard. Overall the room was great, bed comfy and a nice stay.