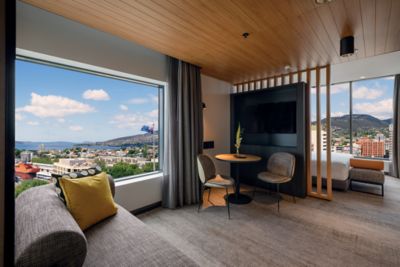 The 1st Mövenpick in Australia located in Hobart city centre
Located in the heart of Tasmania's picturesque capital city of Hobart, the 4.5-star Mövenpick Hotel Hobart is a place to savour and create unforgettable moments. As the 3rd tallest building in Hobart, you can soak up the best views in town. The hotel's 221 elegant rooms and suites offer unique Tasmanian inspired design and spectacular harbour or city views.
The temptation to explore this historical city beckons, stay in the centre of Hobart and discover all the Tasmanian capital has to offer. This small but lively city is the perfect holiday destination for couples and families alike. Discover why Lonely Planet has called Hobart one of the top 10 destinations to visit, with award winning restaurants and bars, galleries and specialty shops just outside your door.
Don't miss the hotel's famous free daily 'Chocolate Hour' plus free Mövenpick ice cream for children 12 years and under.
Restaurants & Bars
The Place to Savour Life
At Mövenpick Hotel Hobart we believe in indulgence done right, treating our guests to deliciously fresh cuisine, abundant treats and flavours that are unmistakably Mövenpick, all served with a generous portion of heartfelt care. Surrounded by a number of bars and restaurants, you'll be spoilt for choice.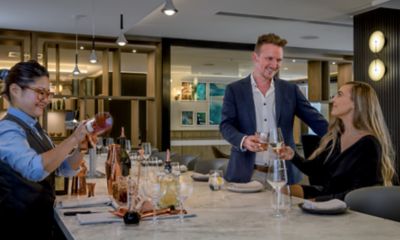 scroll up for previous option
Chocolate Hour
Tick-tock, it's mmm-o'clock, with Mövenpick Hotel Hobart serving up 60 mouth-watering minutes of cocoa indulgence every afternoon from 3.30pm to 4.30pm, making sure your day's a delicious one. Join us for Chocolate Hour at the 4.5-star Mövenpick Hotel Hobart.
scroll to show detail options

Facilities & Activities
Where Life Tastes Sweeter
Help yourself to the good life at Mövenpick Hotel Hobart. From exploring Hobart's historic city centre to indulgent spa time, soaking up the view or an energising workout, we invite you to drink it all in.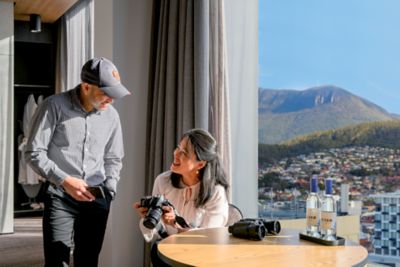 Meetings & Celebrations
Memorable Meetings & Sparkling Celebrations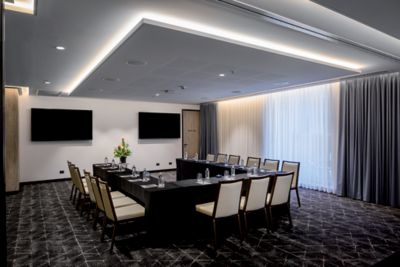 scroll up for previous option
Meetings that satisfy
With enticing venues and a menu of professional services, our meetings solutions at Mövenpick Hotel Hobart are a recipe for success.
Find out more
scroll to show detail options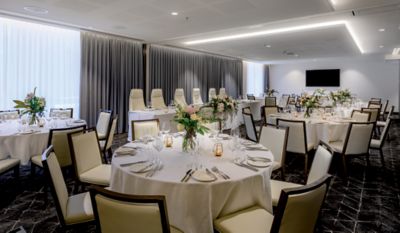 scroll up for previous option
Events bursting with flavour
With a touch of sugar, spice and everything nice, at Mövenpick Hotel Hobart we'll help you celebrate life's rich moments.
Find out more
scroll to show detail options
Practical Information
Practical Information
Discover all the practical information you need about the hotel, including contact details, location, guest reviews, and frequently asked questions, all conveniently located below.
Reviews
Sara V
10/12/2023 From Tripadvisor
Stay somewhere else
Comfortable room however the bathroom sliding door does nit latch and kept sliding open while in the toilet. Also no soundproofing and you can hear everything that is happening in the toilet from the bed. Drop off experience was a nightmare due to all the parks being used out the front, no where to be dropped off with multiple bags. I would suggest booking somewhere else if you plan on arriving anywhere from 2 to 6pm. Given a welcome drink voucher however limited seating to enjoy this offer. Front reception non smiling or partially welcoming. Not rude, just not interested in their job. I was handed the keys and not given any further information or directions. Great location but experience not worth the $$
Paul Tania K
10/12/2023 From Tripadvisor
Couples stay in December 2023
We thoroughly enjoyed our stay at the Movenpick for 4 nights. The location was fantastic, short walk to the wharf, markets, city. We had a package with breakfast, drinks, late checkout and chocolate hour. The breakfast was fantastic, the almond croissants on the first morning were the best I've ever had! Our room was lovely, the only disappointment is that our beautiful large window was fully blocked by a brick wall straight next to it! We would definitely stay again, the staff were friendly and so helpful.
mark b
07/12/2023 From Tripadvisor
Fantastic Hotel
This hotel was fantastic and the staff were brilliant ,we would stay here again for sure, great decor ,great service ,great view ,and the room was amazing and the amenities were really good ,really good position for shops and walks to restaurants and the docks etc,do yourself a favour and stay here
zolamunchie
21/11/2023 From Tripadvisor
Convenient location and friendly staff
Travelled interstate and stayed here for 3 nights in October with my partner for our birthday celebration. Staff were really friendly throughout our entire stay. I would like to mention Bianca from Reception and the Tesoro manager (I unfortunately did not get his name), they were amazing. Would definitely come back here if given the chance and highly recommend this place due to the staff's hospitality.
R9502SAelizabethh
12/11/2023 From Tripadvisor
Great place to stay - central and comfortable
My husband and I stayed two nights mid week and thoroughly enjoyed our time at the Movenpick. We were on a package which was great value including full breakfast and access to the chocolate hour in the afternoon. Fortunately for us we were upgraded which afforded us lovely views over Hobart towards Constitution Dock, Salamanca Markets and of course the Derwent River. The staff were friendly and attentive. Parking is valet parking which was a bit tricky on arrival as the area in front of the hotel has restricted car access and we arrived in the afternoon peak hour hence lots of buses. The hotel staff were very helpful, quickly came to our assistance and of course valet parked the car. We also enjoyed two evening meals in the restaurant Tesoro.