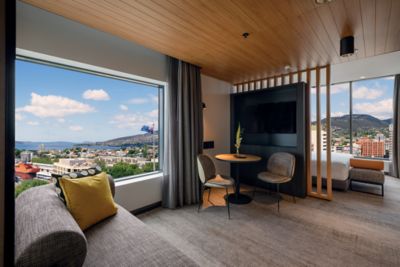 The 1st Mövenpick in Australia located in Hobart city centre
Located in the heart of Tasmania's picturesque capital city of Hobart, the 4-star Mövenpick Hotel Hobart is a place to savour and create unforgettable moments. As the 3rd tallest building in Hobart, you can soak up the best views in town. The hotel's 221 elegant rooms and suites offer unique Tasmanian inspired design and spectacular harbour or city views.
The temptation to explore this historical city beckons, stay in the centre of Hobart and discover all the Tasmanian capital has to offer. This small but lively city is the perfect holiday destination for couples and families alike. Discover why Lonely Planet has called Hobart one of the top 10 destinations to visit, with award winning restaurants and bars, galleries and specialty shops just outside your door.
Don't miss the hotel's famous free daily 'Chocolate Hour' plus free Mövenpick ice cream for children 12 years and under.
Restaurants & Bars
The Place to Savour Life
At Mövenpick Hotel Hobart we believe in indulgence done right, treating our guests to deliciously fresh cuisine, abundant treats and flavours that are unmistakably Mövenpick, all served with a generous portion of heartfelt care. Surrounded by a number of bars and restaurants, you'll be spoilt for choice.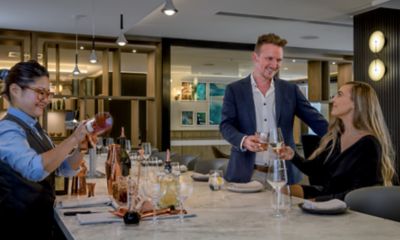 scroll up for previous option
Chocolate Hour
Tick-tock, it's mmm-o'clock, with Mövenpick Hotel Hobart serving up 60 mouth-watering minutes of cocoa indulgence every afternoon from 3.30pm to 4.30pm, making sure your day's a delicious one. Join us for Chocolate Hour at the 4.5-star Mövenpick Hotel Hobart.
scroll to show detail options

Facilities & Activities
Where Life Tastes Sweeter
Help yourself to the good life at Mövenpick Hotel Hobart. From exploring Hobart's historic city centre to indulgent spa time, soaking up the view or an energising workout, we invite you to drink it all in.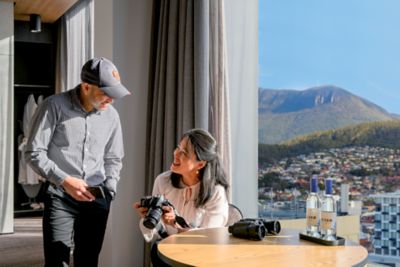 Meetings & Celebrations
Memorable Meetings & Sparkling Celebrations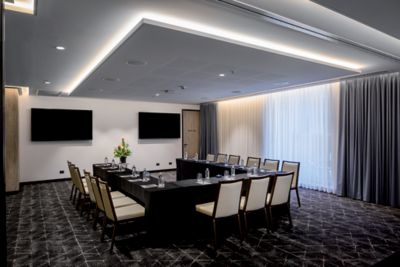 scroll up for previous option
Meetings that satisfy
With enticing venues and a menu of professional services, our meetings solutions at Mövenpick Hotel Hobart are a recipe for success.
Find out more
scroll to show detail options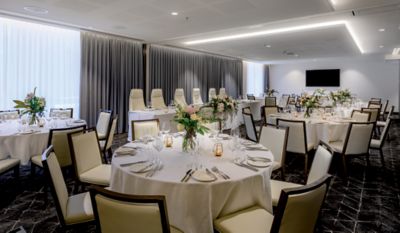 scroll up for previous option
Events bursting with flavour
With a touch of sugar, spice and everything nice, at Mövenpick Hotel Hobart we'll help you celebrate life's rich moments.
Find out more
scroll to show detail options
Practical Information
Practical Information
Discover all the practical information you need about the hotel, including contact details, location, guest reviews, and frequently asked questions, all conveniently located below.
Reviews
SierraMadretravelers
05/06/2023 From Tripadvisor
Best hotel in Hobart
The Movenpick was one of our favorite hotels during a 3-week trip to Australia. The hotel is ideally located close to shopping, restaurants and transportation. Starting with sweet and friendly Monica at the front desk, the staff was wonderful. We shared a two queen bedroom on a high floor with a magnificent floor to ceiling view of the river, city and hills. The beds were divine and the room was clean, spacious and comfortable. The hotel restaurant was so good that we had dinner there three of our four nights. We booked the breakfast plan and we were pleased that we did. Kudos to management for running such a wonderful hotel. Top marks for a memorable experience.
Chris M
02/06/2023 From Tripadvisor
Excellent stay
We (couple) had a four night stay in May in a room one level up from base. ALL Gold - not offered, and did not ask for, an upgrade as I realise they are space available. Interestingly we had a friend staying on Level 14, which I would have assumed (perhaps wrongly) was at least one category up from our Level 4 room, and it was considerably smaller than ours, but with a much better view. But that is not a complaint, just a curiosity. Our interactions with reception staff were always pleasant, and they were very helpful with information like bus pick-up places etc. Could not fault them. We were about 30 minutes prior to 'guaranteed' check in time and room was not ready so we got a couple of bonus welcome drink vouchers to help while away the time. Nice. And the staff in the bar/restaurant were very friendly. Room was plenty big enough with all the usual bits and bobs and had a decent view over Elizabeth St. Temperature control was very responsive and once worked out, easy to use. Two bottles of water daily. Bathroom a decent size and spotlessly clean, and indeed had a bath (not utilised). There are three 'tub' containers in the shower and two by the sink (a good thing, those little individual things, nice as they can be, are wasteful and on the way out). However the shower had 2 x shampoo and 1 x conditioner, but nothing to actually wash oneself with (no bars of soap either). I mention this not as a complaint but as a salute to how quickly the issue was rectified once reported to reception. A man came and made the necessary substitution within 10 minutes. Bed comfortable. No complaints, and would happily stay here again.
Simon B
01/06/2023 From Tripadvisor
Our first visit to Hobart and with Movenpick.
There are so many accommodation options when you stay in a city and for some people, they stick to the hotel chains they know and love. For me, I am a member of Accor however, I had never stayed at Movenpick Hotel before. So, to find one in the heart of Hobart, perfectly located near cafes, restaurants, Hobart's docks/wharves and Salamanca Place, our weekend was off to a great start. Our check in was seamless, as usual, with plenty of staff on duty, and this always seemed to be the case whenever we walked past reception. The hotel, from reception, the lifts, the hallway and our room, was spotless everyday (four nights) we were there. The standard King size room more than met our needs with a more than generous sized bathroom and thankfully, with a ceiling shower head included with the standard wall shower head, handy for us taller humans! And best of all, large, thick bath towels were a nice addition. Breakfast was delicious and the surroundings (restaurant decor) were very pleasant. And of course, the staff were polite and attentive to our needs. At 3:30pm each day, the hotel's chef(s) show off their culinary skills and create exquisite tasting chocolate slices and cakes. Dinner at the hotel's restaurant 'Tesoro' was a nice experience to eat in on our last night in Hobart because we were too sore to walk anywhere else after walking around MONA all day. Overall, a nice hotel to stay in that met our expectations and more. Simple, very clean, quiet, central, with very polite and accommodating staff.
thewise0ldbird
28/05/2023 From Tripadvisor
Conveniently in town.
👍we stayed on the 14 th floor.Clean,comfy,quiet and great views over the city. Quite a large bathroom. Good breakfast.Valet service for our car but all ok as long as you gave reception 15 mins heads up.Easy walk to harbour foreshore and shops/restaurants. 👎room was very small.Shame the bathroom wasn't smaller and more room in bedroom area.
570nickm
20/05/2023 From Tripadvisor
Really good hotel
Had a really good stay here for three nights while visiting Hobart. The hotel is well situated to the shopping centre, a short walk to Salamanca Market, good restaurants and the harbour area. The room was well appointed and very clean. We wouldn't hesitate to return to this hotel.