Mövenpick Petra
Environmental Policy 2023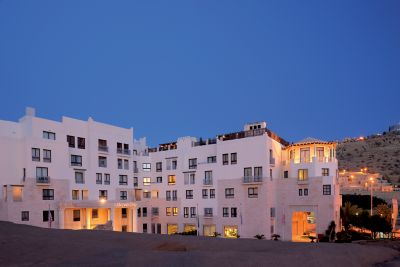 Environmental Policy 2023
We, the Management, and the Employees of Mövenpick Resort Petra are committed to promoting, supporting, and incorporating environmentally sustainable practices that responsibly sustain the environment, with the aim of reducing pollution and safeguarding the long-term existence of our businesses. We are committed to implementing sustainable initiatives that will have a long-lasting impact on our community and make the most efficient use of the limited resources available.
Therefore, we subscribe to the following sustainability measures:
Complying with the requirements of environmental legislation.
Efficient use and consumption of water, energy, and other resources with constant analysis and evaluation.
Active involvement in raising sustainability awareness for our employees, guests, and community.
Safeguarding cultural and natural heritage by ensuring that all business activities do not negatively affect protected areas and sites.
Prioritize the use of eco-friendly products and chemicals that are not aggressive to the environment.
Implementing and applying waste management and recycling programs within the resort.
Modification of our purchasing policy to be in line with sustainability guidelines.
Continuously engaging in initiatives that improve our environmental and social performance.
      Adhering to the above principles, we are committed to setting up objectives with defined targets that are reviewed constantly to improve our environmental and social performance while becoming environmentally competitive and a benchmark in the tourism sector.