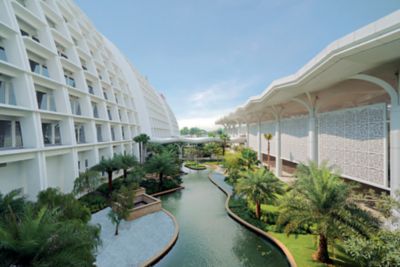 Mövenpick Hotel And Convention Centre Klia
Mövenpick Hotel And Convention Centre Klia
Stay at Mövenpick Hotel & Convention Centre KLIA, our contemporary Muslim-Friendly hotel with Islamic design influences, just 10 minutes to the Kuala Lumpur International Airport (KLIA), 7 minutes to the Sepang International Circuit and 5 minutes to Mitsui Premium Outlet Park. Our 332 luxury hotel rooms at Mövenpick Hotel & Convention Centre KLIA offer great views of the lush gardens of Sepang District and complimentary Wi-Fi. Daily airport transfers are available at specific times. Kindly contact the hotel for the latest schedule.
Our Muslim-friendly hotel in KLIA, Sepang offers something for everyone with a Kids Club and outdoor play area to keep the little ones entertained. Discover a range of spa & wellness facilities at Mövenpick Hotel & Convention Centre KLIA.
Take a quick dip in our enchanting swimming pool after a long day of meetings or either sightseeing or enjoy a workout in the well-equipped gym.  Our alcohol free outlets served great food from Malaysia and the wider region in our five restaurants and lounges.  The convention centre and meeting rooms make this upscale Sepang hotel ideal for business meetings and all kinds of events.
Restaurants & Bars
The Place to Savour Life
We believe in indulgence done right at this luxury hotel in KLIA, Sepang, treating our guests to deliciously fresh cuisine, abundant treats and Malaysian flavours that are unmistakably Mövenpick, all served with a generous portion of heartfelt care in all our restaurants.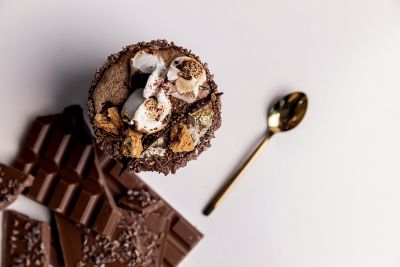 scroll up for previous option
Chocolate Hour
Tick-tock, it's mmm-o'clock at Mövenpick Hotel And Convention Centre Klia. Enjoy 60 mouth-watering minutes of cocoa indulgence every afternoon, making sure your day's a delicious one.
scroll to show detail options
scroll up for previous option
Signature Flavours
Throughout your stay, every day, Mövenpick Hotel & Convention Centre KLIA satisfies discerning tastes in quality foods served with passion. Experience flavours from Malaysian, Asia and international dishes like you've never tasted before at Temasya Restaurant.
scroll to show detail options

Facilities & Activities
Where Life Tastes Sweeter
Help yourself to the good life at Mövenpick Hotel And Convention Centre Klia. Enjoy immersive cultural experiences in our five dining outlets, we invite you to take it all in.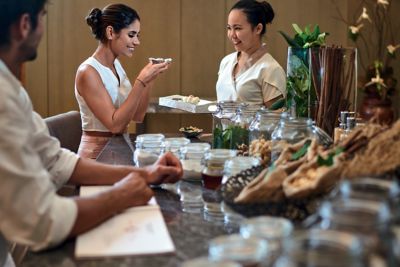 Meetings & Celebrations
Memorable Meetings & Sparkling Celebrations
scroll up for previous option
Meetings that satisfy
With 17 enticing venues in KLIA, Sepang and a menu of professional services, our meetings solutions are perfect to host small or larger events.
Find out more
scroll to show detail options
Practical Information
Practical Information
Reviews
ktshui
27/09/2023 From Tripadvisor
Recommend for short stay. Really good food!
Check in process was smooth, love how quiet this hotel is. Was upgraded to deluxe room which was really huge and comes with a bathtub. Room was dated with visible wear and tear. Housekeeping could be better as I spotted strands of hair and had to use my own wipes to clean the tables. But all in all, good for a short stay. Got to say the food was excellent. Had my breakfast and dinner there. Breakfast that comes with the room had a huge variety. Dinner on both nights - room service and at the restaurant was good. Highly recommend the satay and lamb shank briyani. Understandable the hotel does not serve alcohol for religious reason and it being located beside a mosque. I thought that was a very thoughtful touch from an international chain hotel :)
Stay43361799284
15/09/2023 From Tripadvisor
Great way to end your Asian adventure.
Worth every penny. What better way to end your Asian holiday with a bit of luxury . I had a very early flight at 8am the next day and was considering staying in one of those cheaper hotels further out and taxiing to the airport . I'm so glad I chose Movenpick. The hotel is so quiet , luxurious and well run it gets you in just the right mood for a night's stopover before your departing flight. I arrived from Lumut via coach, changed at KL sentral and then got the train to KLIA1, then picked up by the hotel shuttle from klia1. The whole process was very easy. The check-in process was so professional and courteous, they kindly booked a shuttle to take me to the airport the next day. They have a chocolate tasting event that is free from 3-4 pm which was a nice touch. It really made me feel welcome and part of the hotel right from the start. So often hotels are impersonal and the chocolate tasting made a welcome change from just going to one's room and sleeping . The rooms are stunning, bathrooms modern and I enjoyed having a bath . Room service is 24hrs and I enjoyed the buger and fries. The food came quickly. Just wish hotels would put a USB outlet in the rooms such a thing would negate having to carry round travel adaptors. Having said that the hotel was kind enough to lend me an adapter which was a welcome touch .
Lee E
10/09/2023 From Tripadvisor
Wonderful hotel
This is my second trip here and i think its a great place to spend 3 nights mall nearby and ioi just 20 mins away. Best pool tennis court good rooms and most of all good staff. Fikri picked me up and waited for ne at the airport check in was nice and a good diamond upgrade extra water bought straight to my room. Breakfast was amazing very nice selection even though i only eat lettuce. Davis was excellent at the super big pool. Its really worth a visit. Only suggestion maybe a shuttle mitsui and as times are changing and it's an airport business hotel Swallow your pride put in a bar or serve alcohol to the rooms. If you like a drink bring a bottle with you. Not everyone is a muslim. But 10out of 10 fabulous hotel
Companion24507772725
18/08/2023 From Tripadvisor
Disappointed travellers
Not a hotel for non Muslims to spend time nothing to see or do near airport and a shopping centre a taxi ride away No bar or entertainment rooms Good great swimming pool but rules which seem stupid to non Muslims not a 5 star hotel by European standards
roryjdoyle
18/08/2023 From Tripadvisor
Value for money 10 mins from KLIA
Located just 10 minutes from KLIA is a big plus. Pleasant checkin. Hotel has health spa and even a tennis court. I was leaving the hotel at 5am for an early flight and hotel brought breakfast and coffee to my room which i thought was a great touch as restaurant breakfast starts at 0630am.