Grand Plaza Mövenpick Media City | 5-Star Hotel in Dubai
TWENTY THREE Rooftop Bar
Award-winning nightlife destination with fantastic views of The Palm Jumeirah and Dubai's stunning skyline.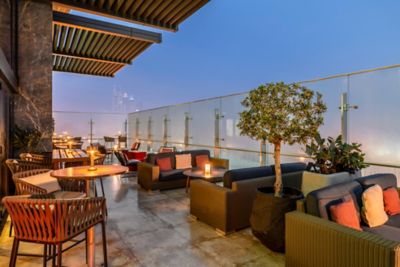 Sunday to Thursday: 5:00 pm - 1:00 am | Friday and Saturday: 5:00 pm - 3:00 am
About this restaurant
TWENTY THREE is the new rooftop destination in Media City, the perfect spot for after work or evenings, taking in the urban sunset views with drinks and light appetisers. TWENTY THREE challenges the perception of luxury and exclusivity, by offering an affordable upmarket chic experience without being pretentious. TWENTY THREE questions conventional ideas it gives its loyal clientele the freedom that comes with fresh and unique experiences.