Movenpick Malatya Hotel
Location & contact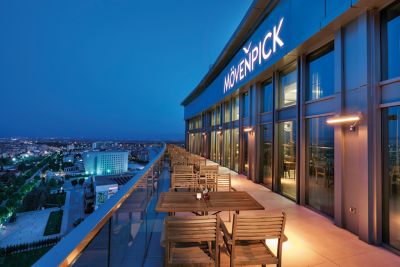 Located in the city centre of Malatya
Located on Inonu Street in the centre of Malatya, Mövencpik Hotel Malatya is within easy reach of the premium shopping centre (Malatya Park), important business districts, awe-inspiring Mount Nemrut and historical landmarks. Within close proximity to both the railway and Malatya Airport, the hotel has excellent transport links with top destinations in and around the city.
Sights and attractions
Nemrut National Park - 116 km
Sultansuyu Stud Farm - 25 km
Aslantepe Mound - 8 km
Malatya Museum - 1 km
Gunpinar Waterfall - 110 km
Shopping and Amenities
MalatyaPark Mall - 0.3 km
Şire bazaar - 2 km
Coppersmith Bazaar - 3 km
Companies
Calik Denim - 20 km
Taha Group - 15 km
Goverment - 1 km
City Hall - 0.3 km
How to get to the hotel
You can catch a taxi at Erhac airport to the hotel. It takes around 25 minutes with drive.
You can find local transportation companies at the airport. They can provide a bus services for you.