Mövenpick Resort & Spa Boracay
Family Room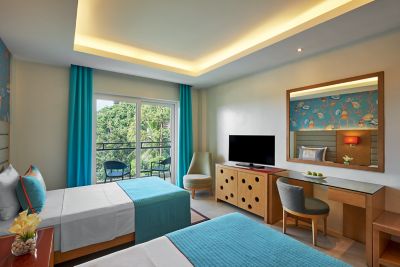 About this room
The family room at Mövenpick Resort & Spa Boracay is a welcoming and relaxing space where families can enjoy their 5 star holiday in Boracay. 
These luxury hotel rooms feature two twin beds along with a queen bed, self controlled air conditioning , 32-inch LED flat screen TV with local and international channels, coffee and tea-maker, fully stocked mini bar at charge, in-room safety deposit box and vanity desk. The bathrooms are equipped with a rainfall shower and luxury bath amenities.
Each hotel room can accommodate two adults and 2 children. Wi-Fi is available free of charge.
Other rooms from this hotel