Mövenpick Hotel Jumeirah Village Triangle
Hungry Hub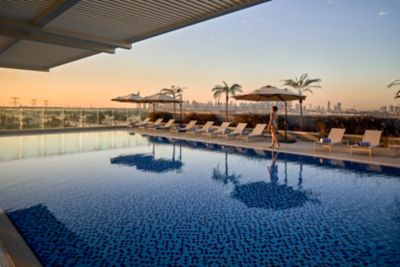 Succulent Poolside Flavours
Enjoy and experience a meal from six different dining concepts, while you sit back and relax by our poolside.
If you're on the prowl for juicy beef, slabs of succulent meat coupled with a complex mix of decadent flavors melt in your mouth - there's no better place than Hungry Hub restaurant at Mövenpick Hotel Jumeirah Village Triangle which can make an unforgettable gastronomical experience for you.
Are burgers not your thing? You're in luck! Our menu has variety of choices, including delicious Thai curries, Pad Thai, Baked potatoes, French fries, and much more.
If you are considering your cravings for sweet treats to be answered? The Hungry Hub has a range of the most delicious desserts that will satisfy your sugar fix.
Hungry Hub is now open daily for lunch and dinner serving from noon to late in the evening. 
Happy Munching!