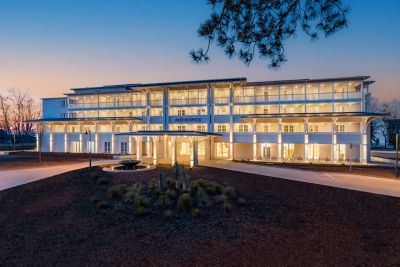 Mövenpick BalaLand Resort Lake Balaton
Unique experience and memories for kids and families
A premium-category resort with a unique, Caribbean colonial architecture and a theme derived from Jule Verne's novel in 80 days around the world, which focuses primarily on families traveling with children and provides them with high-quality leisure services, as well as the unique "journey" in our BalaLand Family Park. 
The primary consideration in the design of the hotel's rooms is the comfortable placement and service of children, in addition to allowing parents to enjoy their private sphere, as well. To this end, 109 rooms and suites of various sizes and layouts are at choice, which will also include baby- and child-friendly equipment and furnishings. In addition to their elegance, the communal spaces are perfectly suitable for families to travel, eat and relax with their functionality and thematic experience. 
On the top floor of the hotel, there is a wellness, SPA and fitness section reserved exclusively for parents and adults, with a breathtaking panorama of the Balaton.
Restaurants & Bars
The Place to Savour Life
We believe in indulgence done right, treating our guests to deliciously fresh cuisine, abundant treats and flavours that are unmistakably Mövenpick, all served with a generous portion of heartfelt care.
scroll up for previous option
Chocolate Hour
Tick-tock, it's mmm-o'clock, with all our hotels and resorts serving up 60 mouth-watering minutes of cocoa indulgence every afternoon, making sure your day's a delicious one.
scroll to show detail options
scroll up for previous option
Signature Flavours
Swiss dishes like you've never tasted before, prepared with care and served from the heart in our restaurants worldwide.
scroll to show detail options

Facilities & Activities
Where Life Tastes Sweeter
Help yourself to the good life at Mövenpick. From sunny pool days to indulgent spa time, energising workouts to immersive cultural experiences, we invite you to drink it all in.
Practical Information
Practical Information