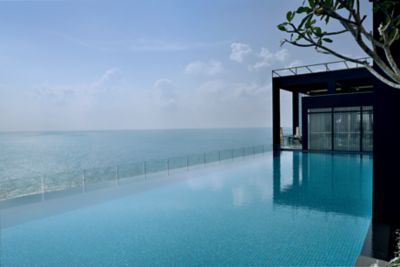 Mövenpick Hotel Colombo
Mövenpick Hotel Colombo is located in the heart of the city facing Galle Road and just 35 kilometres from the airport. Our 5-star hotel offers 219 luxury hotel rooms and suites with floor-to-ceiling windows allowing the rooms to be flooded with natural light. Boasting stunning views of the city and the Indian Ocean makes for a magical stay in Colombo. Enjoy a refreshing drink at the famous Vistas rooftop bar, take a dip in the infinity pool and indulge in a grand Mövenpick breakfast buffet. This stunning 5-star property has been in operation since January 2017.
Our 24-storey luxury hotel offers guests a memorable experience with Spa Ceylon, the best Ayurveda spa with the finest treatments, a dedicated yoga, Zumba and fitness room and a 24-hour state-of-the-art "Sky Fitness" gym. 
Indulge in a range of culinary offerings at the Mövenpick Hotel Colombo from the ground floor to the rooftop - a foodie's paradise and a true 5-star experience. Explore the vibrant city of Colombo with the Liberty shopping Arcade right next door, the local market is just a minute away and the beautiful historic and cultural sites are situated within close proximity. 
Tie the knot at the Mövenpick Hotel Colombo where our professional and experienced wedding experts will ensure your big day is the most enchanting day of your life. Get married with romantic views overlooking Sri Lanka's capital city with up to 180 close family members and friends. Allow us to make your wedding dreams come true in our 5-star luxury hotel in Colombo. 
Restaurants & Bars
The Place to Savour Life
We believe in indulgence done right.  Here at Mövenpick Colombo, we treat our guests to deliciously fresh cuisine, always served with abundant treats. Our unmistakably Mövenpick flavours won't leave you unsatisfied, all served with a generous portion of heartfelt care for you to enjoy during your stay.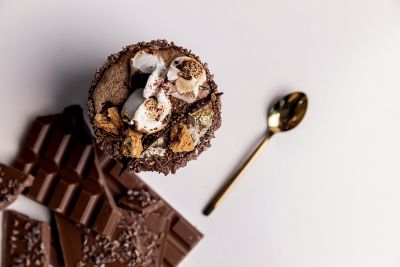 scroll up for previous option
Chocolate Hour
Tick-tock, it's chocolate o'clock at Mövenpick Colombo, with all our restaurants serving up 60 mouth-watering minutes of chocolate creations every afternoon, making sure you have a delicious day in Colombo.
scroll to show detail options
scroll up for previous option
Signature Flavours
Experience dishes like you've never tasted before served every day at Mövenpick Colombo, offering an array of different culinary options to suit all guests, all of them are prepared with care and served from the heart by our innovative chefs.
scroll to show detail options

Facilities & Activities
Where Life Tastes Sweeter
Help yourself to the good life at Mövenpick Colombo. From sunny pool days, relaxing time in our luxury spa, spending time in our gym for energising workouts, to immersive cultural experiences. We invite you to take it all in.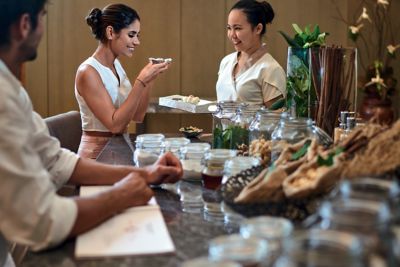 Meetings & Celebrations
Memorable Meetings & Sparkling Celebrations
scroll up for previous option
Meetings that satisfy
Host your next meeting in Colombo with us and discover luxury meeting venues and a variety of professional services. Our meeting solutions are a recipe for success. Contact our dedicated meetings team to help you prepare your event.
Find out more
scroll to show detail options
Reviews
Rathsara B
27/09/2023 From Tripadvisor
Stayed at Movenpick
I had a wonderful time at Movenpick hotel colombo ! I stayed at Movenpick for a Conference of U.N.O.P.S The staff were inccredibly hospitable and the hotel its self was faultless . I would particularly like to give a mention to Samadhi from AYU who helped make my stay as smooth as possible lovely lady. Such a great experience
Jean-Claude O
27/09/2023 From Tripadvisor
Fantastic service from hotel staff!
The hotel staff were very accommodating and helpful to all of our staying guests on site. We would like to commend Mr Dinesh from the hotel staff team for going above and beyond in his efforts to assist us with making the bookings, confirming them with us and offering us the best hospitality in Colombo during our stay. 5 stars for Mövenpick Colombo!
Sandeepa Y
24/09/2023 From Tripadvisor
Movenpick Sunday Dinner
We have gone to the Sunday Dinner Buffet on Sep 2023 and it has been an amazing experience for us. The food, especially the salad spread and the dessert were super delicious and we could taste the quality of the food with each and every bite. The were so attentive to details with food presentation. To add more to the experience we have being treated with utmost care by the staff especially THARUKA hats off to the great staff. Truly you guyz are amazing 👏 ❤️
imesh d
24/09/2023 From Tripadvisor
everything perfect
Foods perfect Service and everything perfect… There are so many varieties of foods, desserts and beverages as well… We are highly recommend you all guys to come and visit here and have a fun,,,, We highly thankful to Ms Nadeesha and her group for their customer service as well…..
Maheeka W
24/09/2023 From Tripadvisor
Overall Experience & Delicious Food
I ve been having my lunch n dinner here since many months now, with my family and colleagues. The staff is really helpful. Last time Nadeesha gave us a superb service. Can recommend meals as they were so delicious. Overall experience was delightful. It s a good place to hang out with your loved ones while having a delicious meal with a lovely cozy environment.
Frequently asked questions
Mövenpick Colombo is located in the central business and shopping district off Galle Road.
You can find Mövenpick Colombo at the following address: 
24 Srimath Anagarika Dharmapala Mawatha,
Colombo,
00300
There are a range of popular attractions near Mövenpick Colombo, these include:
Red Mosque
Colombo City Centre
One Galle Face Mall
Galle Face Green
ODEL Department Store
World Trade Centre
Colombo Port City
Dutch Hospital Shopping Precinct
Bellagio Casino
Bally's Casino
Mövenpick Colombo has been open and providing a 5-star experience since January 2017.
Guests can enjoy all that is on offer at Mövenpick Colombo, including:
Infinity rooftop swimming pool
Health club facilities
Yoga room
Spa
Meetings and event rooms
Board room
Ballrooms