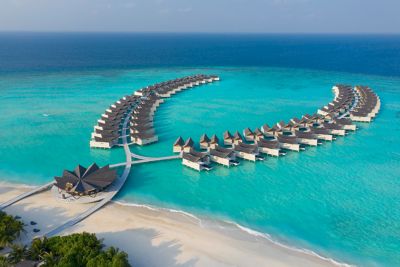 Mövenpick Resort Kuredhivaru Maldives
A timeless tropical island resort at Kuredhivaru, Maldives
Mövenpick Resort Kuredhivaru Maldives is a pristine sanctuary and tropical oasis that is nestled in the undisturbed Noonu Atoll. Awaken your senses at our 5 star Maldives luxury ocean resort, located 45 minutes north of Male International Airport. Immerse yourself in your own private plunge pool in all of the 72 over water pool villas looking out to the ocean, 30 beach pool suites and three beach spa pool residences.
Our restaurants at Mövenpick Resort Kuredhivaru Maldives perfectly combine gastronomic delights with magnificent views of the ocean and the horizon in Maldives. From a seafood fine dining experience to a private romantic candlelit dinner near the ocean on the beach, you can indulge yourself and your loved one endlessly throughout your relaxing stay with us at Mövenpick Resort & Spa Kuredhivaru in the Maldives. 
If you want to explore the marine life of the Maldives, our family friendly resort offers various water sports activities such as diving and snorkelling. You can walk along the pristine beaches and feel the soft sand beneath your toes, or take a dip in the crystal clear waters. The resort also has a Sun Spa by Healing Earth where you can unwind and rejuvenate with a variety of treatments, including yoga sessions.
If you're travelling with kids, the Little Birds Club provides a range of fun activities to keep them entertained while you relax. The resort's attentive staff are always ready to help you tailor your stay to your specific preferences, making sure that you have a truly memorable and personalised experience at Mövenpick Resort Kuredhivaru Maldives.
Indulge in our sweetest moments
Restaurants & Bars
The Place to Savour Life
We believe in indulgence done right! Here at Mövenpick Resort & Spa Kuredhivaru Maldives restaurants, we treat our guests to deliciously fresh cuisine, served with abundant treats and surprising flavours that are unmistakably Mövenpick, all served with a generous portion of heartfelt care in all of our luxury restaurants.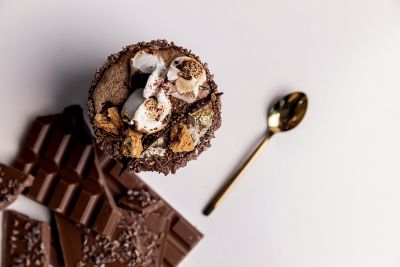 scroll up for previous option
Chocolate Hour
Tick-tock, it's mmm-o'clock at Mövenpick Resort & Spa Kuredhivaru Maldives, with all our luxury restaurants serving 60 mouth-watering minutes of chocolate indulgence every afternoon, making sure you have a delicious day in the Maldives.
scroll to show detail options
scroll up for previous option
Signature Flavours
Indulge in an array of enticing culinary experiences like you've never tasted before. Discover all Mövenpick Resort & Spa Kuredhivaru Maldives dishes, prepared with care by our innovative chefs and served from the heart in our restaurants.
scroll to show detail options

Facilities & Activities
Where Life Tastes Sweeter
Enjoy the good life at Mövenpick Resort & Spa Kuredhivaru Maldives. From sunny pool days with the family to relaxing time in our luxury spa, energising workouts in our gym, to immersive cultural experiences, we invite you to take it all in.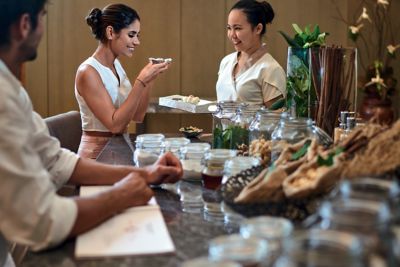 Meetings & Celebrations
Memorable Meetings & Sparkling Celebrations
scroll up for previous option
Events bursting with flavour
With a touch of sugar, spice and everything nice, we'll help you celebrate life's rich moments.
Find out more
scroll to show detail options
Reviews
Karakat D
05/12/2023 From Tripadvisor
Memorable time
We visited Movenpick in the beginning of December. We have had awesome experiences there. From beginning our Island host Fari 🩵🩵made our honeymoon holiday incredible . As her nice service we have had nice meal at the restaurant ONU. At that restaurant they have different theme nights . We liked especially Maldivian night . Lobster 🦞 was amazing 😻 . We highly recommend Movenpick and Island host Fari. 💖
feizhu
04/12/2023 From Tripadvisor
Will be back for a longer stay
Pros - 1) The entire resort seemed rather new and our room (overwater villa) was huge and clean with direct access to the shallow lagoon. The plunge pool was a little small but good enough for a dip. Toiletries are provided and there was a good range of TV channels (to keep kids entertained if required). 2) Service was excellent and efficient. Our island host (Ms Li) was very friendly and helpful in booking activities, dinner slots etc. The Thai lady (Toona) at Onu Marche was also very friendly and attentive. Ditto the crepe chef from Sri Lanka (Danusha?). 3) Little Birds Kids Club has a small water play area which is accessible anytime during opening hours as well as an indoor ball pit, board games and a small array of kids toys (building bricks etc). There are scheduled activities running at different intervals throughout the day/week (eg. Sea shell picking & painting, pizza/mocktail making). However not all activities are religiously adhered to. You can also drop off your kids at no charge if you'd like some personal time. 4) Food as a whole was very decent. This is my 3rd trip to the Maldives and Movenpick has the best food so far. a) Bodumas (Japanese restaurant) wasn't very authentic but food was above average. b) Onu Marche's (breakfast/dinner buffet restaurant) food variety and quality was decent. But breakfast was more or less the same everyday so it got repetitive after the 3rd day. Dinner was better - the menu rotated based on a daily theme (eg. International, Latino, Maldivian - with great grilled lobsters). Onu also hosts the daily Chocolate Hour from 4-5pm where you get to indulge in free flow ice cream + chocolate (all complimentary) . c) Latitude offered a view of the sunset with a great scallops appetiser and an interesting tiramisu offering. 5) Complimentary activities like snorkeling, stand up paddling and photography session (you get a free photo of your choice) are available. Soccer/tennis/basketball courts are also available for booking at no charge. Cons - 1) Quite a distance from Male. Flight time from TMA terminal took about 1 hour with a stop in between.
brausimausi
25/11/2023 From Tripadvisor
Amazing food , super service, wonderful vacation
Our family of 8 spent more than a week on this island. We spent every year one week together and always in the Maldives. After extensive reearch ,we picked the Movenpick because we thought it checked all the boxes . Wide beaches with no erosion, no damm in front of the beach, all inclusive, poolvillas and Western food. Not only was everything as we expected , every wish came true. The food was the best we experienced in the Maldives. The team went the extra mile to provide anything we wanted. Our table under the palmtrees was prepared for us with all the drinks we liked at every meal . Our grandchildren liked the Kids club very much (they rarely do) because the crew had a innovativ schedule and interesting games ready. Thank you . There were balinese beds on the beach with a bells to ring for waiter service , so one could have drinks on the beach. We were on 7 different Maldives islands ( Emerald, Atmosphere, Como, .....)before but Movenpick was by far the nicest and best value. We want to thank the team for a wonderful holiday .
Abdulmajeed-m
25/11/2023 From Tripadvisor
Definitely worth to visit
If you are looking to WoW experience at all levels definitely this resort should be at your top list of places that you should try. Beaches are stunning, the vegetation of the island is well taking care and make you feel that you naturally blend with normal island habitat. Rooms and amenities are luxuriously and outstandingly clean. But No.1 that made our stay unforgettable is THE HOSPITALITY, resort staff were incredibly superior to any other resort that I ever tried in Maldives or any other place. Special thanks to our host Ms. Li as she was always tried to make our stay memorable as she can and interestingly always did her job with smile. Moreover, Mr. Gihan from Budomas restaurant, he was incredible eager to maximize our enjoyment to a new level and unforgettable one combining that with obviously huge experience to how to meet guest expectations. Special thanks to the following names: Ms.Rejina as we used to be greeted by her smile and kindness, Mr. Sunneel with his delicious Matcha, Mr. Beral and his wellness to achieve what ever you want to eat, Mr. Danusha for his sweetness and his delicious sweet, Mr. Auvaan for his readiness to help in the front desk and last but not least Ms. Panida from the Spa with her every morning touch after the breakfast. This outstanding hospitality was not achieved if there is no efficient and effective leadership so special thanks to Renish front office manager as he was always near to tackle any issue we might face. I'm sure this outcomes of outstanding hospitality is result of team work but definitely there is a guy who's behind that so Big thanks goes to the GM Mr. Stanislaw Pajednizky. Some area of improvement as following: 1- Airport transfer as it need two stops prior to resort arrival by seaplane 2- Villa pool as it's shallow 0.8 m 3-Privacy for outdoor shower Finally I had a great time in this resort and interestingly I used to say you shouldn't repeat your visit to same resort in Maldives unless it's your 101 visit :) but as I visited Maldives six times I've my doubts now ;)
hrsdds
21/11/2023 From Tripadvisor
Dream vacation filled with adventures that are now beautiful memories
Our stay at Mövenpick Maldives was nothing short of a dream vacation now fulfilled. We planned this trip over a year ago and it is hard to believe it is over and we are making the long trip back home to winter in Alaska 🥹. We can't say enough about this resort. Every staff member we interacted with said they had come to Mövenpick because they are treated well, and their happiness is truly reflected in the high quality of service they provide to all guests. We have come to love travel so much and meeting people from all over the world opens your mind and shows how very much alike we all are despite having different languages and cultures. Now on to the specifics…. The over water ocean view villa was AMAZING! The room and bathroom were so spacious and the large open deck with infinity pool just steps away served as our own little private sanctuary to reconnect with each other on our 30th wedding anniversary. Kaleem cleaned our villa twice a day and left us many memorable treasures from the beautiful welcome 30th Anniversary decoration on the bed, our soaking tub filled with rose petals and palm leaves, and fun towel creatures decorated with hibiscus flowers and my reading glasses! Love!!! The breakfast buffet was filled with fresh delectables from all over the world. We enjoyed a different breakfast each morning and experienced cuisines from many different cultures. We found the dinner choices endless as well from the buffet at Ono Marché, a pre-fix menu at Latitude 5.5, the wonderfully delicious Bodumas featuring an ala carte Japanese menu (our go to), and finally a private wine pairing dinner at Oak Lounge which was nothing short of spectacular. Tendai, the sommelier who checked on us throughout our stay, was one of our favorites at the resort and became a friend over our time in the Maldives. We must also express our deepest gratitude to Shair, Shafiz (with the really good hair 😄), Max, Deepak, and Nang for their world class service each time we sat down to enjoy a meal and drink. Although we may not have interacted directly with the chefs and bakers they too need to be recognized for the quality of food provided each and every day and all of the guests we interacted with said the same. The activities on the island are endless and we enjoyed many including the jet boots, windsurfing, world class snorkeling/diving where we saw nurse and reef (black and white tipped) sharks, turtles, octopus, lobster, cuttlefish, rays of many varieties, and a vast array of the most beautiful fish and sealife. We took the romantic sunset and stargazing excursions and talked at length with Saan, the underwater photographer and local Maldivian with many stories to tell of growing up in such a beautiful and remote area. Of all that I have mentioned above, our favorite each night was playing volleyball with Gayan (Coach), Akshay, the unbelievably good staff members from Nepal, the band members, and other guests. So much fun and many very good at the game we love! The spa was fabulous and the attention provided by Karn and Tshering was personalized with great attention to detail. The location of the massage rooms in the over water villas was the best we have ever seen. As we entered into a state of deep relaxation we could watch the fishes and rays meander below. Oleks and Niu in the photography studio created an album filled with photographs that could be pulled out of any travel magazine….the quality was so so good! This will be a treasure our kids and grandkids will enjoy long after we are gone ❤️❤️. And last but not least is the care provided by our personal concierge, Ruksar. She was truly amazing and handled any question we had with grace. With so many different nationalities and personalities she interacts with daily her job cannot be easy. She scheduled all of our events and checked in on us each day to ensure we were doing well. The care she provided was world class and we have no doubt that she will be managing her own hotel some day in the near future. For someone on her mid-twenties, Ruksar is an old soul and exudes professionalism in every way. She is an example of the high standard Mövenpick has created. We hope we have not missed anyone but to all again, our sincerest thank you for making this a trip of a lifetime that we will never forget!
Frequently asked questions
Mövenpick Resort Kuredhivaru Maldives is located 45 minutes north of Male International Velana Airport, in the Noonu atoll.
The address for Mövenpick Resort Kuredhivaru Maldives is:
Mövenpick Resort Kuredhivaru Maldives
Kuredhivaru Island, Maldives
20026 Noonu Atoll
Maldives
Mövenpick Resort Kuredhivaru Maldives first opened in November 2018.
Mövenpick Resort Kuredhivaru Maldives offers a number of activities for guests to enjoy, such as:
Canoeing
Catamaran sailing
Water skiing
Fun tube
Wakeboarding
Jet ski tour
Jet blade session
Parasailing
Banana boat
Windsurfing
Windsurfing lessons
Sailing lessons
Snorkelling lessons
Sunset cruise
Starlit cruise
Snorkelling tour
Dolphin and turtle cruise
Snorkelling with mantas
Scuba diving and PADI courses
Tennis
Yoga
Fitness activities
Kids program
Volleyball
Cooking lessons
Wellbeing experiences
Mövenpick Chocolate Hour
Cocktail party
Floating breakfast
Borderless dining
Some of the property amenities at Mövenpick Resort Kuredhivaru Maldives:
Spa
Fine dining venues
Fitness centre
Water sports and dive centre
Pools in all the villas
Coffee machines
Infinity sunset pool
Clinic
Yoga sala
Yoga overwater deck
Pool service
Tennis courts
Volleyball court
Kids' club