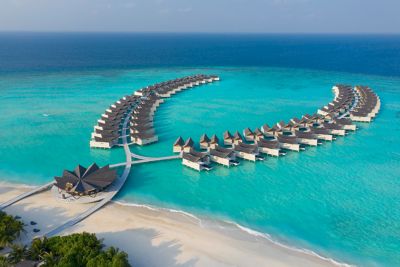 Mövenpick Resort Kuredhivaru Maldives
A timeless tropical island resort at Kuredhivaru, Maldives
Mövenpick Resort Kuredhivaru Maldives is a pristine sanctuary and tropical oasis that is nestled in the undisturbed Noonu Atoll. Awaken your senses at our 5 star Maldives luxury ocean resort, located 45 minutes north of Male International Airport. Immerse yourself in your own private plunge pool in all of the 72 over water pool villas looking out to the ocean, 30 beach pool suites and three beach spa pool residences.
Our restaurants at Mövenpick Resort Kuredhivaru Maldives perfectly combine gastronomic delights with magnificent views of the ocean and the horizon in Maldives. From a seafood fine dining experience to a private romantic candlelit dinner near the ocean on the beach, you can indulge yourself and your loved one endlessly throughout your relaxing stay with us at Mövenpick Resort & Spa Kuredhivaru in the Maldives. 
If you want to explore the marine life of the Maldives, our family friendly resort offers various water sports activities such as diving and snorkelling. You can walk along the pristine beaches and feel the soft sand beneath your toes, or take a dip in the crystal clear waters. The resort also has a Sun Spa by Healing Earth where you can unwind and rejuvenate with a variety of treatments, including yoga sessions.
If you're travelling with kids, the Little Birds Club provides a range of fun activities to keep them entertained while you relax. The resort's attentive staff are always ready to help you tailor your stay to your specific preferences, making sure that you have a truly memorable and personalised experience at Mövenpick Resort Kuredhivaru Maldives.
Indulge in our sweetest moments
Restaurants & Bars
The Place to Savour Life
We believe in indulgence done right! Here at Mövenpick Resort & Spa Kuredhivaru Maldives restaurants, we treat our guests to deliciously fresh cuisine, served with abundant treats and surprising flavours that are unmistakably Mövenpick, all served with a generous portion of heartfelt care in all of our luxury restaurants.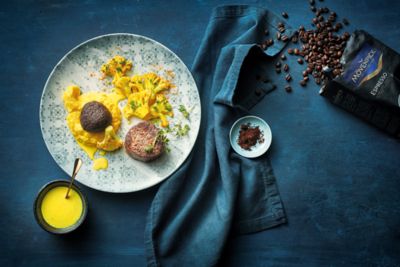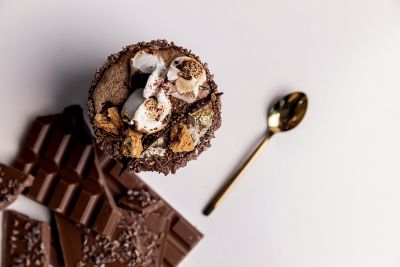 scroll up for previous option
Chocolate Hour
Tick-tock, it's mmm-o'clock at Mövenpick Resort & Spa Kuredhivaru Maldives, with all our luxury restaurants serving 60 mouth-watering minutes of chocolate indulgence every afternoon, making sure you have a delicious day in the Maldives.
scroll to show detail options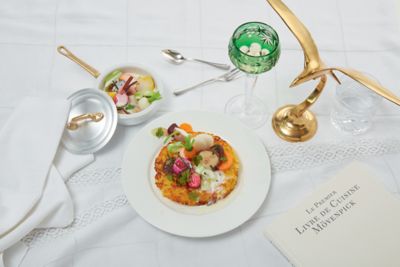 scroll up for previous option
Signature Flavours
Indulge in an array of enticing culinary experiences like you've never tasted before. Discover all Mövenpick Resort & Spa Kuredhivaru Maldives dishes, prepared with care by our innovative chefs and served from the heart in our restaurants.
scroll to show detail options

Facilities & Activities
Where Life Tastes Sweeter
Enjoy the good life at Mövenpick Resort & Spa Kuredhivaru Maldives. From sunny pool days with the family to relaxing time in our luxury spa, energising workouts in our gym, to immersive cultural experiences, we invite you to take it all in.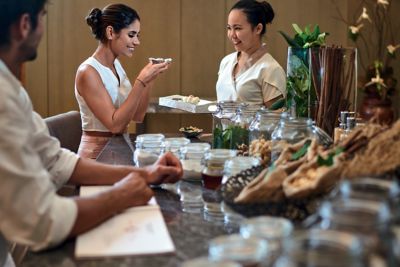 Meetings & Celebrations
Memorable Meetings & Sparkling Celebrations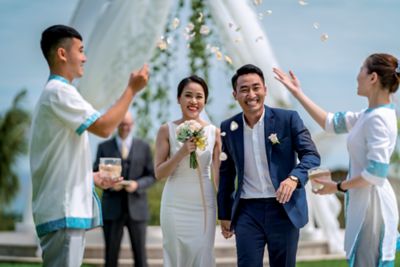 scroll up for previous option
Events bursting with flavour
With a touch of sugar, spice and everything nice, we'll help you celebrate life's rich moments.
Find out more
scroll to show detail options
Reviews
konstantinm708
08/06/2023 From Tripadvisor
10 Days in Paradise
Two words. Absolutely stunning. From start to finish, it was an incredible experience. It was our first time in the Maldives, so we didn't know what to expect, but Movenpick definitely set a high bar. Once we landed in Male, we found our hotel representative very easily and were quickly taken to the seaplane terminal. We were lucky since we were the last of our seaplane group to arrive, so we pretty much boarded the sea plane almost immediately, which was an added bonus. The flight was approximately 45-50 minutes to the resort. Once we arrived, we were given fresh coconuts, an island tour, and we were off to our room. The entire process from landing in Male to check in was very well coordinated. The room is absolutely stunning. It's very modern and clean. We had daily housekeeping and turndown service which was amazing. Maldives is very much a relaxing vacation so it was important to us to have a very nice room, and this definitely exceeded our expectations. Regarding the food, we did not get a meal plan (breakfast was included in our room rate) and opted to eat a la carte to allow for maximum flexibility. The food was very delicious and we were actually very surprised at how many options there were for breakfast. We loved the fresh fruit station and the pistachio croissants are to die for. No matter where we were at the hotel, we always felt welcomed by the staff and everyone always had a smile on their face. Definitely 5 starts for the service. A few days in, the staff even had our coffee order memorized which added a nice personal touch. As for the weather, we know May is the start of the rainy season, so we were a little worried about rain. However we wouldn't second guess coming in May again. The rain mostly happened at night, or was extremely short during the day, often stopping after 10-15 minutes. We had so much sun during our 10 days in paradise towards the end we were actually hoping for some clouds. We stayed in an overwater villa with a lagoon view and are happy we did. The views were absolutely stunning from our room and we even saw rays, turtles, and sharks directly off our room balcony. All in all, it was a wonderful stay and we would not hesitate to come here again!
S Hui T
07/06/2023 From Tripadvisor
Movenpick Maldives
It has been a wonderful experience in Movenpick Maldives . Customer service was top notch, professional and pleasant. Our room manager Anna, she helped fulfill any requests we had and keep us up to date with any events in the resort. She has a great personality and always there to help. She updates with us the daily activities and make sure we don't missed out. The resort itself was absolutely stunning with our water villa displaying a vibrant view of the crystal clear sky and sea which i could just stay in whole day to see. Another added advantage is that the resort have their own dive center which makes snorkeling and scuba diving ever so convenient, and our daughter enjoyed every-bits of it. The dive center staff are very friendly & helpful, our private guide Leevaan helped us with the snorkeling and taking pictures for us. Water sports staffs are also amazing.. No doubts about the food. Plenty of seafood , local reef fish and many other options. There are special Maldivian breeds of lobster available , and to say these were delicious is an understatement. Most importantly we felt safe in this private island. We absolutely enjoyed our holidays at the Mövenpick Maldives.
houda-rou
05/06/2023 From Tripadvisor
Paradise found!
We recently had the most extraordinary experience at Movenpick Maldives. From the moment we stepped foot on this idyllic island paradise, I knew we were in for an exceptional stay. The island is Surrounded by crystal-clear turquoise waters and white sandy beaches and also amazing tropical vegetation. The staff at the hotel were the epitome of warmth and hospitality. From the friendly smiles that greeted us upon arrival to the attentive service throughout our stay, they ensured that every aspect of our visit was flawlessly executed. They anticipated our needs and went above. Special thank to our host Humaid and also the staff in ONU and Attitude restaurants (Toon , lisa , Ayub, the chiefs ,Rasheed ,the lady in attitude, Wesley, …. I can't remember unfortunately all the names) The overwater villa was a sanctuary of luxury and tranquility. The stunning panoramic views of the Indian Ocean from my private deck were simply breathtaking. The room itself was beautifully designed, blending modern elegance with traditional Maldivian elements. Every detail was carefully curated to provide the utmost comfort and relaxation. One of the highlights of our stay was the culinary experience. The hotel's restaurants offered a multiple choice of international and local cuisines that surpassed all expectations. The hotel also offered an array of activities and amenities to cater to every guest's desires. It is really a place where dreams become reality, and every desire is fulfilled. Thank you, Movenpick, for this unforgettable stay in this tropical paradise. Warm regards, Taouja family (Yassine, Houda & Iyad)
UniversalExporter
02/06/2023 From Tripadvisor
Beautiful resort with amazing staff
The resort is stunningly beautiful, located around 45mins by seaplane from Male. The overwater villas are large, well equipped and most overlook a beautiful lagoon with calm, flat brilliant blue water. The resort has multiple restaurants, a watersport centre (where you can rent jetskis, kayaks, paddle boards etc) and a dive center which provides snorkeling equipment (free of charge). Additionally the resort has a free hour of chocolates and ice creams each afternoon - great for those with a sweet tooth! Staff at the resort are amazing. In particular special mention must go out to Mavin (who greeted me on arrival at Male airport and arranged the seaplane transfer) and my Guest Host Ruksar. Ruksar looked after me during my entire stay, always ensuring I had everything I needed and arranging reservations/bookings for dinner, excursions etc. Well worth a trip - put it on your bucket list.
Shokhrukh K
28/05/2023 From Tripadvisor
Best place
Very good stay. Amazing food and staff is very friendly. The overwater villa is one of the best I have seen. The island is well maintained. They have 3 restaurants and 2 bar and 1 wine lounge. We would love to come back again.
Frequently asked questions
Mövenpick Resort Kuredhivaru Maldives is located 45 minutes north of Male International Velana Airport, in the Noonu atoll.
The address for Mövenpick Resort Kuredhivaru Maldives is:
Mövenpick Resort Kuredhivaru Maldives
Kuredhivaru Island, Maldives
20026 Noonu Atoll
Maldives
Mövenpick Resort Kuredhivaru Maldives first opened in November 2018.
Mövenpick Resort Kuredhivaru Maldives offers a number of activities for guests to enjoy, such as:
Canoeing
Catamaran sailing
Water skiing
Fun tube
Wakeboarding
Jet ski tour
Jet blade session
Parasailing
Banana boat
Windsurfing
Windsurfing lessons
Sailing lessons
Snorkelling lessons
Sunset cruise
Starlit cruise
Snorkelling tour
Dolphin and turtle cruise
Snorkelling with mantas
Scuba diving and PADI courses
Tennis
Yoga
Fitness activities
Kids program
Volleyball
Cooking lessons
Wellbeing experiences
Mövenpick Chocolate Hour
Cocktail party
Floating breakfast
Borderless dining
Some of the property amenities at Mövenpick Resort Kuredhivaru Maldives:
Spa
Fine dining venues
Fitness centre
Water sports and dive centre
Pools in all the villas
Coffee machines
Infinity sunset pool
Clinic
Yoga sala
Yoga overwater deck
Pool service
Tennis courts
Volleyball court
Kids' club