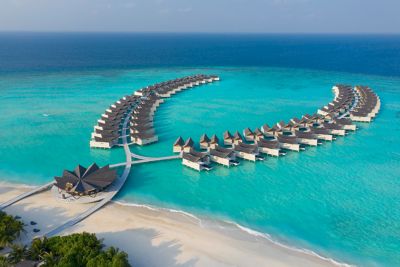 Mövenpick Resort Kuredhivaru Maldives
A timeless tropical island resort at Kuredhivaru, Maldives
Mövenpick Resort Kuredhivaru Maldives is a pristine sanctuary and tropical oasis that is nestled in the undisturbed Noonu Atoll. Awaken your senses at our 5 star Maldives luxury ocean resort, located 45 minutes north of Male International Airport. Immerse yourself in your own private plunge pool in all of the 72 over water pool villas looking out to the ocean, 30 beach pool suites and three beach spa pool residences.
Our restaurants at Mövenpick Resort Kuredhivaru Maldives perfectly combine gastronomic delights with magnificent views of the ocean and the horizon in Maldives. From a seafood fine dining experience to a private romantic candlelit dinner near the ocean on the beach, you can indulge yourself and your loved one endlessly throughout your relaxing stay with us at Mövenpick Resort & Spa Kuredhivaru in the Maldives. 
If you want to explore the marine life of the Maldives, our family friendly resort offers various water sports activities such as diving and snorkelling. You can walk along the pristine beaches and feel the soft sand beneath your toes, or take a dip in the crystal clear waters. The resort also has a Sun Spa by Healing Earth where you can unwind and rejuvenate with a variety of treatments, including yoga sessions.
If you're travelling with kids, the Little Birds Club provides a range of fun activities to keep them entertained while you relax. The resort's attentive staff are always ready to help you tailor your stay to your specific preferences, making sure that you have a truly memorable and personalised experience at Mövenpick Resort Kuredhivaru Maldives.
Indulge in our sweetest moments
Restaurants & Bars
The Place to Savour Life
We believe in indulgence done right! Here at Mövenpick Resort & Spa Kuredhivaru Maldives restaurants, we treat our guests to deliciously fresh cuisine, served with abundant treats and surprising flavours that are unmistakably Mövenpick, all served with a generous portion of heartfelt care in all of our luxury restaurants.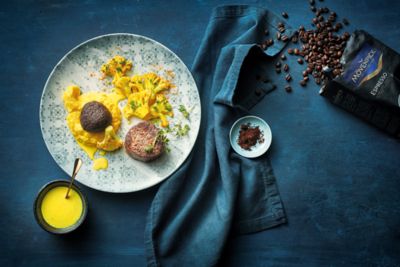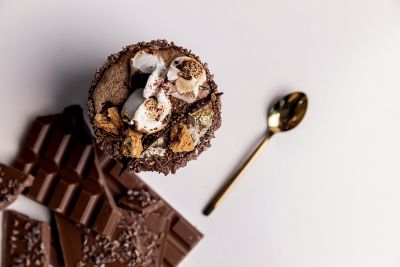 scroll up for previous option
Chocolate Hour
Tick-tock, it's mmm-o'clock at Mövenpick Resort & Spa Kuredhivaru Maldives, with all our luxury restaurants serving 60 mouth-watering minutes of chocolate indulgence every afternoon, making sure you have a delicious day in the Maldives.
scroll to show detail options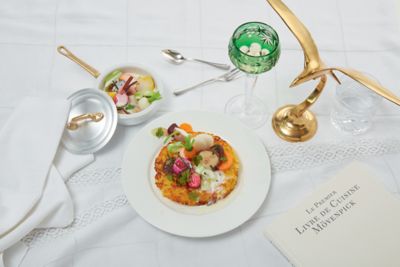 scroll up for previous option
Signature Flavours
Indulge in an array of enticing culinary experiences like you've never tasted before. Discover all Mövenpick Resort & Spa Kuredhivaru Maldives dishes, prepared with care by our innovative chefs and served from the heart in our restaurants.
scroll to show detail options

Facilities & Activities
Where Life Tastes Sweeter
Enjoy the good life at Mövenpick Resort & Spa Kuredhivaru Maldives. From sunny pool days with the family to relaxing time in our luxury spa, energising workouts in our gym, to immersive cultural experiences, we invite you to take it all in.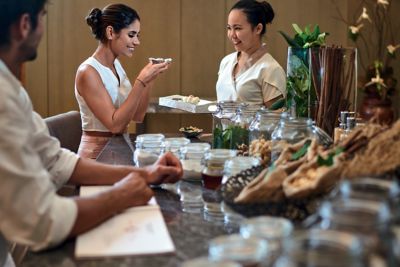 Meetings & Celebrations
Memorable Meetings & Sparkling Celebrations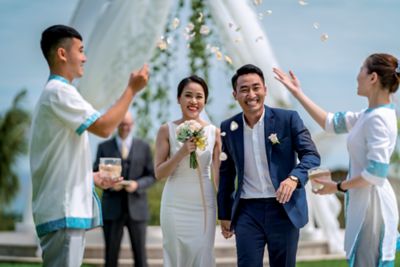 scroll up for previous option
Events bursting with flavour
With a touch of sugar, spice and everything nice, we'll help you celebrate life's rich moments.
Find out more
scroll to show detail options
Reviews
Shokhrukh K
28/05/2023 From Tripadvisor
Best place
Very good stay. Amazing food and staff is very friendly. The overwater villa is one of the best I have seen. The island is well maintained. They have 3 restaurants and 2 bar and 1 wine lounge. We would love to come back again.
Apsuva81
28/05/2023 From Tripadvisor
Perfect honeymoon
I definitely enjoyed my stay in this beautiful place. Everyone was extremely friendly and helpful. I will recommend to all my family and friends. I would like to mention our Island host Moldir. She was making all of our reservations and helping out a lot. Thank you Movenpick. You are the best!
tumona94
28/05/2023 From Tripadvisor
Warm hospitality and wonderful stay
We had amazing stay in this beautiful property. Thank you so much for warm hospitality. We would like to mention out island host Moldir. She was extremely helpful and friendly. She was available all the time and exceeded our expectations. Thank you! We will be back!
bagaglips
26/05/2023 From Tripadvisor
The best honeymoon ever
After an exhaustive amount of time researching, we ultimately chose Movenpick Kuredhivaru for our honeymoon. There was no doubt that we wanted to be in an overwater room, and the clear water in front of the villas at Movenpick weighed heavily towards our decision in making this our honeymoon spot. And boy oh boy, were we amazed. Not just at the clear water (pictures and videos DO NOT lie), but at the totality of our experience here. From the beginning of our trip, at the airport when we were checking in for our seaplane flight, to the end of our trip when we sadly got on that seaplane flight back to Male, we were treated like royalty. Mazin was our airport/seaplane host. He gave us a wonderful first impression of Movenpick and its staff. He carried all our luggage for us, even our carry-on backpacks. I have never experienced that anywhere else. We waited for our seaplane at the Coral lounge in the new seaplane terminal, and it was probably the best lounge experience ever. The lounge was complete with food (snacks), non-alcoholic beverages, massage chairs, and the most comfortable couches to sit and wait in. Once it was time to board our seaplane, we were whisked towards the general boarding area, where we waited probably less than 5 minutes to get on the seaplane. Upon arrival to the island of Kuredhivary, we were welcomed by the drums, an extremely refreshing beverage, a cold face towel, and our island host Akmal. Akmal made sure we were well-fed and entertained throughout our stay. We opted for the all-inclusive package, and were so glad that we did. We had breakfast at Onu Marche (buffet style) every morning, where we were always greeted with a smile by Toon and assigned to the best seats in the house (right on the sand with an unobstructed view of the beach). The food selection at Onu Marche stayed the same the entire time we were there, but was also constantly good. For lunch and dinner, we preferred Bodumas over Latitude for a number of reasons. The service at Bodumas was way better and we just preferred Japanese food over Italian food. Glaiza was a standout at Bodumas. She made sure the food was to our liking and always kept our drinks topped up. At Latitude, we really appreciated Aynara and Rasheed's friendliness. Buddhika, the food and beverage manager, comped us lobster thermidor upon hearing that we were not going to be able to attend Maldivian night at Onu Marche anymore. As part of the honeymoon package, we were able to have a romantic dinner on the beach. Suta took really good care of us and gave us a wonderful wine recommendation to pair with our meal. Our favorite hangout (other than in our overwater villa) was at Onu Marche bar, where Widi from BaliNation took great care of us. He remembered my drink orders and never left me with an empty drink in hand. I have to point out to management that I think Widi is the hardest worker at this resort and would never stay still. He was always cleaning, making drinks, all the while still talking to his customers with a smile. We also utilized the spa for a couple of massages and a facial. The overwater treatment rooms were phenomenal, and our massage therapists were absolutely masters at their craft. The massages were so good that I caught myself snoring. Big shoutout to the receptionist at the spa (I cannot remember her name, I'm sorry). She was so friendly and attentive. For excursions, we did a dolphin and turtle excursion, which was probably the most amazing sight I have ever seen. We saw probably close to 300 dolphins during this excursion, and even saw a dolphin triple flip in the air, THREE times. Truly once in a lifetime. We also got to swim with turtles, and our tour guide Leevan was amazing and did a deep dive with our GoPro in hand to get a closer shot of a couple of the turtles for us. This excursion is a must-do! We have always wanted to scuba dive, and what better place to try it than the Maldives, right? We were so glad that we did. We did the Discover scuba diving package with 2 dives, and Tash was our dive instructor. We got to dive the house reef for the first one and were taken to a reef that used to be an island 15 minutes from the resort for the 2nd dive. This experience made us truly fall in love with scuba diving and want to get certified. We saw so much underwater, from every species of fish, lobsters, sting rays, and sharks. Thank you Tash for guiding us and keeping us safe. This was truly the most amazing vacation we have ever taken. Thank you Movenpick and all your staff for not only meeting, but overly exceeding our expectations. I can't say enough nice things about your staff, as the staff truly made this visit for us because of how well we were treated throughout our stay.
Abdullah A
25/05/2023 From Tripadvisor
Iiiiiiiiiiiiiiiiiiiiiiuuiuiiiiiiiiiiiiiiiiiii
Anniversary what a beautiful place and smiley people in here thanks for having us and helping us celebrate our anniversary and thanks to ms.shadwa for makings us Comfortable. I will come back see u soon. I I I I I I I I I I I I U U I U U U U U U U U U U U U U U I Y
Frequently asked questions
Mövenpick Resort Kuredhivaru Maldives is located 45 minutes north of Male International Velana Airport, in the Noonu atoll.
The address for Mövenpick Resort Kuredhivaru Maldives is:
Mövenpick Resort Kuredhivaru Maldives
Kuredhivaru Island, Maldives
20026 Noonu Atoll
Maldives
Mövenpick Resort Kuredhivaru Maldives first opened in November 2018.
Mövenpick Resort Kuredhivaru Maldives offers a number of activities for guests to enjoy, such as:
Canoeing
Catamaran sailing
Water skiing
Fun tube
Wakeboarding
Jet ski tour
Jet blade session
Parasailing
Banana boat
Windsurfing
Windsurfing lessons
Sailing lessons
Snorkelling lessons
Sunset cruise
Starlit cruise
Snorkelling tour
Dolphin and turtle cruise
Snorkelling with mantas
Scuba diving and PADI courses
Tennis
Yoga
Fitness activities
Kids program
Volleyball
Cooking lessons
Wellbeing experiences
Mövenpick Chocolate Hour
Cocktail party
Floating breakfast
Borderless dining
Some of the property amenities at Mövenpick Resort Kuredhivaru Maldives:
Spa
Fine dining venues
Fitness centre
Water sports and dive centre
Pools in all the villas
Coffee machines
Infinity sunset pool
Clinic
Yoga sala
Yoga overwater deck
Pool service
Tennis courts
Volleyball court
Kids' club