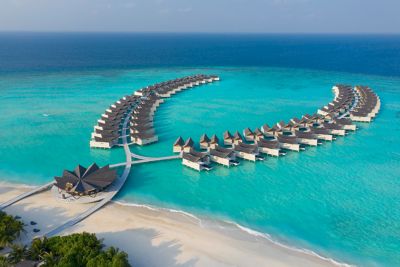 Mövenpick Resort Kuredhivaru Maldives
A timeless tropical island resort at Kuredhivaru, Maldives
Mövenpick Resort Kuredhivaru Maldives is a pristine sanctuary and tropical oasis that is nestled in the undisturbed Noonu Atoll. Awaken your senses at our 5 star Maldives luxury ocean resort, located 45 minutes north of Male International Airport. Immerse yourself in your own private plunge pool in all of the 72 over water pool villas looking out to the ocean, 30 beach pool suites and three beach spa pool residences.
Our restaurants at Mövenpick Resort Kuredhivaru Maldives perfectly combine gastronomic delights with magnificent views of the ocean and the horizon in Maldives. From a seafood fine dining experience to a private romantic candlelit dinner near the ocean on the beach, you can indulge yourself and your loved one endlessly throughout your relaxing stay with us at Mövenpick Resort & Spa Kuredhivaru in the Maldives. 
If you want to explore the marine life of the Maldives, our family friendly resort offers various water sports activities such as diving and snorkelling. You can walk along the pristine beaches and feel the soft sand beneath your toes, or take a dip in the crystal clear waters. The resort also has a Sun Spa by Healing Earth where you can unwind and rejuvenate with a variety of treatments, including yoga sessions.
If you're travelling with kids, the Little Birds Club provides a range of fun activities to keep them entertained while you relax. The resort's attentive staff are always ready to help you tailor your stay to your specific preferences, making sure that you have a truly memorable and personalised experience at Mövenpick Resort Kuredhivaru Maldives.
Indulge in our sweetest moments
Restaurants & Bars
The Place to Savour Life
We believe in indulgence done right! Here at Mövenpick Resort & Spa Kuredhivaru Maldives restaurants, we treat our guests to deliciously fresh cuisine, served with abundant treats and surprising flavours that are unmistakably Mövenpick, all served with a generous portion of heartfelt care in all of our luxury restaurants.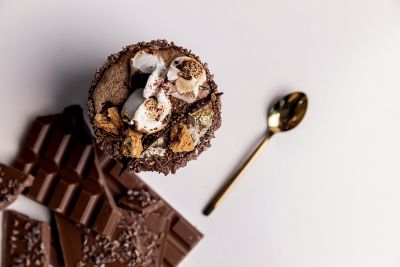 scroll up for previous option
Chocolate Hour
Tick-tock, it's mmm-o'clock at Mövenpick Resort & Spa Kuredhivaru Maldives, with all our luxury restaurants serving 60 mouth-watering minutes of chocolate indulgence every afternoon, making sure you have a delicious day in the Maldives.
scroll to show detail options
scroll up for previous option
Signature Flavours
Indulge in an array of enticing culinary experiences like you've never tasted before. Discover all Mövenpick Resort & Spa Kuredhivaru Maldives dishes, prepared with care by our innovative chefs and served from the heart in our restaurants.
scroll to show detail options

Facilities & Activities
Where Life Tastes Sweeter
Enjoy the good life at Mövenpick Resort & Spa Kuredhivaru Maldives. From sunny pool days with the family to relaxing time in our luxury spa, energising workouts in our gym, to immersive cultural experiences, we invite you to take it all in.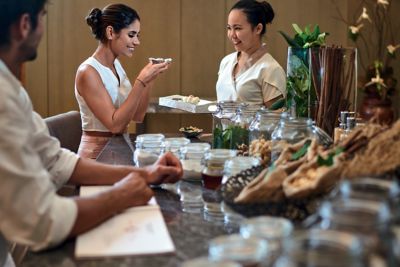 Meetings & Celebrations
Memorable Meetings & Sparkling Celebrations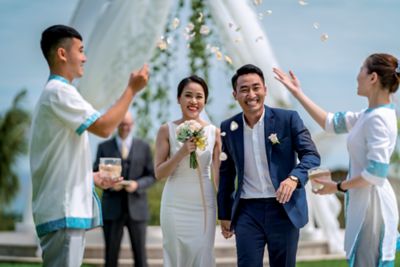 scroll up for previous option
Events bursting with flavour
With a touch of sugar, spice and everything nice, we'll help you celebrate life's rich moments.
Find out more
scroll to show detail options
Reviews
expatworldwide
23/09/2023 From Tripadvisor
Jauzee, Chef Ganis, Chef Aditya, Humam, Glaiza
The destination is so perfect! Jauzee, our island host, always made sure the comfort for our stay. He is very responsive to my requests. Thank you too to Chef Ganis, Chef Aditya, Humam, Glaiza, and everyone in Latitude and Bodumas who made our dining experience exceptional. You deserve all the recognition for the superb service by heart. Will definitely come back!
liu z
21/09/2023 From Tripadvisor
wonderful experience in movenpick
Great service, great snorkeling experience, and great butler Li! I would love to come to Movenpick Resort again! Thank you movenpick for giving me and my family a wonderful holiday experience!thank you!
Mariyam A
12/09/2023 From Tripadvisor
Couple Romantic Getaway
The best couples get away. We would like to thank the management of move and pick for providing us the best hospitality anyone could ask for. We stayed in a water villa and the experience was to die for. The view of the open ocean from the villa simply takes your breath away. We would like to take this opportunity to extend our heartfelt gratitude to our villa attendant Mr. Ibrahim Naeem. Mr.Naeem made sure we were welcomed warmly, with welcome decorations on the bed upon our arrival. This was further complimented by the special bathtub decorations as well, which was gorgeous. He was warm, had a lovely sense of humor and was at arms reach whenever we needed any assistance. A very special thanks to Mr. Ibrahim Naeem In addition to that, all the staff at the restaurants were very friendly and the service provided by them were hands down, on par with the promised quality of 5 stars. We would surely visit again. Mariyam and Rameez
Marcela H
10/09/2023 From Tripadvisor
Perfect holiday
Great place, nice and smiling staff, delicious food. Beautiful beaches, azure blue ocean. The boat trip to see the dolphins was amazing. We saw a lot of them. We only spent 2 nights in the hotel, but even that was enough to make us want to come back again next time. Thank you :-)
DaveyS37
10/09/2023 From Tripadvisor
An amazing place - location, accommodation, staff and experience!
We stayed at a really lovely resort in the Maldives last year, which we thought would struggle to be beaten. Well, Movenpick definitely managed it! We had a really friendly welcome off our flight from Dubai, and were very well looked after until our seaplane trip to the island. We were very warmly welcomed at Movenpick, had lunch while our room was prepared and then checked out our 2 beach villas. These were absolutely lovely. Really spacious, we really loved the way we had shade outside when we needed it, and at the end of our pathway was the beach. The beach was gorgeous - so quiet, and lovely to go for a walk along. Worth calling out here that our neighbours were playing very loud music on our second day, whilst we were trying to get some relaxation. We WhatsApped Jauzee, who was looking after us (more on Jauzee later!) to ask if he could help, and within half an hour, it had been addressed and the music had stopped. I think this is a great example of how good the staff at Movenpick are - I appreciate this is a difficult thing to address with people who want to have fun on their holiday, but it was dealt with perfectly. Half way through our trip we moved to over-water villas - and again, these were absolutely lovely. We loved the glass floor in the entrance hall way, the hammock over the water, and the open shower and toilet, which meant you could see and hear the water underneath - very cool! One of the things we really liked about both rooms was that some of the drinks in the minibar were included in our all-inclusive deals. This is a small touch, and not particularly expensive for Movenpick to do, but it was really nice to see. It meant that if we just fancied a quick drink back at the room we could have one really easily. In the resort we stayed in the year before, all drinks in the minibar were paid for, which made us less likely to use them - it felt a bit wrong to ask us to pay for some drinks in our room given we had already spent a significant amount on upgrading to all-inclusive. So well done Movenpick. We tried the buffet on our first evening, which I would describe as just ok, but after that we spent the remaining lunches and evenings alternating between Latitude and Bodumas. They were both absolutely outstanding in their own ways. The staff in both were absolutely lovely, and couldn't do enough for us. The food at Bodumas in particular my family thought was absolutely out of this world. On our last night, we had a message spelt out in rice on our table which was a lovely touch. Great restaurants. The last thing to call out is that whilst the staff across the board were fantastic - friendly and helpful (special thank you to the guy who went and found the badminton equipment and set it up in the baking heat for us to only be able to play for ten minutes due to the heat!) - a very special mention must go to Jauzee. He was exceptional. Very welcoming and then available for absolutely anything we needed, without being intrusive. As mentioned earlier, he sorted the problem with noisy neighbours for us, sorted out anything we needed and helped us many times. My daughter got water in her phone, meaning no chargers would work and he even sorted out us being able to use the wireless charging plate at reception each day so she could charge her phone. He really went above and beyond, and is really a credit to Movenpick - thank you Jauzee! I think the only thing couple of things that didn't really work for us was the buffet as mentioned above, the watersports team at one point we felt were overly cautious in not letting us go paddle-boarding due to the weather despite us feeling it was very calm (but they may be the experts...!) and breakfast - the location is lovely, and it was great to have breakfast on the beach, but the choice and quality of the breakfast wasn't quite as good as we have had elsewhere. It wasn't an issue, as we knew at lunchtime we would have an amazing meal so we just had a light breakfast and went for it at lunchtime and dinner. Overall, we had probably one of the best holidays ever as a family at Kuredhivaru - really relaxing, lovely accommodation, fantastic food and Jauzee - we'd thoroughly recommend it, and would very happily go there again for our next holiday!
Frequently asked questions
Mövenpick Resort Kuredhivaru Maldives is located 45 minutes north of Male International Velana Airport, in the Noonu atoll.
The address for Mövenpick Resort Kuredhivaru Maldives is:
Mövenpick Resort Kuredhivaru Maldives
Kuredhivaru Island, Maldives
20026 Noonu Atoll
Maldives
Mövenpick Resort Kuredhivaru Maldives first opened in November 2018.
Mövenpick Resort Kuredhivaru Maldives offers a number of activities for guests to enjoy, such as:
Canoeing
Catamaran sailing
Water skiing
Fun tube
Wakeboarding
Jet ski tour
Jet blade session
Parasailing
Banana boat
Windsurfing
Windsurfing lessons
Sailing lessons
Snorkelling lessons
Sunset cruise
Starlit cruise
Snorkelling tour
Dolphin and turtle cruise
Snorkelling with mantas
Scuba diving and PADI courses
Tennis
Yoga
Fitness activities
Kids program
Volleyball
Cooking lessons
Wellbeing experiences
Mövenpick Chocolate Hour
Cocktail party
Floating breakfast
Borderless dining
Some of the property amenities at Mövenpick Resort Kuredhivaru Maldives:
Spa
Fine dining venues
Fitness centre
Water sports and dive centre
Pools in all the villas
Coffee machines
Infinity sunset pool
Clinic
Yoga sala
Yoga overwater deck
Pool service
Tennis courts
Volleyball court
Kids' club