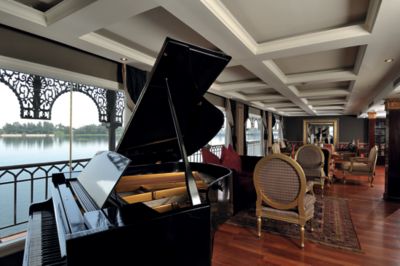 A historic cruise on the Nile
Explore the wonders of the ancient Egyptian world in luxury and historic charm on the SS Misr by Mövenpick Hotels & Resorts. Originally built by the British Royal Navy in 1918 and later converted into a luxury Nile steamer for King Farouk, the SS Misr is a true time capsule that rekindles the nostalgia of a golden age, with true luxury accommodation, cuisine and service.

SS Misr offers 16 cabins and eight suites along with a luxurious bar and lounge, restaurants, and a large sun deck with a swimming pool.
Book now
open new window
Restaurants & Bars
The Place to Savour Life
We believe in indulgence done right, treating our guests to deliciously fresh cuisine, abundant treats and flavours that are unmistakably Mövenpick, all served with a generous portion of heartfelt care.