Mövenpick Hotel Münster
In love, engaged and getting married in Münster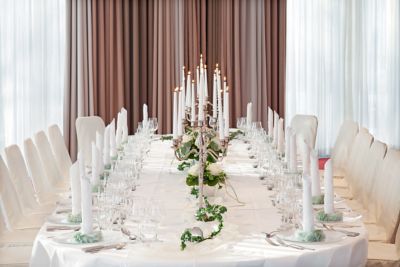 In love, engaged and getting married in Münster
Celebrate your Münster wedding in a beautiful, romantic celebration that combines wonderful hospitality, an inspiring setting and upscale accommodation. The modern 4-star Mövenpick Hotel Münster is situated close to the city centre and near Lake Aasee, making it a great choice for weddings.
Our function rooms are ideal settings for weddings, while our chefs prepare marvellous menus for up to 400 guests according to your preferences. Enjoy a delicious tasting menu to craft the perfect menu for your wedding – just one of the many mini-highlights as you approach your big day.
The lounge bar is also a fantastic venue in Münster for a pre-event mixer, bachelor or bachelorette party with its special cocktails and whisky offers. Should you wish, we would be delighted to arrange a limousine and chauffeur so you can explore the nightlife of Münster's harbour district.
The green surroundings and especially Lake Aasee make this location a picturesque one for wedding photos, which can be taken all around the hotel or on a pedal boat on the lake itself.
We also have 224 comfortable rooms to give your guests a great place to ease into the excitement, get ready and celebrate with you. For newlyweds, we recommend a stay in one of our two suites, which feature a walk-in closet, separate living room, free high-speed Wi-Fi, sound system and a coffee machine.
224 rooms with junior suites and suites
Located right next to the Lake Aasee
On-site food and drink
Wedding planning
Special Wedding package
712 sqm room with daylight
Just a 15 minute walk from the city centre
Services and suppliers
Bachelor and bachelorette parties
In house patisserie