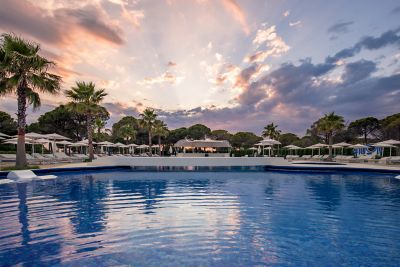 Mövenpick Hotel Lalez Durres
5-Star Hotel & Spa in Lalzi Bay
Mövenpick Hotel Lalez Durres is located in one of the most exclusive areas of the Adriatic cost. Reachable in a 40 min drive from the capital city of Tirana, from the international airport and  from the marina of Durres makes this hotel the best choice for long and short term vacations. The hotel is part of a residential village in Lalzi Bay. Surrounded by pine trees the 80 room hotel is more than a summer destination. Its facilities include a medical Spa, a jim, an indoor pool and other indoor facilities.
Restaurants & Bars
The Place to Savour Life
scroll up for previous option
Signature Flavours
Swiss dishes like you've never tasted before, prepared with care and served from the heart in our restaurants worldwide.
scroll to show detail options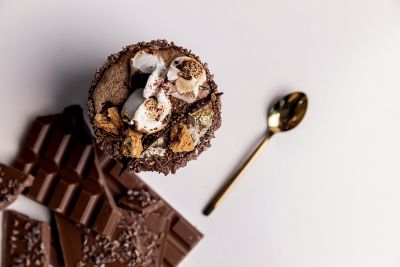 scroll up for previous option
Chocolate Hour
Tick-tock, it's mmm-o'clock, with all our hotels and resorts serving up 60 mouth-watering minutes of cocoa indulgence every afternoon, making sure your day's a delicious one.
scroll to show detail options

Facilities & Activities
Where Life Tastes Sweeter
Help yourself to the good life at Mövenpick. From sunny pool days to indulgent spa time, energising workouts to immersive cultural experiences, we invite you to drink it all in.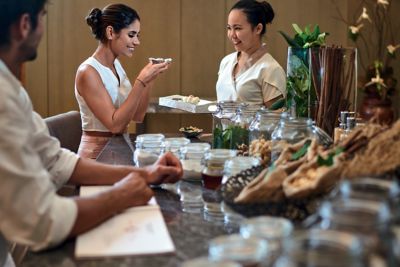 Meetings & Celebrations
Memorable Meetings & Sparkling Celebrations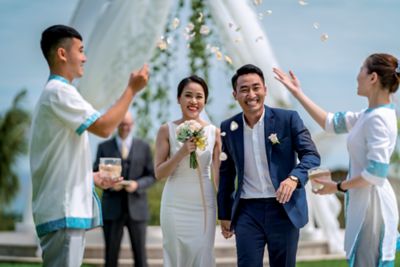 scroll up for previous option
Events bursting with flavour
With a touch of sugar, spice and everything nice, we'll help you celebrate life's rich moments.
Find out more
scroll to show detail options
Practical Information
Practical Information
Reviews
mariiiiiiiiiiiiiiiie
18/08/2023 From Tripadvisor
Nice - but not worth the price
The hotel is a luxury resort, with large functional rooms, and plenty of amenities. Everything works well, with the exception of the swimming pool and beach club belonging to another hotel, which creates some minor inconveniences (e.g. no wifi, carrying your wallet instead of charging the room for drinks etc.). Generally, the hotel really lacks charm and hospitality. It sits in a middle of a parking lot / residential area, rooms don't have view of the sea, and compared to other hotels in Albania, I don't think the amenities are worth the much higher price.
joannehurley
30/07/2023 From Tripadvisor
Clean and modern main hotel, gym terrible, buffet breakfast quite good.
We are from the UK and stayed here for 2 nights in July. We arrived at the hotel and they could not find our booking, even though I showed them the email of my credit card details etc that I emailed to them. The manager said I needed to wait for confirmation from the hotel before it was booked. She re-booked us and said she had an available room for us and she would sort it. We went to the beach (see photos) and came back in a couple of hours and our room was ready. Everything is spread out here, the beach is a 10 minute walk through a housing area at the back of the hotel. The pool is in a similar situation away from the hotel but to be honest the pool and pool area was not 5 star. The pool was old concrete surroundings (see photo) with loads of people drinking heavily, smoking in the pool and at the beds, kids screaming. The pool towels took ages to come as they had to get them and then check our names off a list. One thing that annoyed me was at the breakfast buffet I filled up a small bottle of water from the main urn and the waiter said I was not allowed to do this and I asked why? and he could not answer. He took me to the bar area in reception and I stood there for 5 minutes waiting for The Manager came up and brought us a huge piece of cake as a gesture (even though we had eaten a huge buffet breakfast), to say sorry. I asked the reception where we could change money and the lady said the ATM in the hotel was not working and we would need to get a taxi which they would arrange for us at a money exchange, this conversation took round 15 minutes I said I was happy to walk and the lady said it was too hot, in the end i was given directions and walked but it took a lot of asking and explaining. I had to send my soup back at dinner as it was so small and the service in the restaurant was so slow they forgot to bring items. On a positive, the hotel is very very clean, the breakfast was very good although when the fresh juices run out they did not replace them towards the end of the breakfast when I fancied a second drink. There is not much to do outside the hotel, they also do not know about vegan dietary requirements nor what it means. There are not many restaurants within walking distance and most of them sell the same food, pizza, risotto and one had sushi. The worst thing about the hotel was the gym, the equipment was so old and the gym was so small (see photos). I was very disappointed with the gym I could not work out at all and the reason I picked this hotel was for the gym. The hotel is not quite ready for tourists but it was nice enough and we generally enjoyed it. Thank you to Rezarta for being kind to us at reception and always smiling.
Marko V
08/07/2023 From Tripadvisor
Like i say i just have best words for all people from this amazing play , amazing facilitis and i wish them just love 😂
I just have best words for hotel, for people in side the hotel for all staff that take care of it , perfect place to go whit family whit kids , best plate in Albania to relax to enjoy and i will come again for sure , all best
Fjolla H
03/07/2023 From Tripadvisor
Very dissapointing
Nothing about a 5 star hotel. First the front desk really disorganized. We paid for deluxe room and we get a room with an inner balcony( it was only o room with a window that they called an inner balcony and it was terribly hot in there). All the deluxe rooms were without balcony at a higher price. We wanted a room with balcony, and all we got was a standard room( paid for deluxe) really small room and awful smelling of canalisation at the balcony, nothing of a 5 star. The room service wasnt good, we stayed for 5 nights and they didnt change our bedding for 4 nights until we told them to change, the vanity kit and dental brushes also werent replaced even thoug they were used. Shower had a minute very low pressure and next ice cold pressure water.. Breakfast was disappointing for a 5 star hotel with an odd and very limited selection of food. Food at the restorant good but you really need to wait too much for the service and it was very expensive. You need to walk quite enough to get to the beach and the pool is in another location is not inside the hotel. Really dissapointing, nothing of Movenpick and not worth for the money 😞
Sonila D
30/06/2023 From Tripadvisor
The beststay of this summer.
Movenpic Hotel was one of the best stays I've ever had. The staff was really nice and fast too. The cleaness was perfect and had a lot of Family Activity.The food was nice and the prices too. I love'd how the hotel had a pool only for hotel guets, that was called AQUA. Lets not mention the view. It was phenomenal. The staff was good and great to my kids and me. I loved the pines and the sea Thank you Movenpic for this experience.