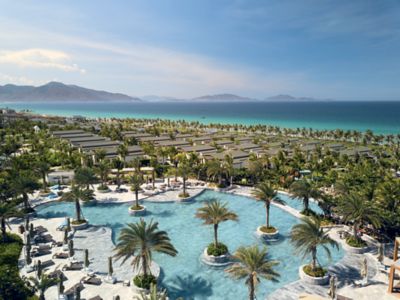 Mövenpick Resort Cam Ranh
الغرف
غرف باعثة على الراحة
المطاعم والمقاهي
مكان للاستمتاع بالحياة
نؤمن بتقديم المتعة الحقيقية بالطريقة الصائبة، وتدليل نزلائنا بالمأكولات الطازجة الشهية، والحلويات والنكهات الكثيرة التي لا تقدِّمها إلا فنادق موفنبيك، وتقدَّم جميعها بقدرٍ وافر من العناية المخلصة.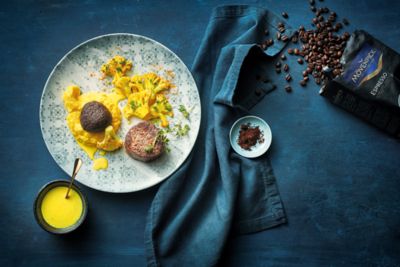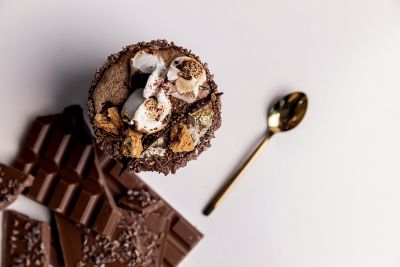 ساعة الشوكولاتة
ساعة الشوكولاتة في انتظارك؛ فجميع فنادق موفنبيك في جميع أنحاء العالم تقدِّم لنزلائها 60 دقيقة يومياً من الانغماس في لذة الحلوى بعد الظهيرة؛ لنتأكد من استمتاعك بيومك على أكمل وجه.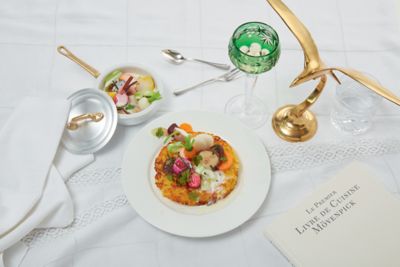 نكهات مميزة
لدينا أطباق سويسرية لم تتذوقها من قبل، إذ تُعدّ بعناية فائقة وتُقدَّم من القلب في مطاعمنا بمختلف أنحاء العالم.

المرافق والأنشطة
عندما يكون للحياة مذاق أحلى
تذوّق المعنى الحقيقي لجودة الحياة في موفنبيك. حيث الأيام المشمسة على حمّام السباحة ووقت المنتجع الصحي الغني بالتدليل والتمارين الباعثة على النشاط والحيوية والتجارب الثقافية الحقيقية، إننا ندعوك لترى روائع ستأسرك دون شك.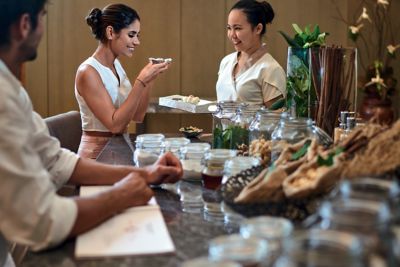 المعلومات العملية
المعلومات العملية
آراء
JDofficer
28/05/2023 من تريب أدفايزر
Top notch facilities, for family with kids. Service is ....
Its a beautiful properties i must say, from the garden to the beach. Excellent landscaping with top notch facilities for kid with all type of playground. Somewhat, the service was not that good : 1. Having lunch at the beach restaurant - all our food already on the table but our beverages is not being serve. Talk to the manager and being explain that the system was down therefore the captain order was not being record ?. I ask him well then if i can get glass of water so i can start with my food first and my beverage order can be done later. He said yes but after about 10 minutes the water did not arrive, so i didnt eat the food got cold. Came to him again next the the bar counter and grab a btl of water for myself. 2. Requesting ice bucket will come with a fees, if i remember correctly was 50,000. Somehow they do set up an empty ice bucket in the room, think this is for turndown service which was not happened during our stay 3. Breakfast was full, there were not any help to get a table for us. Its any empty space - fill in 4. Buying Beverage at the village is as costly at the hotel - so the advise is to purchase at the hotel restaurant so that you will be serve and not to pay extra for ice bucket if you wish to chill you wine Apart from this, think this is a great hotel and really well equipped. Great choice for family with kids
GM A
17/05/2023 من تريب أدفايزر
Best place to stay in Cam Ranh!
I had a wonderful stay at Mövenpick Cam Ranh! Thank you to all the staff and the GM, Mr. Bruno. Facilities were amazing. I can't wait to bring my family back. Breakfast was fantastic, as well as all the other restaurants. I enjoyed the beer at the German Beer House a little too much 😆 Beach was super clean, and the water was perfect! Can't wait to come back again soon. Best resort in Cam Ranh!
abkafka
30/04/2023 من تريب أدفايزر
Step below what you would expect
Temperature in the room didn't work. Room smelled like smoke even though it is supposed to be a non-smoking room. Tropicana restaurant served us cold pizza. Service was lacking. And TV didn't work. Otherwise it was fine. Nice beach. Nice pool. But won't stay here again.
322vladimirt
29/04/2023 من تريب أدفايزر
Perfect resort stay.
Amazing place to stay. Professional and very friendly and helpful staff. Clean very good looked after properly. Comfortable big rooms with amazing ocean view. Big balcony. Few restaurants, good service. Very good breakfast. Privet hotel beach, clean and staffed. Few pools with areas for children. Special big thanks to all staff. Additional thanks to Hai from Tropicana Beach Club. Very professional and helpful with great attitude and attention for details. Thanks again to everybody.
Raine_Pham
27/04/2023 من تريب أدفايزر
Excellent Team
Very meticulous and attentive service. Particularly the night shift receptionists on April 27 and the duty managers Mr. Thien and Ms. Phuc reservation. I sincerely appreciate it. the restaurant's staff is excellent.